It may be Australia Day today, Jan. 26, but a lot of Aussies living in Vancouver say they prefer the Canadian lifestyle to Down Under and "they're not leaving anytime soon."
That's not to say they don't love their country of birth… pubs are expected to be chockers [very full] as Aussies gather for a few bevvies [beverages] and to toast to the sunburnt country they left behind.
A favourite Aussie watering hole is Moose's Down Under, on West Pender St, which is preparing for about 300 pie eating, Bundaberg rum drinking Aussies to arrive in the arvo [afternoon] to listen to the Triple J Hottest 100 countdown [it's a music poll Aussies vote in and take very seriously back home].
Aussies are a proud bunch, and as one myself, I'd just like to apologise in advance on behalf of any larrikins and cheeky buggers who might cause a ruckus while they're out celebrating.
They're sure to be out in force draped in flags and green and gold chanting "Aussie, Aussie, Aussie – Oi, Oi, Oi."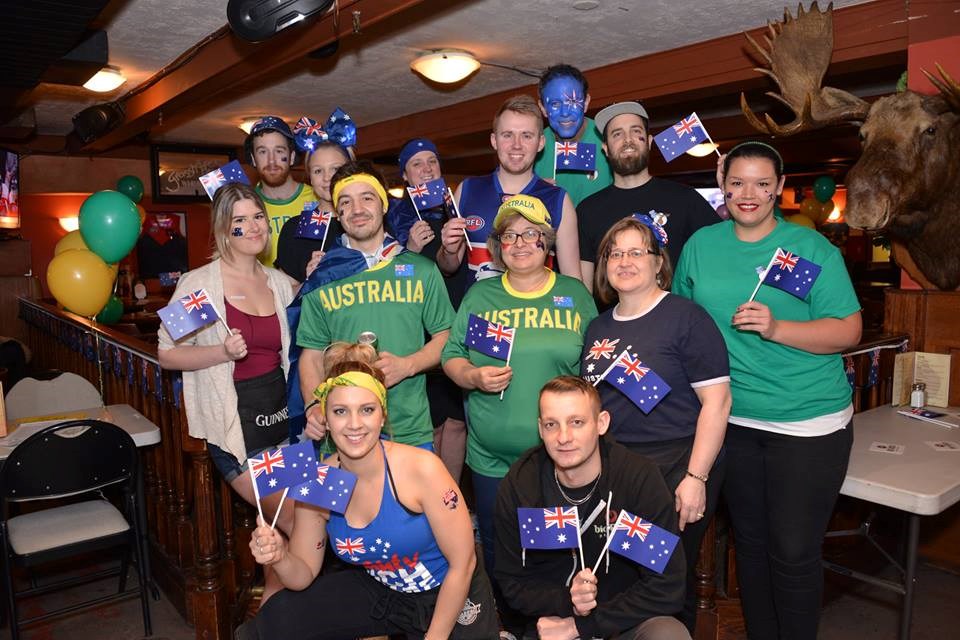 Since 2015 there's been a steady flow of Australians to the land of hockey and maple syrup – with numbers for working visas sticking around 7,000 to 10,000 each year, according to Immigration, Refugees and Citizenship Canada statistics.
Australians love it so much, between 1,500 to 2000 a year, since 2015, have become permanent residents, which adds an extra five years to their stay.
Last year, more than 7,000 Aussies secured working visas for Canada and 1,885 became permanent residents.
Looking at the most recent Cenus data, most Aussies like to settle in British Columbia. For a snapshot, in 2016, 16,240 Aussies were living in B.C., Ontario wasn't too far off with 13,315 and over in Alberta there were 7,785.
I was curious as to why so many Aussies were moving to Canada and deciding to stay, seeing as Down Under has never ending sunshine, beautiful white sandy beaches and a laid back culture - which I miss on a daily basis.
And, plus, it gets so cold here. Not to mention the weeks on end of rain...
So, why are Aussies choosing B.C.?
I put the question out to my fellow Australians on Facebook, in a group that's a handy resource for newbies to the country – Aussies in Vancouver – to get a little more insight.
It's a variety of reasons, of course, but nine times out of 10 it has something to do with the mountains and the numerous outdoor activities.
Whether it's snowboarding or skiing in Whistler or the North Shore, hiking on Grouse Mountain, snowshoeing on Cypress, mountain biking, camping by a bright blue lake, surfing in Tofino or rock climbing in Squamish – knowing adventure is right on your doorstep seems to be a huge draw-card for an Aussie.
Etienne Olden says all it took was a video showcasing Whistler to make him pack his bags.
"I came here because I saw Whistler A-line videos on YouTube, I knew literally nothing else about the country other than they dig maple syrup and have snow. I'm in the PR process now and have no intention of returning to Australia, the lifestyle is just far better here," he wrote.
Similarly, Brianna Posaner says she and her husband just couldn't stay away after experiencing the lifestyle on a ski and work trip in the Rockies back in 2007.
"We fell in love with Canada but went home when our visa was up," she wrote.
"We came back in 2012 but decided Jasper was too small and moved to Vancouver. We went home (again) to get married but missed it too much so moved back again after our wedding in 2015 and now have PR."
She says they "love the mountains and scenery in general, the lifestyle, climate and the ability to travel to so many places."
"This is now home and we are raising our Canadian daughter here and applying for citizenship next year,"  Posaner wrote.
A few Aussies mentioned high rent prices and low wages as setbacks, but say the experience of living in B.C. is still worth it.
They also highlighted the weather, career opportunities, education at The University of British Columbia and having dual citizenship as reasons for making the move and deciding to stay.
"(I was) Invited here for a two year postdoctoral fellowship at UBC. This particular institution is considered one of the best in the world, and has a long history of visiting Aussie doctors and scientists. It was a no-brainer!" wrote Steve Milne.
Karl Haase says he got offered a job in B.C. five years ago and hasn't been happier.
"I still love it," he wrote.
"The lifestyle is awesome, including the sports like snowboarding, hiking etc. Plus I really enjoy having four real seasons rather than wet summer and dry summer."
Other Aussies simply fell in love, with both the country and a Canadian and wound up staying.
A few other reasons included Canada being a good travel base, having more open-minded progressive people and legal weed.
On top of all this, Australians also have a natural curiosity about the world and enjoy travelling – so a lot of people just say "why not?" and off they go [I was one of them].
"Canada is very welcoming and the visa is easy to obtain. So why not try something new," wrote Courtney Hollmann-Bodkin
"I had never heard of B.C. but Googled it and thought, 'hey it looks pretty nice' and now here I am.
"They say Canadians are like Australians, maybe it's because we are taking over..."
I understand why Aussies love it here, but one thing I know for sure is, I can't wait to dive into the crystal clear blue water of my local beach in Western Australia when I visit my home next month.
Happy 'Straya Day, mates.
This story has been edited