When 57 Vietnamese pot bellied pigs were rescued from a hoarding situation on Vancouver Island, the pigs were being cared for and re-homed by the BC SPCA out of the Cowichan Valley. One of the pigs, three-year-old Molly, went home with a Duncan couple in January.
A few weeks later, the BC SPCA learned that Molly's new owners had opted to slaughter and kill her, for eating.
Word of Molly's fate had spread among the community of area locals who keep pigs as pets, and it was one such resident who reached out to the BC SPCA to let them know what had happened.
Allegedly, Molly's owners had struggled with caring for the pet pig. The couple, who had been vetted by the BC SPCA and had signed a contract stating they would not kill and/or eat the animal, instead posted images to social media showing them "seasoning the meat and preparing it to eat," according to Global.
Pot-bellied pigs like Molly and her fellow rescue-mates are actually not even meant for slaughter and consumption outside of its native Vietnam, and likely the animal in question had received shots that would make the meat possibly unsafe to eat.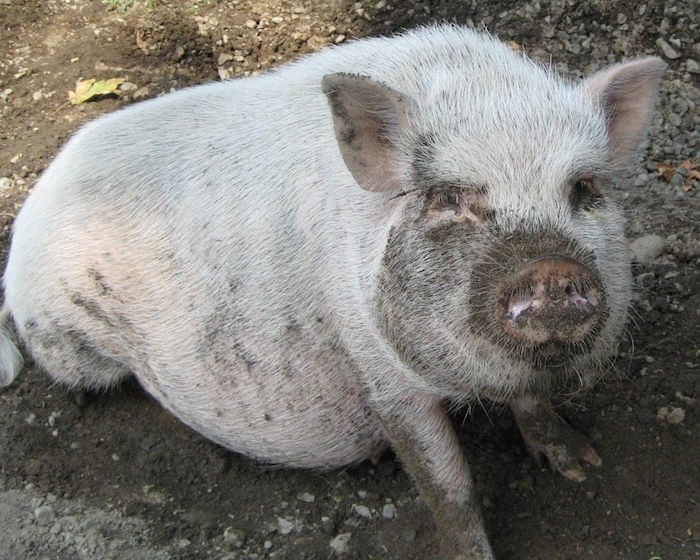 Though many are horrified at what happened to Molly the pet pig, the couple did not break any laws. They had all rights to Molly, and did not kill her in a manner that caused her to suffer.
While the unnamed adoptive couple are not facing any charges, they are blacklisted from adopting further animals from the BC SPCA.
Media outlets are reporting that the man who adopted Molly was pleading for an end to death threats in a Facebook post that has since been deleted.
The man could not be reached for comment, but in the post he reportedly apologizes, saying he did not adopt Molly with the intention of killing her, but she was aggressive towards other animals in the home.
"We totally understand why people are upset. I mean, no one is more upset than we are, but I think we have done everything we can," BC SPCA spokesperson Lorie Chortyk said of the society's process to find safe homes for its animals.
Chortyk said the incident was the first of its kind in her 17 years at the society. Because the pig had a name, she said it's possible people thought of it more as a pet than a farm animal.
"The saddest thing is that no one seems to care that millions of pigs die in factory farms every year," she said.
She said the legalities are complex but the society is reassessing its adoption contracts.
For anyone interested in adopting a pig, the BC SPCA released a guide last summer to help prospective pig owners decide if they are up to the task, whether the breed is a "mini" or a pot-bellied, or any kind of pet pig.
—With files from the Canadian Press