Half a per cent. That's how much British Columbia's greenhouse gas (GHG) emissions declined overall over a 10-year period, according to the B.C. government's annual greenhouse gas inventory for 2017.
But the really disturbing number in B.C.'s GHG inventory is buried down in a section that isn't actually counted as part of B.C.'s emissions budget: forest fires.
In 2017, GHGs from forest fires was a staggering 176 million tonnes of CO2 equivalent (CO2e).
That is more than 2.5 times what B.C.'s total official GHG count was for 2017. It is four times higher than carbon emissions released from forest fires in 2003, which was the previous worst year for forest fires since the province started tracking GHG emissions in 1990.
From a carbon emissions accounting standpoint, emissions from forest fires are not counted. Only emissions that may be within government's ability to control are counted.
And despite a carbon tax, low carbon fuel standard and other climate change action measures, B.C.'s total emissions in 2017 — 64.5 million tonnes of CO2 equivalent (CO2e) — were only 0.46 per cent lower than in 2007, when they were 64.7 MT CO2e. And they were 1.7 per cent higher than in 2016.
The numbers would be lower, were it not for the fact B.C. had significant economic growth over that time period, especially over the past few years.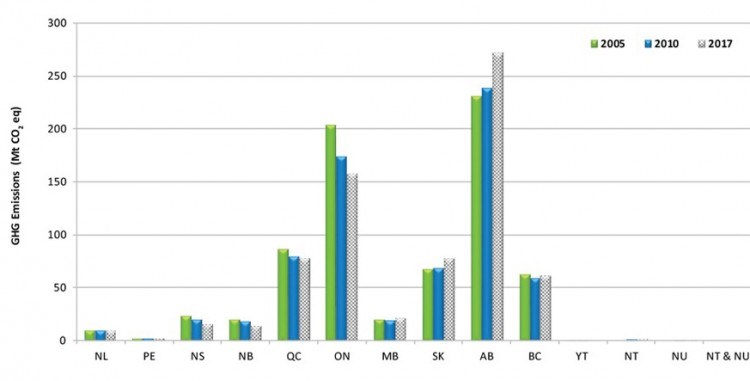 B.C. outpaced all other provinces in economic growth between 2014 and 2017, with gross domestic product (GDP) growing at an average of 3.6% each year. GDP growth in 2017 was 3.9 per cent. B.C.'s population also grew by about 700,000 — from 4.3 million in 2007 to 5 million today.
Compared to other provinces, B.C. already has a relatively low GHG profile, thanks to its abundant hydro power.
A provincial government news release includes 1 million tonnes in carbon offsets from forestry conservation to estimate that B.C.'s GHG emissions are down two per cent since 2007.
Such a modest reduction underscores the scale of the task of B.C.'s climate action ambitions and its CleanBC plan, which set a GHG reduction target of 40 per cent below 2007 levels in just 11 years.
"We designed the CleanBC economic plan to start to tackle this challenge," Green Party leader Andrew Weaver said in a press release.
"Now that it is being implemented I expect we'll start to see some slight emissions reductions, but it is clear we have a long way to go and we need to remain diligent in our commitment to our reduction targets."
Weaver has criticized the B.C. government for approving a liquefied natural gas industry, which will make it harder to meet its emissions reductions targets.
"As I've identified numerous times in the past, we cannot expand investment in the fossil fuel sector and hope to reduce our domestic emissions to promised levels," Weaver said.
A significant part of the CleanBC plan includes electrification of industry, particularly the natural gas industry.
Switching natural gas extraction and processing from natural gas itself to hydro power is expected to make the natural gas and LNG produced in B.C. to be among the lowest emissions intensity gas and LNG in the world.
LNG proponents also tout the benefits of displacing coal power in Asia with lower-emissions natural gas, although emissions reductions achieved in other countries typically cannot be claimed by the country of origin in climate accounting.
Click here for original article.