What happened: The British Columbia Lottery Corp. (BCLC) hosted an event Sept. 3 to give Richmond retailer Verna Holmes an oversized mock cheque for $60,000 — a way to demonstrate that it rewards those whose stores sell winning tickets.
Why this matters: BCLC provides retailers with a raft of incentives to sell as many lottery tickets as they can — something that can be a problem for those with gambling addictions. BCLC provided more than $1.4 billion in profit to the B.C. government last year.
Holmes won the money because she owns Seafair Smoke & Mixer at Seafair Shopping Centre, which in July sold the $60-million winning Lotto Max ticket to Richmond fisherman Joseph Katalinic. That was the largest lottery win in B.C. history.
Holmes also happened to be the person who sold the ticket to Katalinic, but BCLC confirmed to Business in Vancouver in a Sept. 4 email that it does not provide store clerks who sell winning tickets with any special compensation.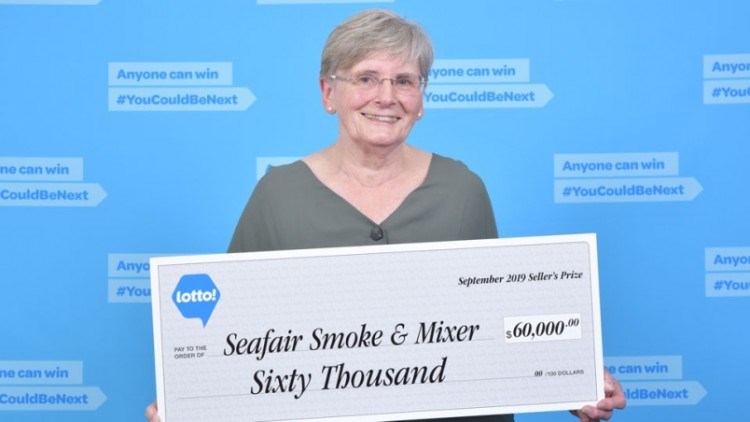 In the slightly more than five months so far this fiscal year — April 1 to Sept. 3 — BCLC has paid 244 sellers' prizes, totaling $148,000, to retailers across B.C., BCLC told BIV.
More than 3,500 retail stores and other outlets sell BCLC lottery tickets across the province, and each retailer must sign a contract with BCLC to set out roles, responsibilities and compensation.
At a minimum, stores get a five per cent cut of total lottery-ticket sales that they generate. There are juicy incentives, however, for stores to try to sell as many tickets as they can.
The prospect of winning a $60,000 bonus if the store happens to sell a $60-million winning ticket is certainly an incentive for stores to try to sell as many tickets as they can.
That figure equates to 0.1 per cent of the winnings, and this formula is applied whenever a lottery win tops $2 million.
Many of the sellers' prizes that BCLC doles out are not based on a percentage of the winning ticket holder's winnings, but are rather flat-rate prizes.
Here are those rates:
Between $1 million and $1,999,999.99: $2,000
Between $500,000 and $999,999.99: $1,000
Between $100,000 and $499,999.99: $500
Between $10,000 and 99,999.99: $250.
Those prizes are not the only incentive for retailers to sell as many lottery tickets as they can.
A sales bonus program kicks in as soon as an individual location sells more than $125,000 worth of tickets in a year. The bonus for that is 0.5 per cent. Thresholds then stretch up to 2.5 per cent, or $37,500 and more per year for individual retail locations that sell more than $1.5 million.
Stores that sell tickets also redeem them, and each time they do that, they get a one per cent commission on that validation.
So if a retailer pays out $10,483.60 in prizes, BCLC will pay it $104.84 for the work of redeeming the tickets.
A final bonus is for selling an ever-increasing value of lottery tickets. BCLC introduced a new system on April 1 that rewards retailers for having sales growth.
Those who are still selling tickets at the end of 2019 and have at least $125,000 in the 2019 calendar year are eligible.
Those who can demonstrate a $25,000 bump in sales get a $500 bonus, and bonuses go up in value from there. Sell more than $50,000 above last year's total? That's a $750 bonus. If the bump is $75,000 or more, the retailer gets $1,000 as a bonus.
The bonuses range up to $1,250 for those who sell $100,000 more in lottery products than they did a year ago.
"In change of owner situations, the total sales will be determined based on the location-identification sales for the calendar year, however, incentive prize payments will be prorated for the period that the incoming lottery retailer owns the location," BCLC said. The exiting owner would not get any bonus.
BCLC generated a $1.415-billion profit on record revenue of nearly $2.6 billion in its 2018-2019 fiscal year.
All of that profit went to the B.C. government.
Click here for original article.