Fortunato Bruzzese's version of the Canadian dream was built on a bun.

There's no need for fancy fixings or secret sauce — some prosciutto, mozzarella and a dash of spice will do just fine.

"The Europeans, the Italians, that's still what they want today, and they want nothing else," Bruzzese tells the Courier. "They just want to taste the bread and the cheese and the meat." 

That type of simplicity is central to the story of how a family of Italian immigrants came to Canada 56 years ago, applied some elbow grease and entrepreneurial spirit, and built a multi-generational business from the ground up.

A staple of Little Italy and Metro Vancouver's Italian community at large, La Grotta Del Formaggio celebrates 40 years of business this weekend at its location on Commercial Drive and Second Avenue.

The Courier recently visited the deli and spoke to three generations of the family to get the Bruzzese backstory, the shop's daily sandwich tally (hint: it's a lot) and a who's who list of celebrity customers.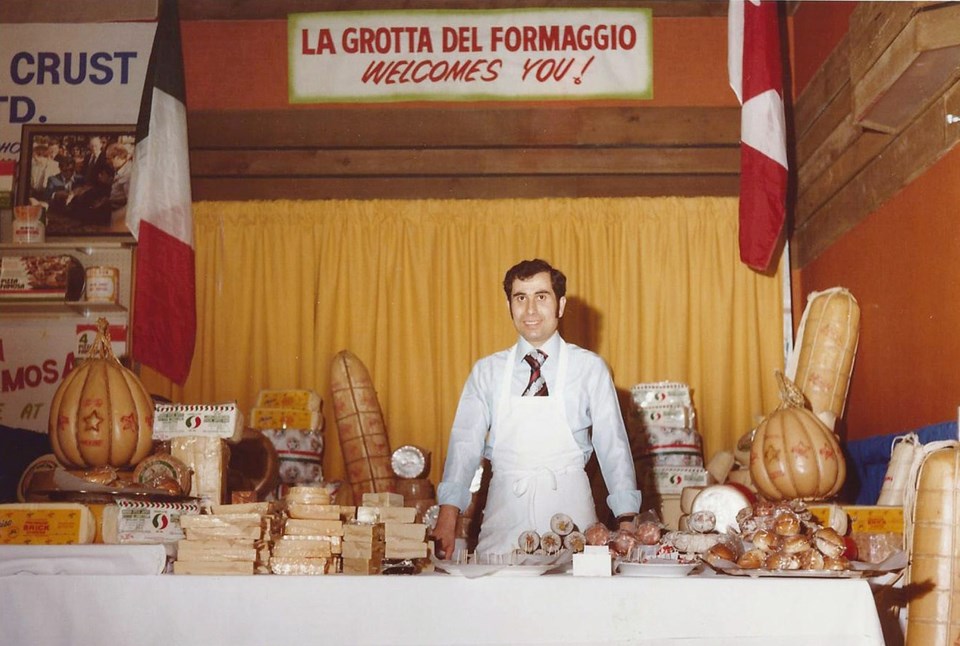 Family business
Bruzzese was born in southern Italy in 1948 to a family of entrepreneurs — everyone owned a shop, either in the food or electronics businesses.

He came to Canada in 1963, landing first in Montreal. Bruzzese married his wife, Anna, in 1975, two kids showed up soon after (Domenico and Sandra Raines) and the family was in Vancouver by 1977.

The deli's first location opened at Commercial and First Avenue that same year.

Rent was $300 a month at the time.

"In the beginning, we have more of a competition from Italian stores," Bruzzese recalls. "It was Italian stores on every corner."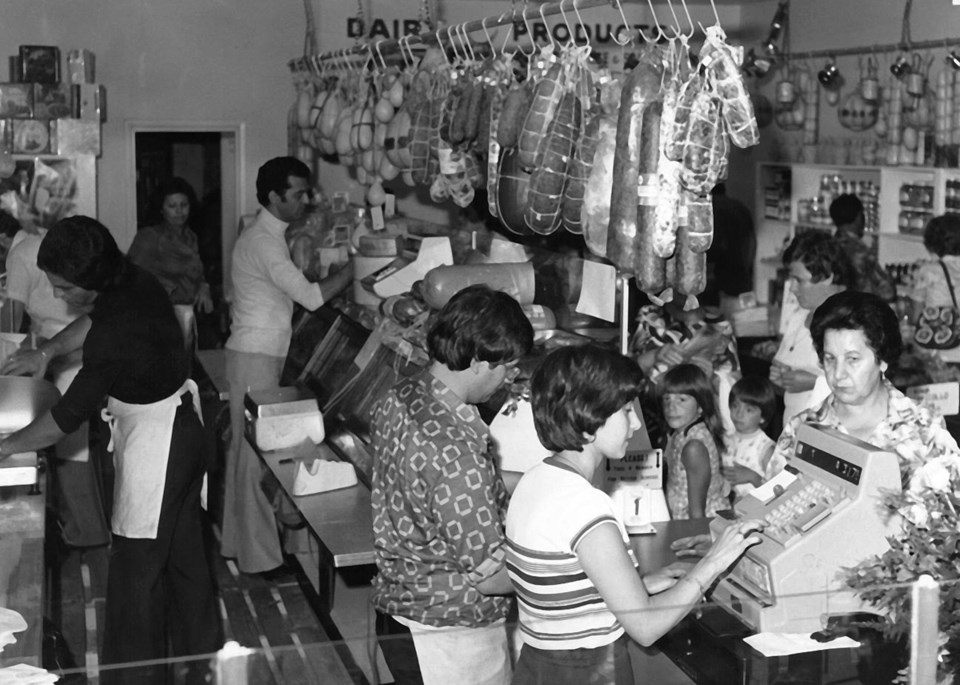 Day one of the new deli, and their current location, was July 29, 1979, at a time when the multi-ethnic offerings that now dot the Drive were sparse, at best.

Business in those early days was all Italian, all day. Sandwiches consisting of a Portuguese bun, meat and cheese went for $3. Olive oil, pasta and meat and other old-world offerings ruled the day until the mid-'90s. The clientele was mostly men working at nearby construction sites or automotive shops.
Hero sandwiches
It was the seemingly innocuous addition of a sandwich bar around 1996 that forever changed the deli's fortunes.

"We just threw in a sandwich fridge with eight compartments in it, trying to figure out what to put in the sandwiches," says daughter Sandra. "I remember us thinking about the Italian picnics — pickled eggplant, roasted peppers. We didn't have a huge plan behind it. We just did it."
Oh they did it alright, and that shift to sandwiches was sublime. Somewhere between 200 and 300 sandwiches go out the door every day and the celebrity clientele list has included Mark Messier, Seth Rogen, Danny Glover, Martin Short and Shannon Tweed.

Customers come across Metro Vancouver and line up sometimes 10-plus people deep, waiting upwards of 15 minutes for those breaded works of art.

"They sit down, eat and come back and tell us, 'This is the best sandwich ever,'" Bruzzese says. "It makes you feel like you're doing something right."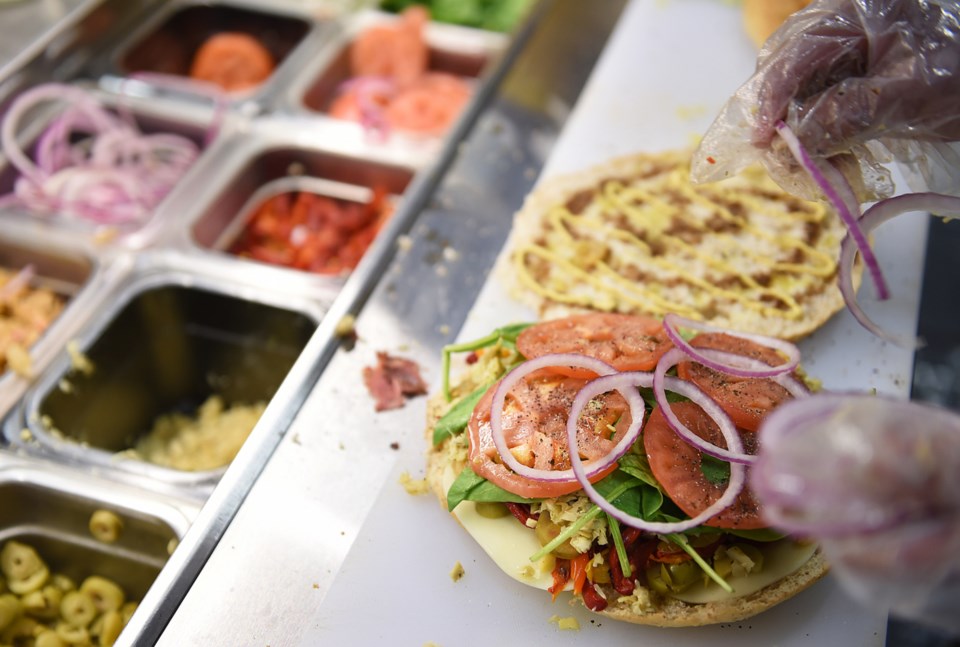 The sandwich craze was only part of the Bruzzese boon. The business diversified into the wholesale and catering sectors, attracting big-name chef clients such as Rob Feenie, John Bishop and Christine Cushing. Michael Buble's family is on the family's catering list.

Domenico heads up the wholesale division of the family, while Sandra and Anna look after the catering side. All in, about 40 people are employed across the company, and seven people run the day-to-day at the deli.

"We had good contacts and my dad already had all the clientele on his own because he did what the big companies wouldn't do — deliver on a Sunday, deliver at 7 o'clock at night, deliver whenever they wanted," Sandra says.

Change, as it always does, kept coming. Bruzzese bolstered his deli to include products from around the world, and his cheese selection on the day of the Courier's visit boasted offerings from Greece to Norway, from Spain to Salt Spring Island.

All of this comes with next to nothing spent on advertising. Social media helps on that front, but Bruzzese believes in the physical, eye-to-eye contact afforded by a small store.
He's able to explain why certain items are priced the way they are, and the ingredients, colours and process involved in his product.

La Grotta Del Formaggio is not where you go for cheap, low quality stuff. There are no sales or blowout deals. High-quality is the name of the game, without exception.

To wit, there's a type of pasta in his shop called Rustichella d'Abruzzo that's made in a specific part of Italy, by a specific group of farmers who use specific types of flour and seed. It takes two months for the pasta to be prepared from scratch.

"We've always had specialty products," Domenico explains. "We've never had the lowest, cheapest pasta. Quality is our niche."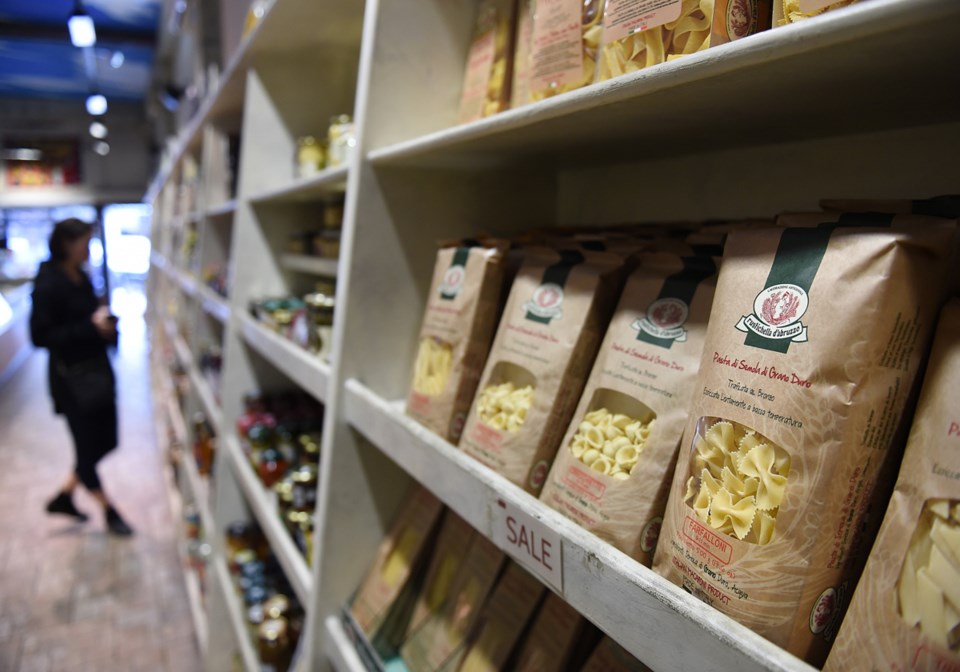 Taste of Europe
There are also intangibles that factor into La Grotta Del Formaggio's success. Walking into the place looks, feels and smells like Europe. Magazines and other media by the front door are all printed in Italian, just the same way you'd see them at a store in the old country.

And Bruzzese is as Italian as they come. He speaks with his hands, always adjusting his suit jacket to find a perfect fit. His words come through a heavy accent that's musical in its cadence. He loves soccer — AC Milan is his club of choice — and match days are the only times you won't see Bruzzese in the shop.

Anna describes the business's success like this: "We don't count the hours, but we work long hours."

Domenico suggests the deli is the longest-running shop on the block, if not the entire Little Italy community.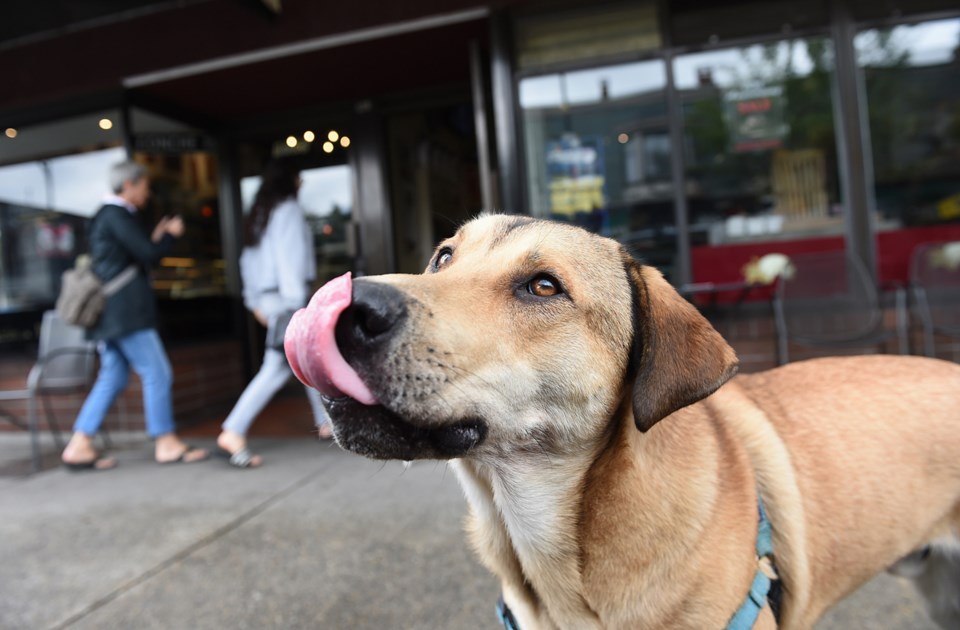 Which brings up prospects for the future. Sandra's 14-year-old daughter Olivia is ho-hum about becoming a third-generation employee, although she's helped work the counter on busy days.

"I've been coming here since I was born," she says. "And it still looks the same."
The Courier then brings up the "R" word. Talk of retirement is met with laughter from the entire family.

"This way, he stays out of my way," Anna quips.

Bruzzese will be 71 later this year and, save for soccer games, is in the deli seven days a week. That won't change unless his knees go.

"When you keep working and you keep up exercise, you keep your mind open," he said. "When you sit down, your head isn't working anymore. That's what getting old is."  

La Grotta Del Formaggio, which translates to "the cheese grotto," celebrates four decades over the span of both July 6 and 7 as part of Commercial Drive Car Free Day celebrations. Sales, discounts and samples will be offered, and more info is available online HERE
@JohnKurucz