The city's plan to have a multi-million dollar bike rental system set up this year in Vancouver is more of an ambitious goal than a certainty as the company that agreed to provide 1,500 bikes and 125 stations more than two years ago is no closer to a launch date.
Although the city's website promises bikes will be for rent in 2015, the city's transportation director, Jerry Dobrovolny, acknowledged the statement was posted last year when there was more hope the system would be implemented.
"I wouldn't say anything is impossible but that would be ambitious," Dobrovolny told the Courier. "We'll have to update [the website]."
Dobrovolny's doubts are reflected in a well-documented trail of upheaval and change within and outside Alta Bike Share of Portland, the company the city originally signed an agreement with in April 2013 to deliver the system
Over the past couple of years, Alta's preferred supplier of bikes for Vancouver, PBSC Solutions, filed a notice of intention to seek protection under the Bankruptcy and Insolvency Act related to its Montreal bike share system and growing debt.
Alta was also recently acquired by another company and is now called Motivate, which is based in New York City. The original agreement with the city was to have Alta own, finance and operate the system and provide customer service. Alta also has to secure corporate sponsorship and donation contracts.
"We wanted those requirements to feed into a business case that they would provide us so the operation would be sustainable," Dobrovolny said. "Over time, they've made some slow progress but haven't been able to complete those [requirements]. We have indicated to [Motivate] that we're looking to see some progress fairly quickly."
Dobrovolny said he was hopeful Motivate, with a new management team in place, will meet the city's requirements over the next few months. Although the city hasn't set a deadline for Motivate to finalize a deal, Dobrovolny said he is aware other bike share operators are available to the city.
The original agreement calls for the city to spend a one-time cost of $6 million for equipment and installation of the system, with another $1 million for start-up costs for staffing and signs. An additional $500,000 a year was estimated in annual costs.
What Motivate will spend is unclear but company spokesperson Dani Simons said it still aims to set up a system in Vancouver, noting one of its latest bike share operations launched in Seattle last fall. The company also operates bike shares in Toronto, Boston, New York City, Chicago and in Australia.
When asked about a launch date, Simons said "the best people to ask about that is the city just because it's ultimately their call more than ours. So I would go to them and try to get that from them because they're the ones who are really the lead on that."
When told that Dobrovolny indicated the city is waiting for Motivate to meet the requirements of the agreement, Simons said "we're working really diligently with the city to make sure we have all those pieces in place."
Since the city announced its interest in a bike share system, there has been considerable public debate in Vancouver about how an operator would meet the province's mandatory helmet laws.
Simons pointed out Seattle has a helmet law and Motivate set up bins at stations, where bike share users can pick up and drop off helmets. They are cleaned, inspected and recycled, she said.
"So far, it's worked really well in Seattle," Simons said of the system called "Pronto." "For each of our systems, we're trying to learn from our previous experience but also make sure that we're meeting local needs and working with the clients to figure it out."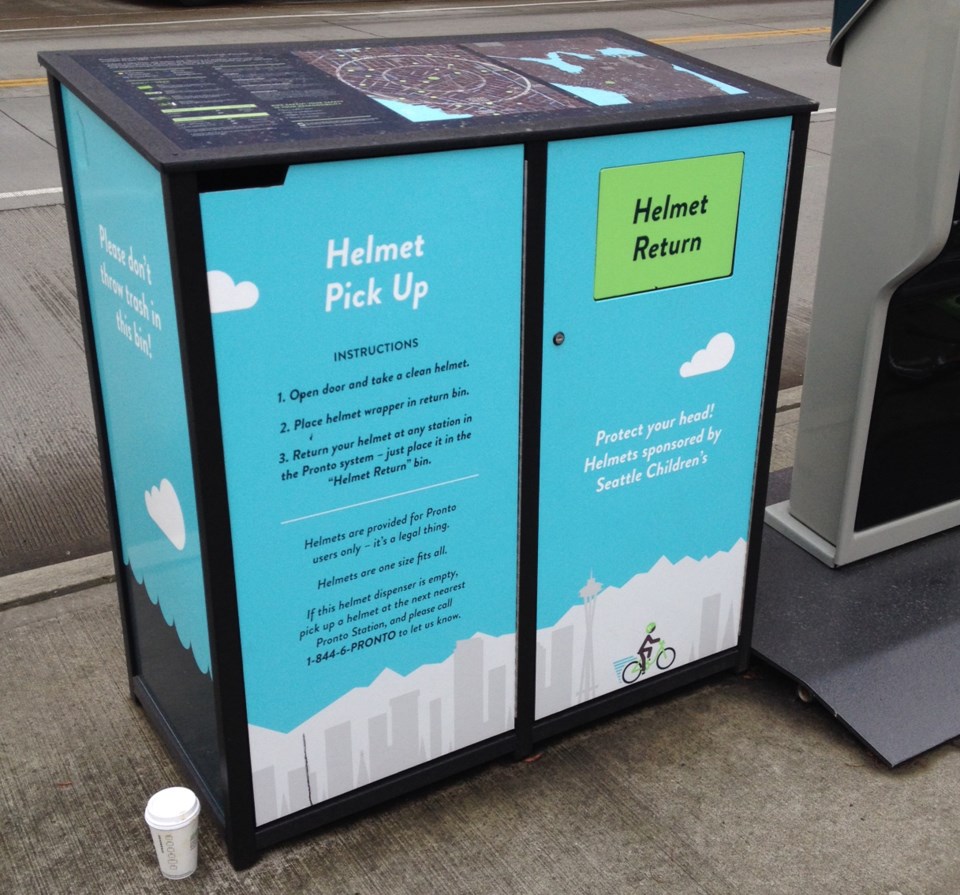 Seattle's system, which has 500 bikes and 50 stations, costs users $85 to $125 a year or $8 for a 24-hour pass. A three-day pass is $16. Stations are located downtown, Capitol Hill, South Lake Union and the University District.
Alaska Airlines is the system's major sponsor, contributing $2.5 million over five years. Group Health, Seattle Children's Hospital and REI are other sponsors.
twitter.com/Howellings