It's Bike to Work Week and Vancouver police and volunteers will be out across the city this week encouraging bike owners to register their rides with Project 529.
Launched in Vancouver three years ago, the online bike registration system is being credited with a 30 per cent drop in reported bike thefts in the city. Deputy Police Chief Howard Chow noted at a press conference Monday morning that when the system was first launched in Vancouver, the city was seeing more than 2,000 bikes reported stolen a year and that number was growing by about 20 per cent a year. In the three years prior to its launch, reported bike thefts were up by 69 per cent. And police were returned only about 15 per cent of recovered stolen bikes to their original owners, often because there was no way for officers to know who the owners were, Chow said.
"It's frustrating for victims but it's also frustrating for police," he said. "Three years ago we really didn't have an effective bicycle registry that was getting the information out from bike owners and bringing it back to the police so we could use it effectively."
On Monday, Project 529 founder J Allard, who also co-founded Xbox, estimated that the program has prevented more than 5,000 bicycles from being stolen.
When it was first launched, Project 529 aimed to register 10,000 bikes. Three years later, more than 70,000 bike owners in Vancouver have signed up and registered their bicycle. Since then the program has expanded to 35 municipalities throughout the province and has spread across North America. It now has more than 800,000 searchable bikes.
The cloud-based system allows cyclists, bike shops and organizations to register bikes, either online at project529.com or using the app, including details like the make, model, colour, serial number and photos. If the bike is ever stolen, the victim can use the app to alert the local cycling community and police.
The web-based database is searchable and can be shared among police forces.
Just last week, a bike that was registered in Prince George and stolen while the owner, Remko Schrik was visiting Penticton, was found in Vancouver's Downtown Eastside. Schrik and his wife were in Penticton doing some mountain biking when his bike was stolen from the back of his truck — the thieves actually cut the trailer hitch right off the back of the couple's pickup truck to steal the bikes.
His friend Jon McLuskie was on hand Monday to pick up the bike from Vancouver police. He said this was a replacement bike for one that was stolen previously and his friend was surprised and excited to get his bike back.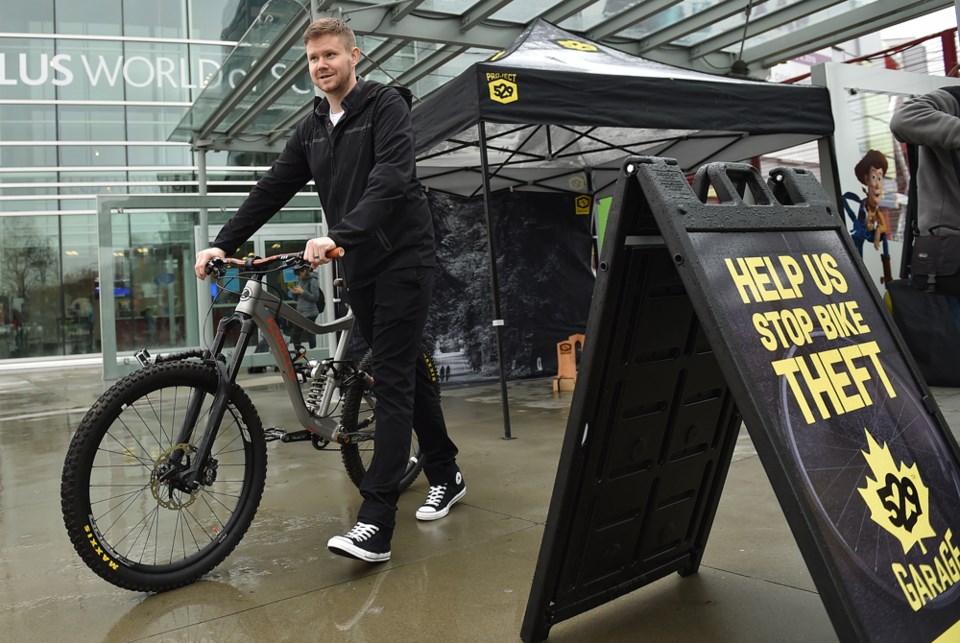 Vancouver police Const. Rob Brunt said that since the launch of Project 529 bikes stolen in Vancouver have been recovered as far away as Portland and San Francisco.
The program is also going worldwide. The World Bank has enlisted Vancouver Police Department and Project 529 to provide insight on its efforts to combat bike thefts in Bogota, Colombia, which is home to more than two million cyclists and is struggling with ongoing bike thefts.
"Vancouver is recognized as a world leader in targeting bike crime," William Moose, consultant for the World Bank, said in a press release. "The World bank looked into Vancouver when researching the global best practices in fighting bike theft and used the services of one of VPD's own and 529 to advise the City of Bogota on its bicycle security strategy."
@JessicaEKerr
jkerr@vancourier.com