To understand how critically injured Michael Severloh was after crashing his bicycle last May while on a morning ride to Emily Carr University of Art and Design, the photograph of the car he hit provides some stomach-churning clues.
The windshield of the Mazda 3 sedan is caved in, the roof buckled.
So, head injury?
Yes, and then some, as Dr. Mypinder Sekhon of Vancouver General Hospital's intensive care unit explained.
"It was pretty apparent right away, on his neurological examination plus the CT scan, that he suffered a really, really severe injury — the type of injury where the brain is shaken back and forth and rotated, and all the little nerves and the blood vessels are torn to shreds. There's not one big bleed but more like countless, small, little bleeds everywhere."
He continued…
"He also had micro hemorrhages in the bottom part of the brain called the brain stem. That's actually a more important part of the brain because it controls the lungs' ability to breathe, and it also controls consciousness. So because of all those little bleeds, that's why he wasn't awake. And that's why we had to put him on the ventilator to help him breathe."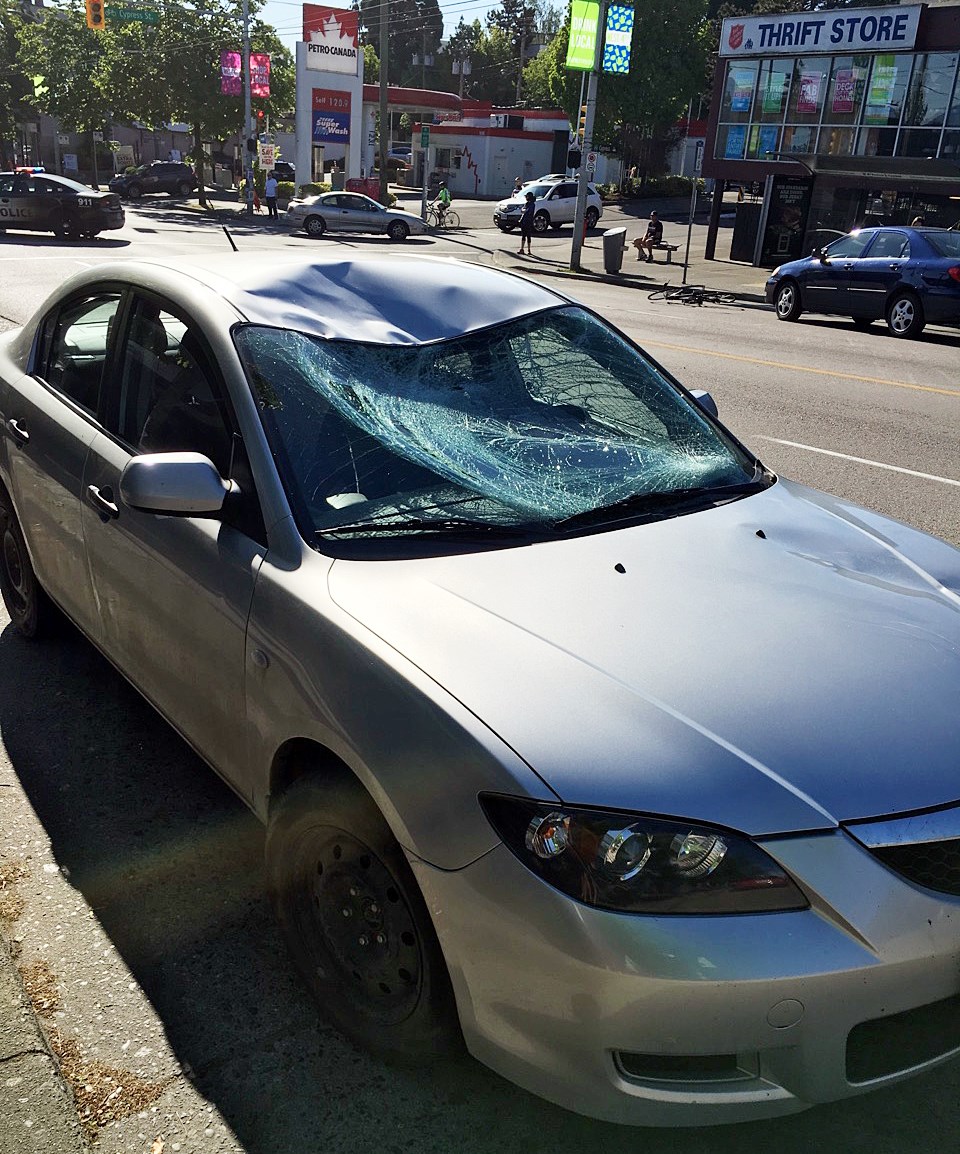 Severloh, who was wearing a helmet at the time of the accident, is sitting with Sekhon in the shade of a tree in a small park across from Vancouver General Hospital. He's listening to the doctor's description of a brain injury that would keep him in hospital for a month, followed by a two-month stay at GF Strong Rehabilitation Centre.
Fourteen months later, 31-year-old Severloh is able to walk, talk and return to school. Cognitively, he says, he's about 90 per cent better. Physically, more like 80 per cent. Lingering is the double vision he experiences in his right eye.
"I find myself walking around sometimes and catching myself and thinking, 'I feel so normal right now — like life was before,' which is like really cool to feel," Severloh said. "A year ago today, I was in the middle of my stay at GF Strong. So I always jump back to that. When I think about where I am today compared to where I was last year —or where I could be today — it's mind blowing."
Multimodal neuromonitoring
His recovery is quite miraculous considering he was on life support and put in a medically-induced coma when paramedics delivered him on a stretcher to the hospital. He also broke a vertebrae in his neck and fractured his left wrist.
What helped keep Severloh from ending up in a vegetative state, or dying, is new technology used by Sekhon and his team in the hospital's intensive care unit. The hospital has become a leader outside Europe in the use of "multimodal neuromonitoring" — a procedure where two catheters the thickness of a blade of grass are inserted into the brain's cerebrum to monitor the overall pressure in a person's skull and the precise amount of oxygen in the brain.
The technology, which Severloh calls "the brain bolt," allows doctors to determine the dose of medication required to increase blood flow to the brain. In Severloh's case, doctors were surprised to learn they could push his heart harder and pump more blood to the brain.
Previously, doctors treated every patient with a similar brain injury the same. They put them on a certain dose of medication for the heart and kept them on it for a stretch of days. The new technology allows doctors to "personalize" the care of patients, Sekhon said.
Sekhon along with Dr. Don Griesdale and others published a recent study in the Canadian Journal of Neurological Sciences that tracked 113 patients with traumatic brain injuries.  The patients were admitted to the hospital's intensive care unit between February 2010 and May 2016. Doctors began using multimodal neuromonitoring in April 2015, with about 60 patients to date having been hooked up to the monitor.
The study found that with the use of the new technology, a patient's "longterm neurological outcome rate" — in other words, being able to live independently  —  increased from 37 per cent to 60 per cent. Sekhon pointed out, however, that it's not as simple as just hooking up the monitor to the patient. More important is interpreting the information that it gives doctors, surgeons, nurses and pharmacy staff about the patient.
"If we just go haphazardly and put these monitors on everybody, you'd probably hurt people if you don't know what you're doing with the information," said Sekhon, who travelled to Cambridge University in England with Griesdale to learn how the technology worked.
Jamie Crane-Mauzy, a pro skier from Utah who crashed at Whistler, was the intensive care unit's first patient to undergo multimodal neuromonitoring. Severloh, who has since met with Crane-Mauzy to swap stories about their injuries and recovery, was patient number 13.
The accident
Severloh's story about the accident is difficult for him to tell.
Not so much because what happened, but because he doesn't remember it. He doesn't remember the hike he took the previous day in Deep Cove, or the improv show he attended at a theatre on Granville Street with friends the night before. All he knows about the accident has been pieced together with information from witnesses, his wife Janis and others.
He woke on the morning of May 1st. It was a sunny Sunday. His plan was to ride from his home in Kitsilano to Emily Carr University of Art and Design on Granville Island, where he studies industrial design. Classes had finished and he was going to help with setting up a grad show.
His wife Janis, a school teacher, was in bed doing some work on her laptop.
"Mike came in to say goodbye before he set off for work, and we talked about going to Superstore to get some groceries that evening," Janis recalled in an email to the Courier. "Mike said, 'It's a date!' And then we said we loved each other. I felt really guilty afterwards that I didn't get out of bed to give him a kiss or hug."
Severloh got onto Cypress Street and began his descent from Fifth Avenue to Fourth Avenue. There were three cyclists in front of him. He followed them into the intersection at Fourth, thinking east-west traffic had a red light. That's when he was struck by a Mazda 3 travelling along Fourth on a green light. Severloh had gone through a stop sign at the pedestrian-controlled intersection.
The impact sent Severloh into the car's windshield and roof before he was catapulted back onto the road, where he lay in the street. A doctor who witnessed the accident responded immediately to ensure Severloh's neck and body were stabilized before emergency crews arrived and transported him to hospital.
Back at home, Janis heard sirens but didn't think anything of it. A social worker at the hospital got in touch with Mike's father, Juergen, in Winnipeg. He sent an email to Janis and told her to "Skype him" right away. A police officer arrived and drove her to the hospital.
She saw her husband in the emergency room. His eyes were "totally blank" and he was having a seizure.
"I think it was the worst moment of my life," she said. "Just one hour before, he was saying goodbye to me as he was on his way out the door. And the next time I saw him, he was on a hospital bed having a seizure. I was just a mess."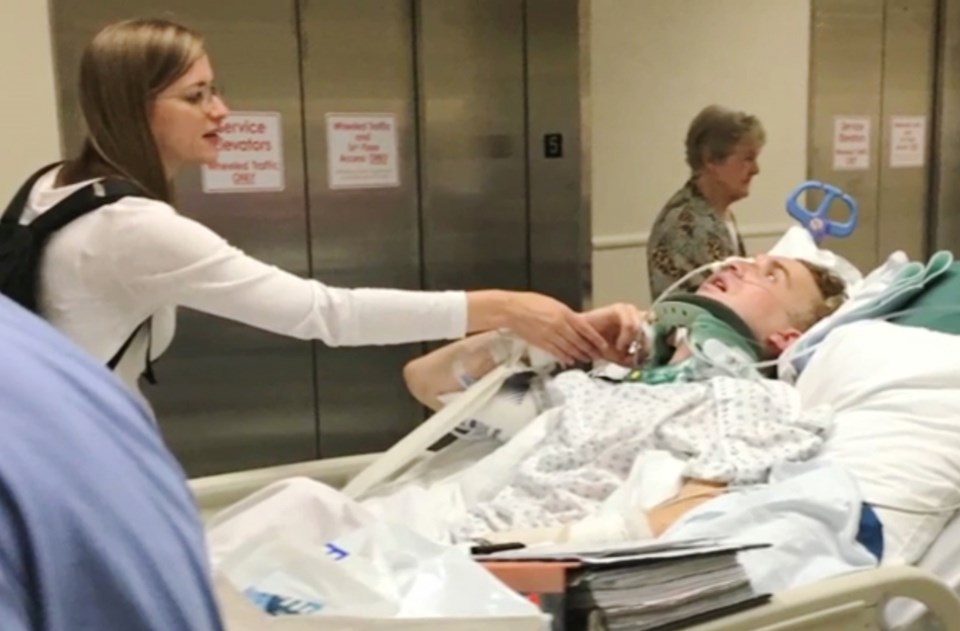 In Winnipeg, Severloh's mother, Janni, was driving when she received the news from her husband. She, her husband, her daughter Sarah and grandson Jack live together. Needless to say, Janni said in an email, "we were all devastated."
Janni boarded a plane that night to Vancouver. She was by her son's bed by 8 p.m. The three-hour flight was filled with memories "rolling through my mind" of her son's life, from child to adult. How could this be happening to him at 30 years old? she asked herself.
The rest of the family arrived the next day.
"Every emotional part of me was bare when I first saw Mike laying in the hospital bed," she said. "In the darkened room, the green glow of the three various monitors related his condition through numbers and sounds of which I had no comprehension."
It was about three weeks until he emerged from his comatose state. The family didn't know what type of damage was done to his brain, or how the injury would affect his abilities or personality. Eventually, he began to respond to yes or no questions by blinking his eyes.
In the weeks ahead, his progress continued, giving the thumbs up and OK sign to nurses. He was taken off the monitor, moved out of intensive care and slowly progressed to being able to stand, walk with assistance and eat mashed-up food.
Then he was off to GF Strong, where he regained his ability to walk independently, go up and down stairs and eat solid food. Janni said doctors and physiotherapists were amazed at his resilience and determination.
Severloh described his progress as "ticking off boxes." Neck brace off — check. Out of wheelchair — check. Breathing without a tube — check. Return home — check. Back to school — check. Regain driver's licence — check.
Back on the bike?
"I'd like to," he said, noting his bike is "mangled" and needs to be fixed. "It hasn't scared me off of cycling. It just definitely has made me more aware. And I'm such a huge helmet advocate now, it's not even funny."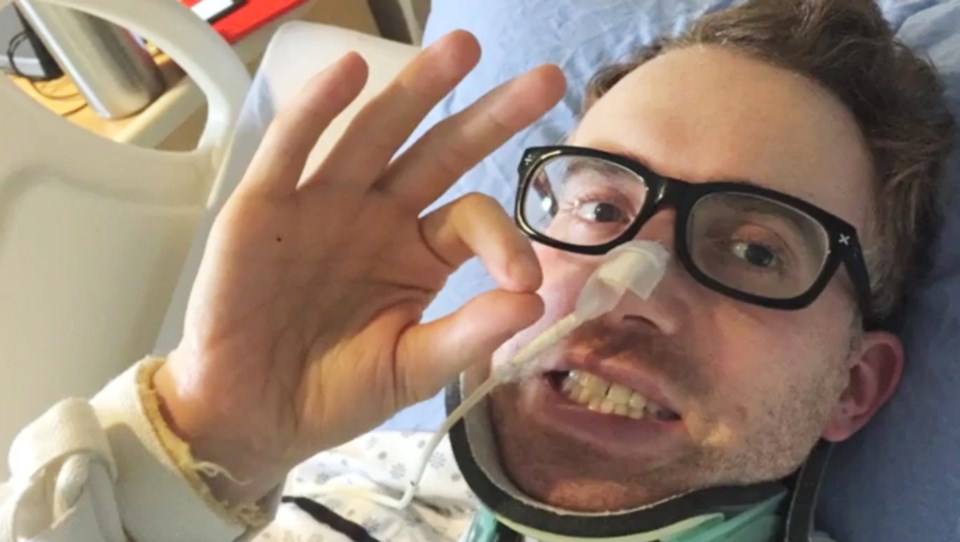 For Sekhon to see and hear Severloh talk about his journey from accident to recovery, two words come to mind when asked what it is like to sit in the grass with a patient that has rebounded from a traumatic injury: humbling and inspirational.
His response is not without praise for the entire medical team's work along the way to help Severloh get back on his feet and return to a normal life. He singled out Griesdale, whose outlook on medicine is something he emulates.
"I truly say this, not because he's my friend, but if every doctor had half the compassion, dedication that he does, our health care system would be better than it ever could be," Sekhon said.
Severloh said his stay at GF Strong, where patients were in worse shape than him, put into perspective what Sekhon and others did for him. If he wasn't wearing a helmet, if the multimodal monitoring wasn't available, he knows his life wouldn't be what it is today.
"That's why I'm the way I am and sitting here talking to you right now," he said.
At the close of the interview, Severloh shared something with Sekhon that has nagged him since the accident — something no doctor could fix. He wanted to meet with the driver of the car. He couldn't imagine, he said, what he went through on that day.
"I want to apologize to him. It is, ultimately, my fault for following those other bikes and not stopping. I would have never done it, but I was influenced because they went. It was a big mistake. I paid the biggest consequence, I guess, out of it all. So it would be cool to meet him."
Sekhon: "That's incredible, I didn't know you were doing that."
Severloh: "Just this morning it kind of came together."
Meeting the driver
A few days later, Severloh and Henry Ostermann met at a Starbucks near the B.C. Institute of Technology, where he teaches metal fabrication.
"I could tell by [his] expression that he was somewhat taken aback when he saw me stand up and greet him," Severloh told the Courier in an email. "He hadn't been updated whatsoever, and had no idea of my final outcome."
They talked about how the accident occurred, how Ostermann was on his way to a meditation class when he collided with Severloh. Severloh's description of what Ostermann experienced is best told by Ostermann himself, who spoke to the Courier after the meeting.
"I saw three cyclists come flying through the intersection," he said, noting he had the flashing green light on West Fourth Avenue. "They must have been doing 50-plus [kilometres]. So I put on my brakes to slow down a little bit, and just at that instant, there was a smash. Our faces kind of met on the dashboard. His face and my face were almost touching. Then the windshield shattered and out of the corner of my eye I saw him flying through the air — doing a flip and a fly."
Ostermann thought Severloh was dead. He got out of the car, heard a woman announce that she was a doctor and told him not to touch Severloh. A crowd gathered. Some guy came over and hugged Ostermann to console him.
Paramedics took a piece of glass out of Ostermann's arm. Other than that, he was physically fine. His mental state though was fragile and required him to see a counsellor.
"It spurred a lot of crap," he said, noting he attended several sessions and "worked out some trauma stuff."
Legal reasons kept Ostermann from reaching out to Severloh immediately after the accident. He was glad Severloh made the effort to track him down.
"It was a very nice touching thing," he said. "My wife said it gave her goose bumps. Like — wow, it was like it came full circle. We talked about it a lot, and wondered how he was. I said to her many times that I wanted to go down to the hospital and kind of stick my nose in there, but I was told not to."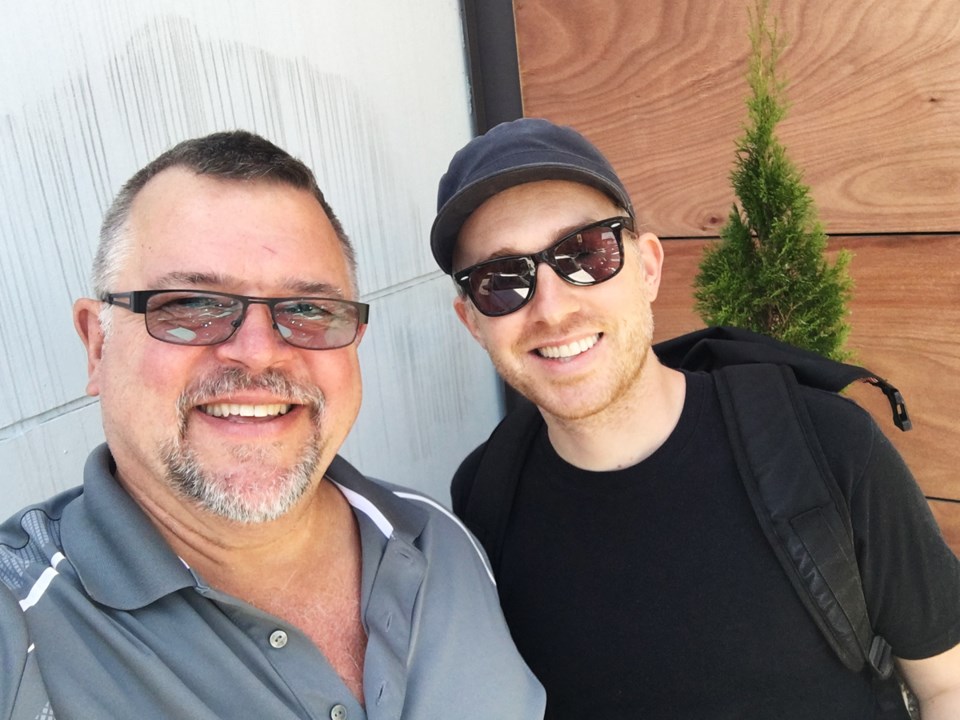 Both men said meeting each other brought closure to a horrible day in their lives. It also sparked a friendship after Ostermann, a metal fabrication teacher, learned Severloh was an industrial design student.
"I told him that once he has a design or something that needs metal work, I can get my students to build it," he said. "That would spawn a story in itself."
@Howellings