Henrik Sedin's 1000th career point is a wonderful moment in the history of the Vancouver Canucks. Henrik became the 85th NHL player, fourth Swede, and first Canuck to reach the milestone. His three other fellow countrymen to reach 1000 points in the NHL are all legends in Sweden: Mats Sundin, Daniel Alfredsson, and Nicklas Lidstrom.
It's fitting that Henrik's 1000th point was so aesthetically pleasing, as the Sedins have given Vancouver so many beautiful moments in their careers. The only way it could have been more ideal is if it was an assist, preferably a blind, backhand saucer-pass, tape-to-tape through three defenders.
But we'll accept it for what it was and give it the full breakdowning treatment it deserves.
Let's start by setting the stage. Roberto Luongo and the Florida Panthers are in town and Henrik Sedin is at 999 points. The Canucks captain has a rare opportunity to score his 1000th career point on a former Canucks captain.
But things aren't going great. After a scoreless first period, the Panthers have fired seven shots on goal in the first five minutes of the second enroute to 21 shots in the frame, and Jaromir Jagr, the ageless wonder, has opened the scoring. Worse, Jared McCann got the primary assist.
Two minutes later, Henrik is taking a faceoff in the defensive zone: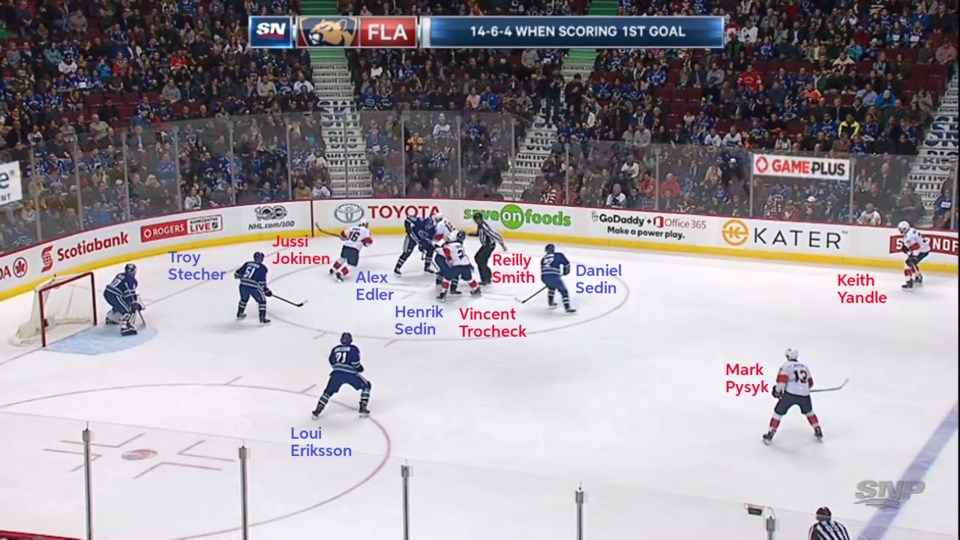 It's a bit of a scrambled draw: the puck is behind Henrik's skates as he holds off Vincent Trocheck. Jussi Jokinen and Daniel Sedin break off from each other and loop around looking for the puck, while Loui Eriksson backs up into some empty space since there's no immediate scoring threat for the Panthers.
Alex Edler outbattles Reilly Smith for the puck and moves it to Troy Stecher.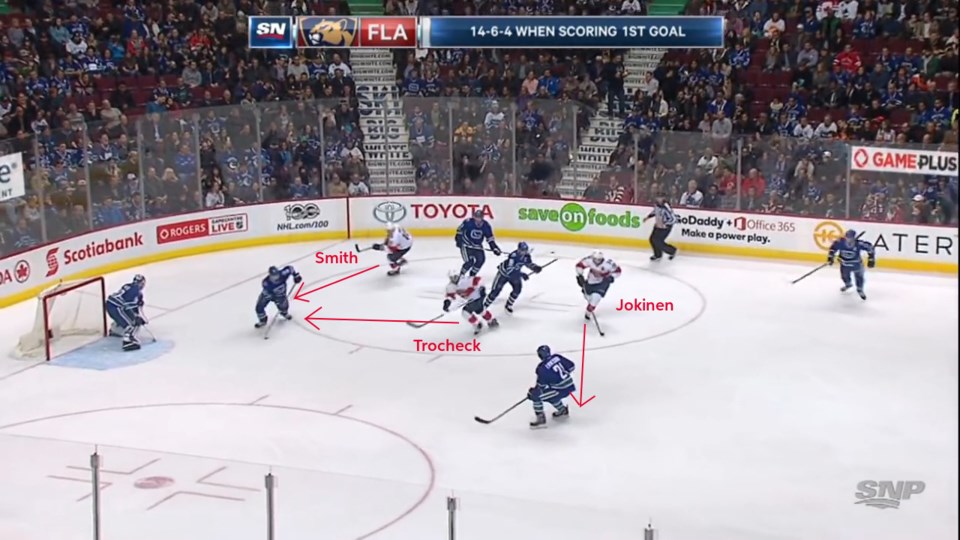 Here's where things start to go sideways for the Panthers, as in they're going to drive their coach, Tom Rowe, to drink copious amounts of wine and try to pass it off as a hobby.
Smith disengages from his battle with Edler and chases the puck. At the same time, Trocheck disengages from his battle with Henrik and chases the puck. Jokinen finishes his loop around the faceoff circle and moves to close down on Eriksson. Because Eriksson smartly backed into open space, Jokinen isn't going to get anywhere near him.
That leaves both Sedins in open space behind Jokinen, with Edler about to be wide open as well. The Canucks are on their way to a nice, clean breakout, so nice and clean, in fact, that it looks like a set play, even though it isn't.
The Panthers are okay, though, as long as both defencemen back off into the neutral zone. With how much space Eriksson has, trying to pin the Canucks in is a lost cause and any NHL defenceman worth his salt would stay back in the…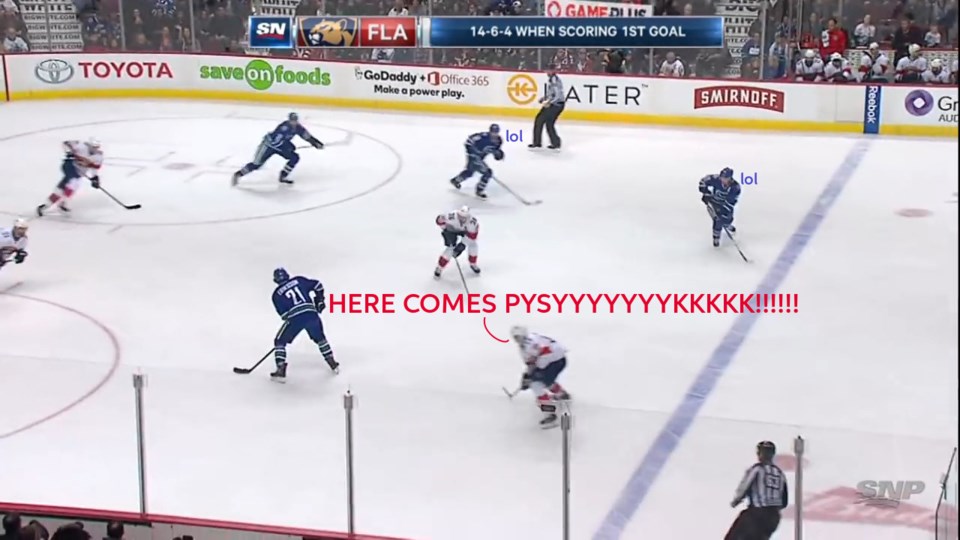 Oh. Oh no.
This is such a hilariously bad play by Pysyk. Unlike Jokinen, who at least has the excuse that he can't see the Sedins behind him, Pysyk should be able to see this odd-man rush coming from a mile away, which is approximately the distance he is from Eriksson.
Pysyk apparently believes that he's faster than Pavel Bure. That's the only explanation I can think of for why he thinks jumping up on Eriksson is a good idea. Also, I like to think that he loudly announces his intentions in third-person whenever he's on the ice. Possibly off the ice as well. PYSYK IS GOING TO CRUSH THIS BURRITO!!!!!!!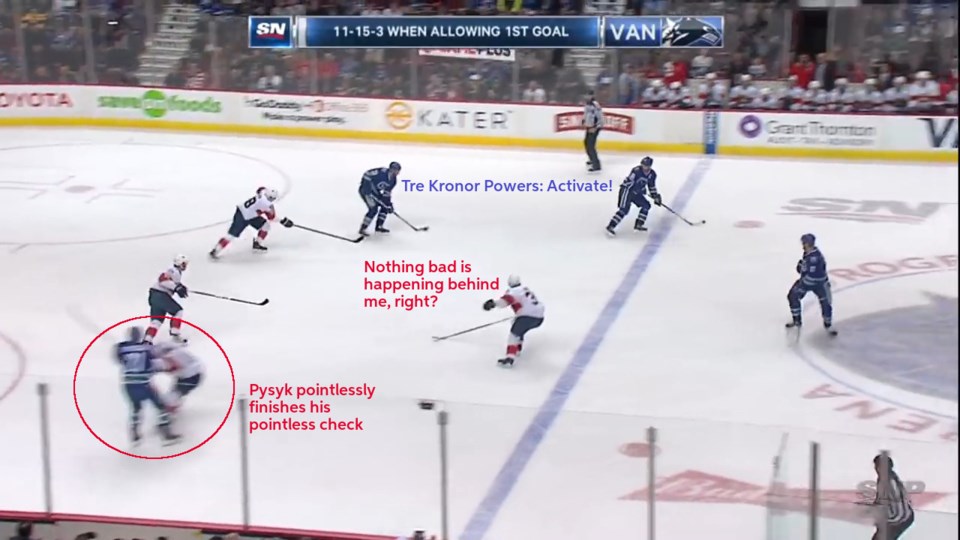 Eriksson doesn't get a point on this goal, but he played a key role, smartly opening up off the faceoff for the easy outlet pass, then making the easy play across to Edler instead of trying to force a pass to one of the Sedins. Smith tries to catch Edler, but that one moment of puck-watching after the faceoff cost him.
Between Eriksson, Edler, and the Sedins, there's no need to make a shot-for-shot remake of this goal on a shoestring budget, because it's already Sweded.
Meanwhile, Pysyk flails his arms at Eriksson to "finish his check" and Jokinen turns the wrong way, following the puck with his eyes instead of busting back on defence to prevent the odd-man rush.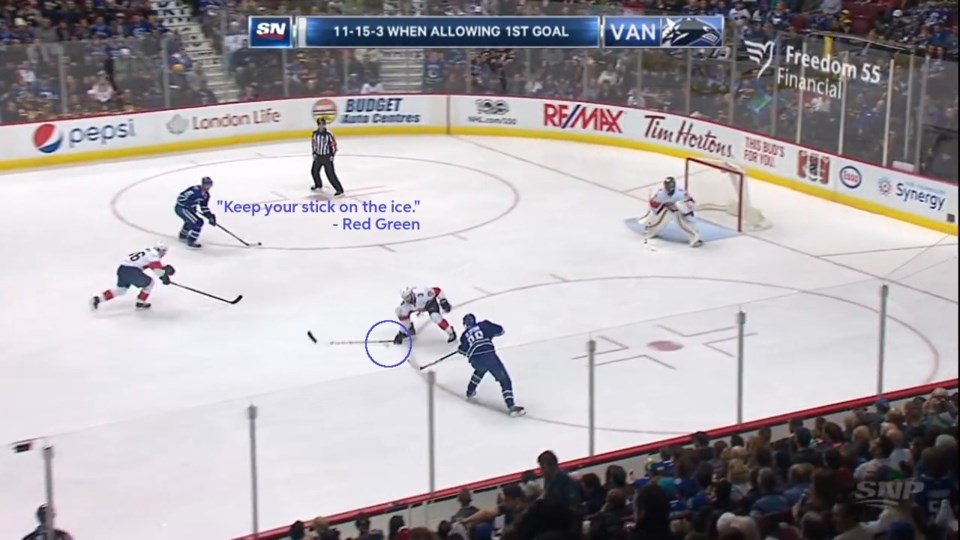 Instead of passing straight up to Henrik like you might expect, Edler goes back across the ice to Daniel, completely screwing over Keith Yandle. The Panthers defenceman had cheated towards Daniel, expected to defend the 2-on-1 that he saw developing by taking away the pass and forcing Henrik to shoot the puck.
Instead, Yandle ends up way too far over on Daniel and gambles, trying to sweep the puck away at the blue line. Daniel evades the check, then slides the puck just underneath Yandle's stick where I've circled it above. That puck barely gets under and it's surprising that Daniel didn't try for a saucer pass.
The pass along the ice works far better, as Henrik doesn't have to settle the puck, just keep his stick on the ice and move in alone.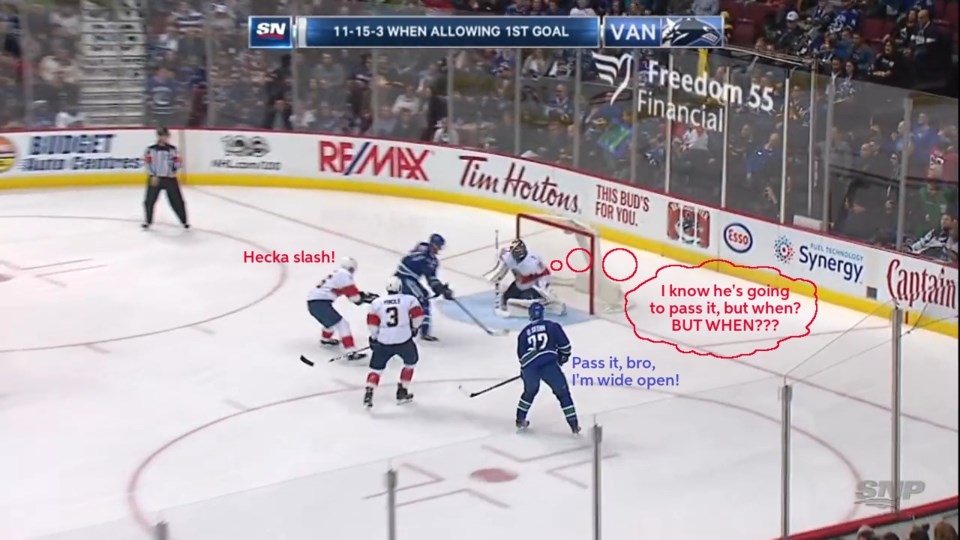 I like this moment, because you can see that Luongo actually has Henrik dead to rights. If he stays down flat in his butterfly, Henrik has no chance to beat him unless he lifts the puck and he doesn't have the angle to do so.
Also, Luongo has watched Henrik on breakaways and penalty shots. He knows that Henrik always tries to deke and slide the puck into the net. All he has to do is seal off the bottom of the net and he's set. Instead, Luongo lifts up his pad as if he's expecting Henrik to roof it.
Meanwhile, Jokinen gives Henrik a weak tap on the hands and calls it a day.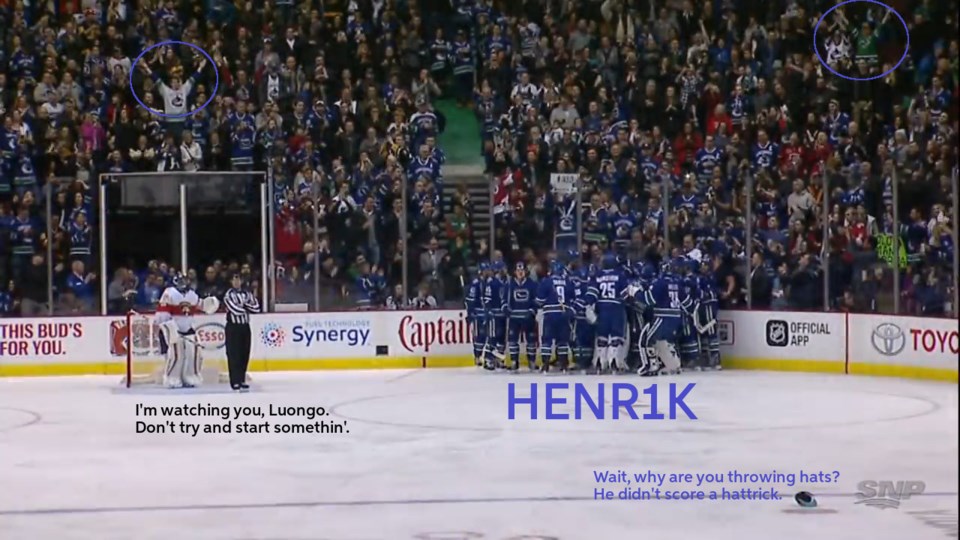 Henrik scores! The entire team jumps over the boards to celebrate. It's awesome.
Two dude try to start a Viking Clap, but with no one else participating it just looks like they picked a really weird time to sing "YMCA."
I love the referee standing cross-armed in front of Luongo. He is not impressed at all and it seriously seems like he's there to prevent Luongo from starting a brawl. It's cool, dude, seriously.
And then there's the hats. Why did people throw hats? Are there Canucks fans out there confused about when to throw and not throw hats? Do some fans just assume that's something you do when a good thing happens?
Ah, whatever. Throw your hat if you like! If that's how you choose to celebrate Henrik's amazing achievement, go for it! It's borne out of pure, spontaneous joy. I can't hate that.
The only thing truly casting a shadow on this wonderful moment is Luongo's classless attempt to injure Henrik with a violent slash to the knee well after the play is over. Shameful.
Roberto Luongo gives a glove and stick tap to Henrik Sedin on his 1000th career point. Classy move by @strombone1. #Canucks #flapanthers pic.twitter.com/sg6Zp7Jf2x

— Grady Sas (@GradySas) January 21, 2017
I kid, of course. This was the height of sportsmanship and possibly my favourite part of the entire night.