The Paper Feature is a weekly column and sidebars that appears in the print edition of the Vancouver Courier newspaper. Track it down!
---
Brock Boeser took the pass from Elias Pettersson down the left wing. The Winnipeg Jets defenceman, Neal Pionk, closed quickly, knowing that if Boeser got room to shoot, he could pick a corner and give the Vancouver Canucks the lead.
Then Boeser did something unexpected: he lowered his shoulder into Pionk, knocking the defenceman off stride. Boeser spun off the contact with the puck, then cut back, sending Pionk flailing wildly past him. That opened up a passing lane to Troy Stecher, who was trailing the play. A moment later, Stecher sent a back door pass to J.T. Miller for a tap-in goal.
Brock Boeser is known primarily for his deadly wrist shot, but as the 2019-20 season has progressed, he's proven that he's more than just a one-trick pony. He rarely gets credit for how well-rounded his game is but, over the past couple weeks, he's arguably been the Canucks' best skater.
What has stood out the most is what he did against Pionk: he engaged physically, throwing his weight around in a manner more akin to a power forward than a sniper.
"The last three or four games I've noticed, even in practice I've noticed, he's just working a little bit harder and he's getting on pucks more, and competing a little harder with the puck," said Brandon Sutter on Tuesday before the Canucks' game against the Nashville Predators. "He's moving his feet better, he seems to have more jump, more energy."
It's not that Boeser had a bad start to the season — he was a big part of the Canucks' success in October — but he's taken a step forward in November, despite the team struggling to score goals and win games. He would have had plenty of excuses if he did have a slow start: a tough offseason with his father's health, a delayed start in training camp thanks to contract negotiations, and even a concussion in the preseason.
Instead, he hit the ground running on opening night and has only gotten better since. A big reason why is that he's added more dimensions to his game beyond just his elite shot.
"I think sometimes when you're a guy that has a good shot, if you get caught standing around looking for shots, it usually never works out for you," said Sutter. "When he gets in the corner and digs and works for it, all of a sudden he's open and he's shooting all the time. When he's engaged like that, he's so dangerous."
When asked if Boeser gets enough credit for his all-around game, head coach Travis Green smiled and said, "Gotta be careful here on how I answer this or Brock's going to hold it against me."
"I think if you ask any high-end offensive guy that's won a Stanley Cup, he's learned to play in certain areas of the rink," he added, "and those are things that we've tried to install in our young guys and not take away from their offense."
When asked specifically about Boeser being harder on the puck and showing a more physical side to his game, Green beamed.
"These are things that we've talked about in this room...for a couple years now," said Green. "To hear someone say it from the outside that a young player's doing that, that's what you want to hear."
That physical element, combined with the strong play of his linemates, Elias Pettersson and J.T. Miller, has led to puck possession dominance from Boeser. When he's on the ice, the Canucks have the puck. The other team simply does not create scoring chances against Boeser and his line. When he's on the ice at 5-on-5, his defensive heat map from HockeyViz.com tells the tale: an ocean of blue in front of the Canucks' net, as their opponents rarely get shots from the most dangerous areas on the ice.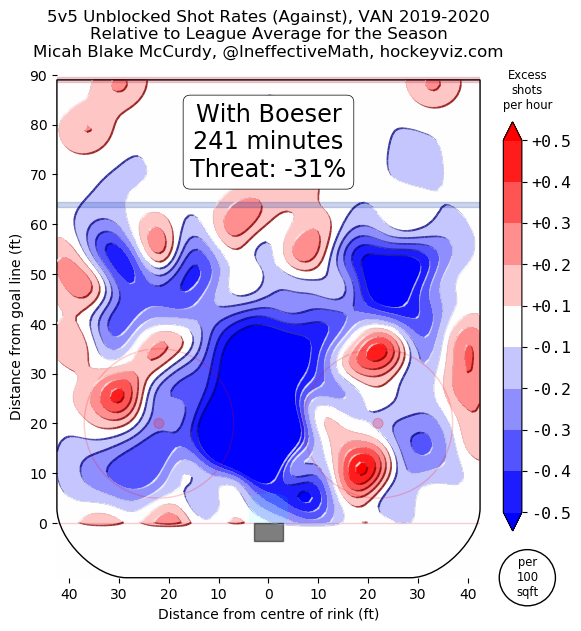 Meanwhile, Boeser continues to rack up points. After Tuesday's game against the Predators, Boeser has 19 points in 19 games, a point-per-game pace that would see him smash his career high of 56 points in a season. It's a welcome development for a Canucks team with eyes on making the playoffs.
---
Big Numbers
1.81 - Boeser has developed a playmaking side to his game and it shows in his assist rate: while still on pace for 30+ goals, Boeser is averaging 1.81 assists per hour, a step up from his career high of 1.44 assists per hour.
63.3 - J.T. Miller leads the NHL in corsi percentage at 63.3%: when he's on the ice at 5-on-5, the Canucks have out-attempted their opponents 300 to 174. That's an utterly dominant shot share.
Stick-taps and Glove-drops
I'm dropping the gloves with the Florida Panthers for their brazen circumvention of the NHL's collective bargaining agreement. Not long after Roberto Luongo retired, sticking the Canucks with the cap recapture bill, the Panthers have now conveniently hired him in front office role. The Panthers saved a lot of money off the cap, while Luongo still gets paid. It's enough to raise one's eyebrows.
A tap of the stick to Bo Horvat. When asked about the Don Cherry situation, Horvat could have refrained from commenting, but spoke out about the need for hockey to bring people together and that the right decision was made. Whether you agree with his viewpoint or not, it showed bold leadership to take a stan and risk the backlash.