Brock Boeser is winning new fans every day with his elite goal-scoring and the hope that he brings to the Canucks franchise. Also winning new fans: his hair.
On All-Star Weekend, Boeser's flow got almost as much attention as his MVP-Award-winning performance. While Canucks fans are very familiar with his long blonde locks, it was a revelation to some fans and media in the east.
This was particularly the case on social media, as gifs of Boeser flipping or running his fingers through his hair seemed to outnumber those of him shooting the literal lights out in the Accuracy Shooting contest.
a mood pic.twitter.com/vG2d7Phk7W

— NHL on NBC (@NHLonNBCSports) January 28, 2018
I spoke to one friend of mine whose son just started playing hockey this year. She told me that Boeser is his favourite player and, when she took him in to the barber last week, he asked for "The Brock Boeser."
Boeser smiles and laughs as I relay this story to him. "I don't know how they're going to make you 'The Brock Boeser' unless he grows his hair long," he says.
"That's pretty cool, honestly," he adds. "If he wants to — is his hair long? — just tell him to keep growing it out."
Boeser doesn't really have any special hair care regimen, like Steve from Stranger Things: "Fabergé. It's Fabergé Organics. Use the shampoo and the conditioner, and when your hair's damp — it's not wet, okay? — when it's damp, do four puffs of the Farrah Fawcett spray."
No, nothing that fancy.
"I mean, when I do my hair I throw a little gel in it, but not too much," says Boeser. "Just comb it, put some gel in it, mess it around, and slick it back, I guess."
While Boeser's hair is certified fabulous now, it wasn't always that way, giving hope to those whose hair is a little more awkward.
"I don't know how it came like this," he says, "because my hair used to be brutal in high school."
That's hard to believe, but a look back at his high school hockey days reveals a Justin Bieber-esque coif.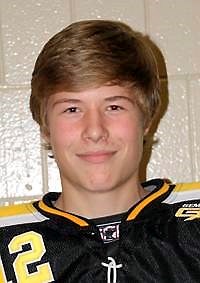 While his hair may have taken a while to develop, Boeser was already lighting lamps on the ice and has wasted no time bringing that goal-scoring acumen to the Canucks. Boeser's 24 goals lead all rookies and put him 8th in the NHL, six back from Alex Ovechkin in the race for the Rocket Richard.
His goal-scoring has slowed recently, however, with just two goals in his last nine games. The Canucks offence as a whole has been maddeningly inconsistent: they have ten goals in the last four games, but were shutout twice.
Looking for offence, Travis Green has started throwing Boeser onto different lines within games, sometimes a different line two or three shifts in a row. While some might suggest that inconsistency in his linemates could affect chemistry, Green thinks pretty highly of Boeser's ability to play with anyone.
"I think he likes to get on the ice as much as he can, I don't think he cares who he plays with," says Green. "A lot of times I'm trying to find chemistry in a game that we're chasing and sometimes I'm trying to double-shift him and put him in a different spot."
"He's a kid that wants to play, he's hungry to play," he adds. "He never once complained about who he plays with and I don't expect him to ever complain about that. He's a guy that makes other players better."
Boeser himself doesn't take issue with playing on different lines.
"I don't think it's necessarily just me, I think it's all the guys," he says. "When we need a goal, if we haven't been generating offence, he switches it up and throws guys together, so it doesn't bother me too much. Whoever I'm going out there with, they're great players and skilled guys that can produce offence, so that's the way I look at it."
On Thursday, Boeser is expected to start on a line with the Sedins, as he has in several previous games, but that's no guarantee that's where he ends up playing for the entire game.
Heading into the game against the Chicago Blackhawks takes Boeser back to his younger days when he was — and don't crucify him for it — a fan of the Blackhawks.
"I was a 'Hawks fan growing up, along with the Wild," he says. "I was always cheering for them when they were in the playoffs. Getting to watch guys like Toews and Kane growing up was really special, and now getting to play against them is even more special."
"I didn't care too much about the rivalry," he adds. "I liked a lot of teams in the NHL."
For kids now who watch him the same way he watched Jonathan Toews and Patrick Kane, Boeser has some advice.
"First of all, just make sure you're always having fun, because you don't want to get sick of hockey ever," he says. "If you get sick of hockey then that's not good. Have fun and make sure you compete and always want to get better."