Once, Sharon Xie built a house with her hands. It was a Georgian style house on the University of B.C. campus with more than 10,000 square feet of floor space.
She assembled every window frame and laid every shingle. She cut every strip of wood by hand. After two weeks working 14 hours a day, the model house was complete.
"The client was so happy," said Xie. "I asked him, when you finish building the house, can I buy it back? And he said, 'No Sharon, I want to put it in my living room. This is a piece of art.'"
Xie runs AB Scale Model in Mount Pleasant with her husband, Ming Yang. Both love the magic of making small, intricate works. Xie grew up doing calligraphy, and Yang grew up making tiny furniture.
They started the business in 1990, not long after Expo 86, the time many consider the moment when Vancouver stepped onto the world stage.
Xie can name all the big developments they modeled since then: the hub at Marine Gateway, the mid-rises on the Cambie Corridor, the Olympic Village, the towers of Mount Pleasant and the entire community popping up at Southeast Marine Drive's River District.
It's no surprise that the business of city building in Vancouver is booming. While the key decision makers might be the urban planners, developers, architects and active citizens, the model company offers a small, tangible glimpse at the big dreams that will soon dot Vancouver's skyline.
SUPER MODELS
If you walk into AB Scale Model, you'll be surrounded by the recent history of development in Vancouver. Models of towers and townhouses built or proposed in the past quarter century are packed into corners and stacked on shelves — the density in this building is a house-dwelling NIMBY's nightmare.
The future of Metro Vancouver is built in the main workshop. It's a large space with lots of light and high ceilings. Staff tend to one project at a time, some almost as tall as they are.
There is no formal training for model making, but all employees have experience in architecture, engineering, the fine arts or interior design.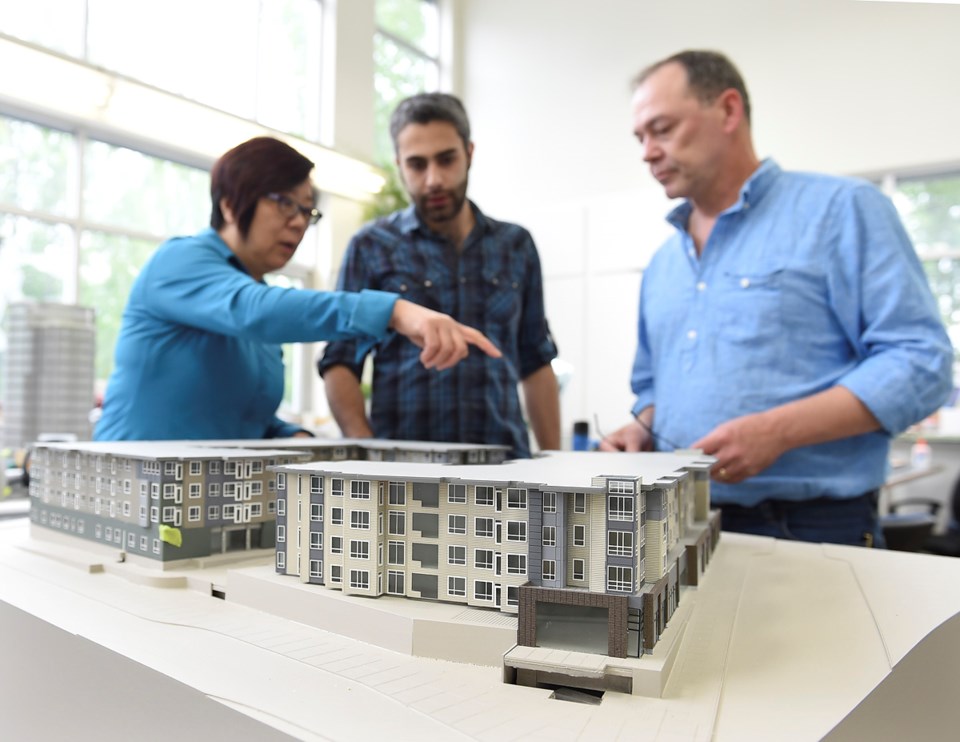 A man at one table holds a tiny tree between his thumb and forefinger. It's made of copper wire. He's using a pair of pliers to fray its thin branches.
A gardener is also here. She's planting foam flower beds and checking whether the colour of trees suit the season.
Another man is tending to a mess of wires spilling out the spine of a glassy condo. The tower lights up.
"Every unit can light up," Xie said happily. "You use an iPad to control it."
But not everything's done by hand like in the days when Xie started. 3D printers spew Lego-sized patio furniture. The Austrian laser cutter — a Trotec SP1500 — finishes the wall of an apartment. It belongs to one of Mosaic's properties along the Cambie Corridor.
The model company has a one-ton truck to privately deliver its massive creations.
"We feel safer if our own people deliver," Xie said. "They know how to care for the model, too. If something gets damaged, they can fix it."
One of the rare times they used FedEx to deliver a model to Yellowknife, the model was damaged.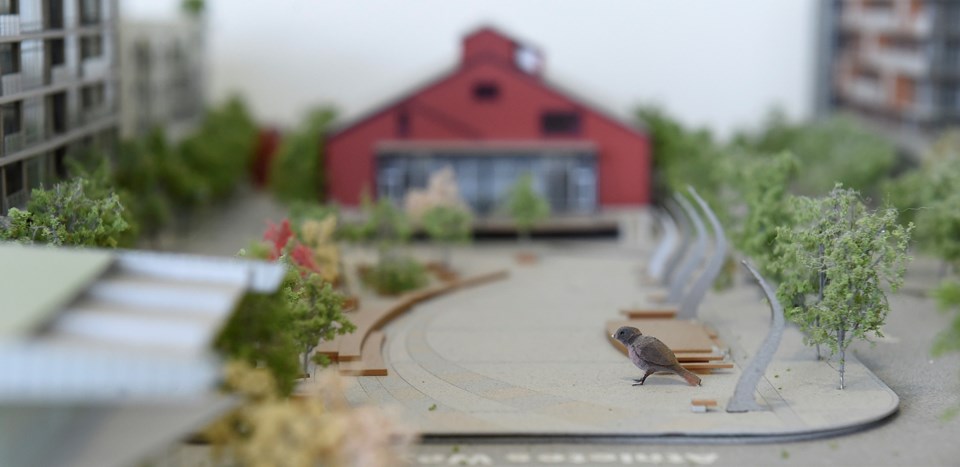 The workshop makes 300 to 400 architectural scale models a year. Xie estimates they handle 90 per cent of Metro Vancouver's projects, working with almost every architecture firm and developer in town.
They've also done models for projects elsewhere in Canada, the U.S. and Hong Kong.
"Our company is growing because we're part of a growing society," said Xie.
'A LOT TO BUILD'
Yang is originally from Kuala Lumpur and was Arthur Erickson's model maker for a series of projects by Malaysian business tycoon Chen Lip Keong.
Erickson and his team were happy with Yang's work, and Yang remembers them telling him, "There's still a lot to build in Canada." His interest was piqued, and he accompanied them home in 1984.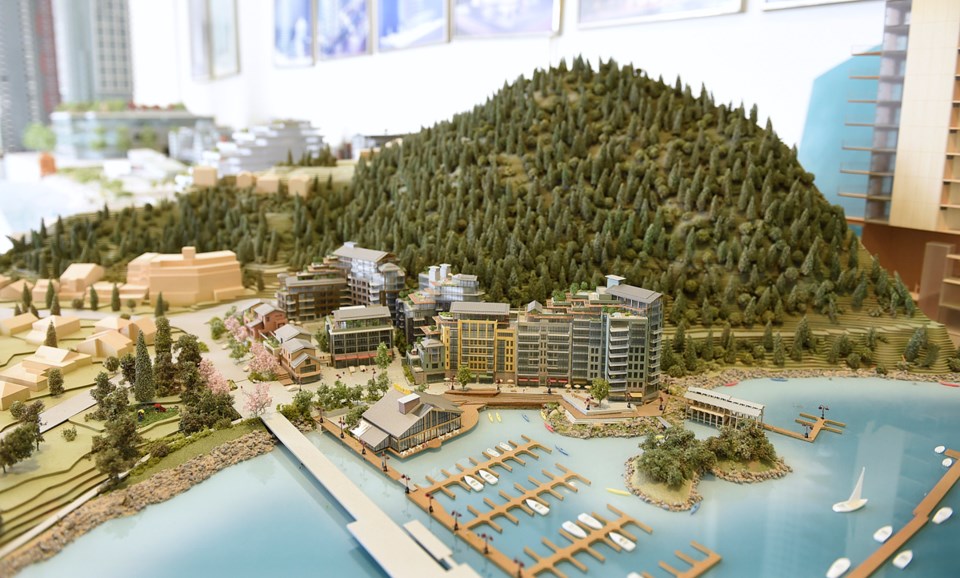 "After I came here," said Yang, "I fell in love with it — the weather, everything."
He also saw that the architects' words were true: there certainly was a lot to build. He remembers being able to count the number of towers in Yaletown.
These days, Yang mostly teaches the tricks of the trade, but he recently assembled a wooden model of Trump Tower during a lunch break. It's his current favourite, which is fitting as the Erickson design is a hint to his beginnings in Vancouver.
GROWTH INDUSTRY
AB Scale Model specializes in the business of all things small, but Vancouver is starting to reflect this as big houses disappear and small condos multiply.
From 2001 to 2011, detached single-family homes in Vancouver dropped from approximately 66,000 to 47,000, according to census data. Rezoning is a major cause of this. The number of rowhouses and condo units went up, increasing by 28,000 in the same decade.
And yet, the additional supply still doesn't satisfy the demand. The sizzling market has seen bidding wars and overnight lineups for condos.
But despite the demand for homes, some Vancouverites still fear the coming of towers and density.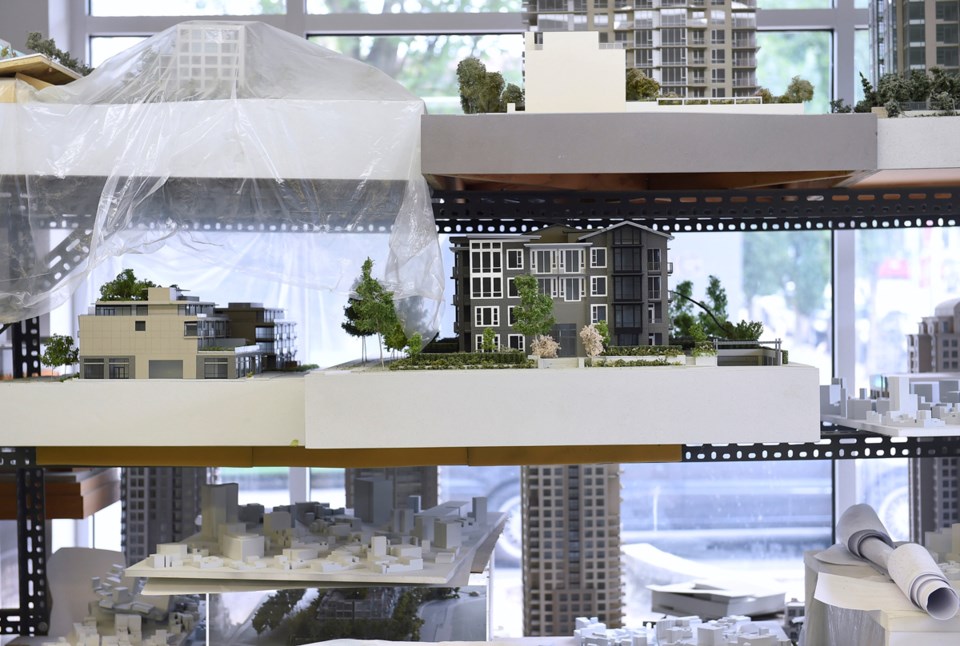 UBC professor Nathanael Lauster, an expert on built environment and the sociology of housing, has one explanation.
"Houses were a more dominant part of Vancouver's housing stock relative to other big cities in Canada for a longer period of time," he said.
Then there's also the upset of born-and-raised locals being priced out of their own hometown due to unaffordability.
"There's a discomfort for people who see themselves as middle class having done everything their parents did yet it's not proving viable that they should be able to get a single-family house," said Lauster.
AROUND THE CLOCK
Manager Xie isn't sure where Vancouver's unaffordability is headed, but she knows development will go on as long as there are people who want to live here.
The growth is why AB Scale Model is open 24/7. Xie gets emails all the time for rush orders that need to be completed in a matter of days.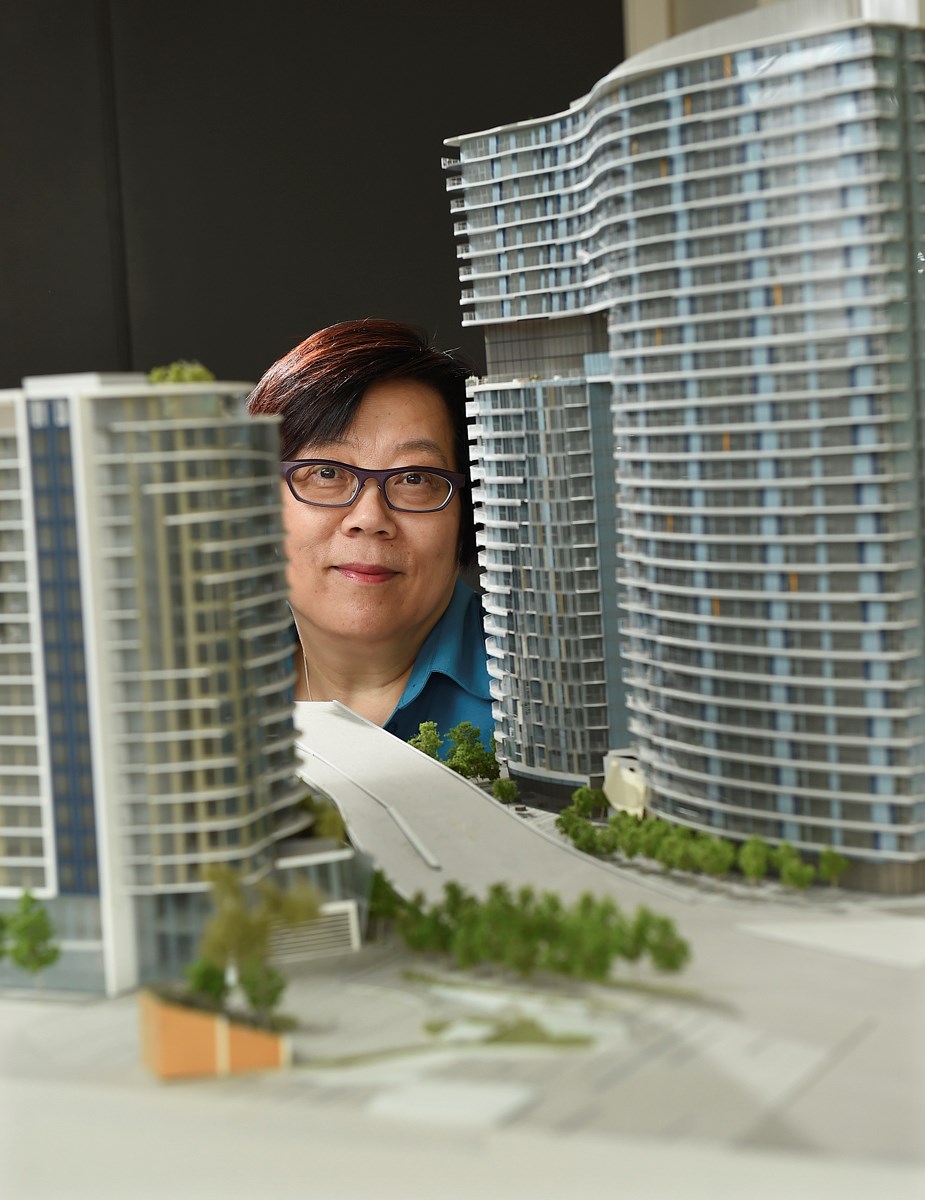 Xie and Yang's children are studying abroad, so the company is where their energy goes. Xie usually works 15-hour days.
"If we had a website, I wouldn't be able to sleep," she said.
No matter what time you go to sleep tonight, AB Scale Model will still be awake (Xie might be, too). Some of the company's more than 40 employees will be hard at work tending foam gardens, planting copper wire trees and raising condos coming soon to a neighbourhood near you.
bychrischeung@gmail.com
@bychrischeung