The NHL will release the list of players protected by each team for the expansion draft on Sunday, which is sure to precipitate a fresh torrent of roster speculation leading up to the official announcement of the Las Vegas Knights' roster at the NHL Awards on June 21st.

The Canucks list isn't hard to figure out, until you get to the final forward. Should the Canucks protect Brandon Sutter or Brendan Gaunce? Do you go with the third-line centre on a bad contract or the underwhelming rookie who still might have some potential?

According to a report from Matt Sekeres, that question has been answered and it should come as little surprise that the Canucks plan to protect the player Jim Benning described as a "foundation piece" when he traded for him back in 2015.
 
The #Canucks will protect F Brandon Sutter in the expansion draft. Likely means Brendan Gaunce is available to @GoldenKnights.#CanucksOn1040

— Matthew Sekeres (@mattsekeres) June 14, 2017
That's a blow to the nascent #ExposeSutter movement and it will provide some nervous moments for the diehard Brendan Gaunce fans in Canuck nation, who will have to hope that Luca Sbisa is too tempting a target for Knights' GM George McPhee. All two of us will be waiting with bated breath.

It's understandable why fans might want the Las Vegas Knights to take Brandon Sutter off the Canucks' hands: he's inexplicably signed through the 2020-21 season, by which team every young player on the roster will be on a new contract and the team will hopefully be turning things around to become a playoff contender. This is a prime opportunity to get out from under a contract that could constrict the Canucks' ability to make moves to improve their chances of a deep post-season run.

At the same time, Sutter is nowhere near as bad as his worst detractors might claim. In fact, according to one particular advanced statistic, Sutter was the most valuable player on the Canucks last season: Goals Above Replacement (GAR).

I certainly didn't expect to spend part of the off-season as a Sutter apologist, but some of the data from the past season has painted a (slightly) rosier picture of the much-maligned centre. And Sutter led the Canucks last season in GAR, suggesting that overall, Sutter was actually the team's most valuable player.

Before Sutter's fan club celebrates too vociferously, however, it should be noted that Sutter's standing in this statistic comes with a couple pretty big caveats.

I touched on GAR when talking about Chris Tanev recently, but here's a quick refresher: GAR was created by Dawson Sprigings as an attempt to create a single statistic to measure all NHL players, similar to Wins Above Replacement (WAR) in baseball. GAR indicates what a player is worth in goal-differential above a replacement-level player, ie. a career AHLer.

One of the best qualities of GAR is that it can be split into its individual components to see how each element is contributing to a player's overall rating. Those components are even-strength offense, even-strength defence, power play offence, drawing penalties, taking penalties, and faceoffs. Sprigings went into extensive detail on each component and why they were included in a series of blog posts on Hockey-Graphs.com.

Here is a visualization of all the Canucks forwards from last season, courtesy of Sean Tierney. It should be noted that Brandon Sutter led all Canucks in GAR, not just forwards, but I left defencemen off the chart to avoid too much clutter.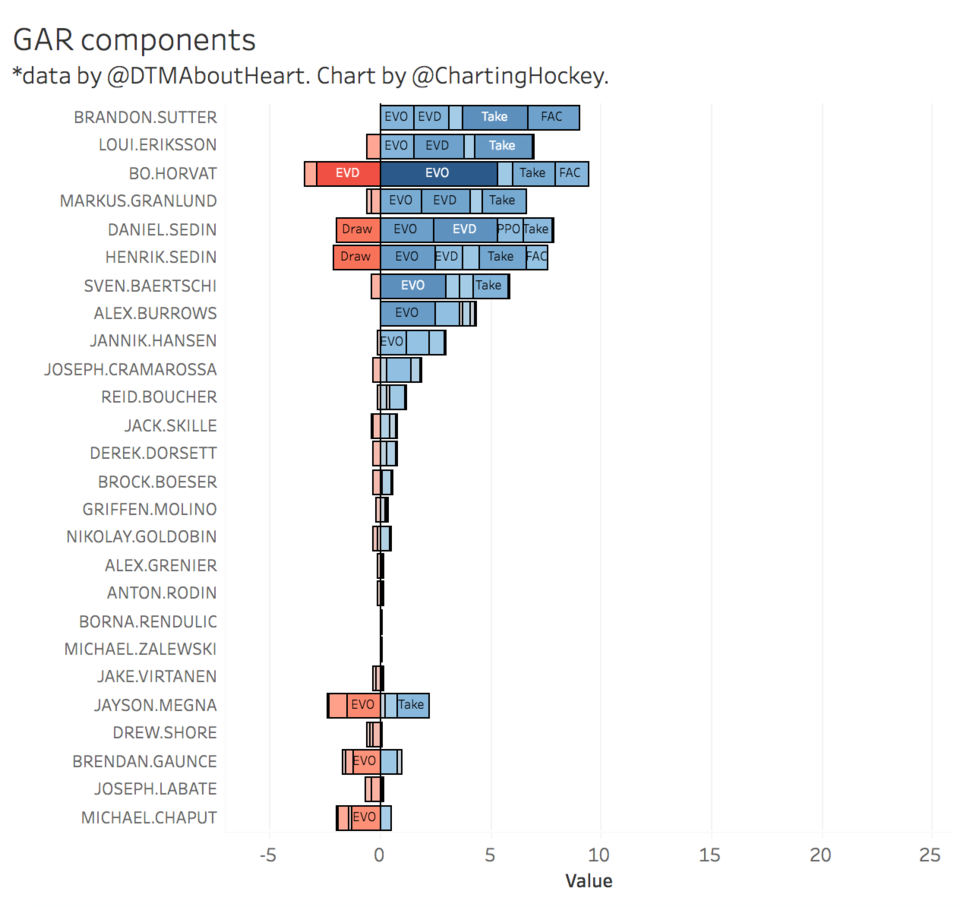 The chart should be fairly intuitive: blue bars on the right side of the zero mark are good, red bars to the left are bad. For context, Sutter's overall GAR of 9.0 was tied for 70th among NHL forwards last season.

We could go into a full breakdown of the Canucks' forwards, but we'll save that for a later date. For now, let's focus on Sutter at the top of the chart. And this is where the caveats begin.

The first caveat is that this is a cumulative stat rather than a rate stat. When adjusted for time on ice, Chris Tanev vaults to the top as he missed games due to injury this past season. On a game-to-game basis, Tanev was the most valuable player on the Canucks.

But even with that in mind, Sutter still led all Canucks forwards in GAR. Curious about this result, I reached out to Sprigings to get his thoughts.

"Sutter had an interesting season but probably not all that encouraging," he said. "While he has some particularly useful skills, they are also the least stable skills by my testing."

What he meant by "least stable" is that they're the least likely to repeat from year-to-year. The two largest chunks of Sutter's GAR come from his ability to avoid taking penalties and his ability to win faceoffs. Those two components represent more than half of his rating.

"He did have a very strong year in the faceoff circle," said Sprigings. "Sutter is an interesting case for not taking penalties where it's a skill he has shown consistently. And this year was a high point for him in my data in terms of drawing penalties, something he has struggled with before."

The trouble is whether Sutter can repeat that in the future: "I wouldn't expect him to post another 54.3% faceoff season," said Sprigings, "nor would I expect him to draw enough penalties again."

The two most stable components of GAR are even-strength offence and defence and that's where Sutter does not fare as well. He's 7th among Canucks forwards in even-strength offence and that's on a team that seriously struggled to score. His even-strength defence is 4th among Canucks forwards, but still 126th among NHL forwards. That means his overall even-strength contribution to his GAR is mediocre, landing him 179th among NHL forwards.

That's not ideal, as Sutter played a ton of minutes at even-strength, third behind only the Sedins. It's good that his even-strength offence isn't negative, like the fourth-liners at the bottom of the chart, but that many minutes should not be taken up by a player that contributes that little.

The less said about his power play offence, which is minuscule despite also playing a ton on the power play, the better.

So, this is good news and bad news for Sutter supporters. The good news is that Sutter legitimately was a key contributor to the Canucks this past season. The claims that some have made that Sutter is a replacement-level player don't hold water for this past season. He was 9 goals above a replacement-level player!

The bad news is that for most of his career Sutter has, in fact, been below replacement-level in this metric and the areas in which he excelled this past season are some of the least-repeatable. In addition, the number of minutes that Sutter player would be better used by players that contribute more offensively and defensively.

In other words, while Sutter was surprisingly valuable according to one of the best publicly-available statistics, he's unlikely to be as valuable next season and beyond.