Over the past few years, Alex Biega has found his niche in the NHL as a seventh defenceman. He's hassle-free: even when he's a healthy scratch for weeks on end, he still works hard in practice and is ready to plug into the lineup at a moment's notice to provide a little energy and some reliable minutes.
When Alex Biega signed his two-year contract extension a year ago, however, he believed he had something more to give beyond being a seventh defenceman.
"For me, it's coming to the rink every single night and it doesn't change," said Biega. "It's proving that I can be a player and proving to myself that I can be a guy that can even surprise myself and be that guy that can maybe be a five-six."
In other words, Biega wants to be an everyday NHLer, an understandable goal for the 30-year-old defenceman. Even though Biega has taken pride in his ability to sit out for long stretches and still contribute when he's put back in the lineup, why should he be content to sit in the pressbox for half the season?
This season, thanks to injuries and trades, Biega has had to step into larger minutes than he's ever played. He's played over 20 minutes in as many games this season as in the rest of his career combined.
Against the New Jersey Devils last Friday, Biega played a career-high 25:37, best his career high of 22:23 from a week earlier against the Vegas Golden Knights. On Sunday against the Dallas Stars, he played 24:44.
He's not just playing big minutes, but producing points. His 13 points in 34 games is a new career high for Biega and puts him ahead of Derrick Pouliot and Chris Tanev, both of whom have played significantly more games. In fact, when you take into account ice time, Biega's 1.32 points per 60 minutes at 5-on-5 leads all Canucks defencemen.
His points have largely come from his penchant for shooting the puck, leading to deflections, rebounds, and the occasional goal. He leads Canucks defencemen with 8.24 shots on goal per hour at 5-on-5 and is actually third among all NHL defencemen, behind just Dougie Hamilton and Brent Burns, and just ahead of Erik Karlsson.
While Biega's frequent shots can be frustrating at times, particularly when he's on a rush with more offensively-gifted forwards like Elias Pettersson, it shows how active he's been offensively. He loves to jump up in the rush, with his 0.44 rush attempts per hour at 5-on-5 good for 7th among NHL defencemen.
This gives us a picture of a defenceman that might be more than a seventh defenceman. His underlying shot metrics reflect his ability to push the puck up ice: he leads all Canucks defence with a 51.68% corsi, indicating that the Canucks have out-attempted their opposition when Biega is on the ice at 5-on-5.
It doesn't appear to matter who Biega plays with: he's had a positive effect with all three defencemen with whom he's played more than 50 minutes this season. The chart below specifically shows scoring chance percentage with and without Biega, as tracked by Natural Stat Trick. In other words, all three defencemen appear to be better at creating and preventing scoring chances when paired with Biega.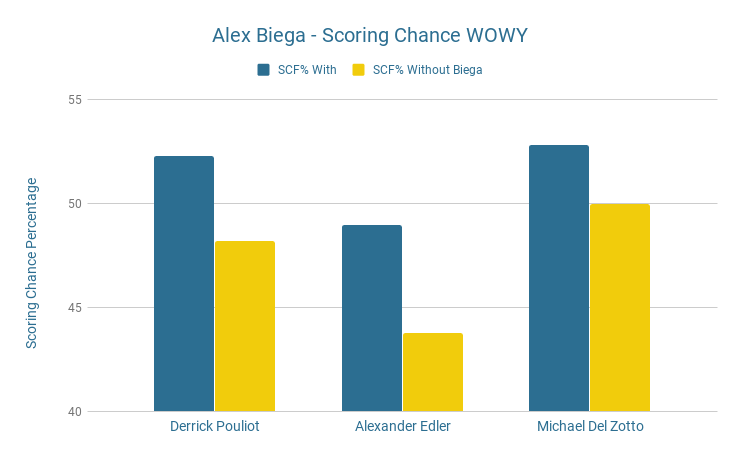 Based on the eye test and a small sample size of tracking data, Biega appears to have improved significantly in one area that helps those shot metrics: zone exits. Biega has always been good at gaining the offensive zone with his speed and has also been above average at defending his own blue line and preventing zone entries. Where he appears to have taken a step forward is moving the puck out of his own zone with possession.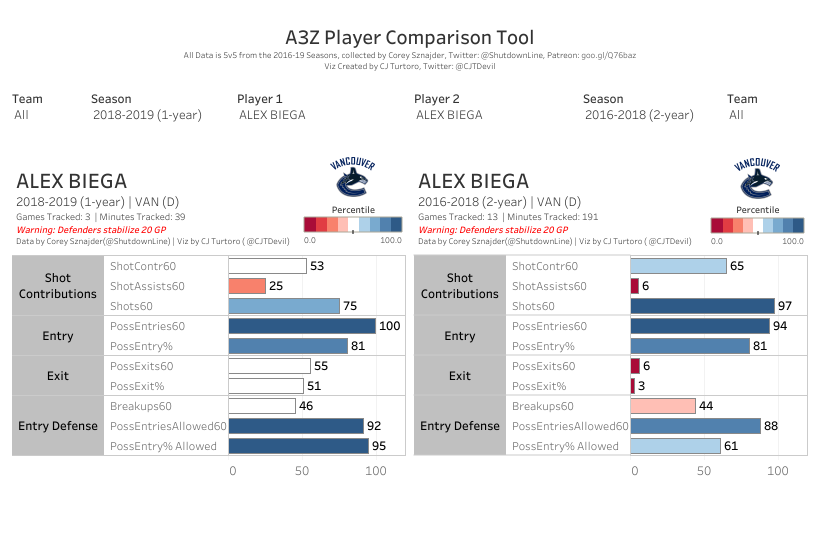 Some more data would help solidify this, but it apparently jibes with zone exit data tracked by The Athletic's Harman Dayal.
With all of this in mind, it appears that Biega has become a better defenceman than anyone expected. Even Biega said that becoming a 5th or 6th defenceman would surprise himself. There's just one catch: context.
While Biega has posted some excellent numbers in a variety of ways, it's hard to ignore that he's done it mostly in a sheltered third pairing role. When he's had to step into a larger role with bigger minutes, his underlying numbers have suffered.
We can see this effect when we chart his time on ice and his corsi together. Corsi isn't everything, of course, but it can be a useful surface-level look at how a player performed in a given situation. What we see from Biega is that as his ice time increases, the likelihood that the Canucks get out-attempted when he's on the ice also increases.
That's not the end of the world. This merely suggests that Biega shouldn't be a top-pairing, or possible even top-four, defenceman. His sweet spot appears to be between 12 and 15 minutes at 5-on-5, which is right around where your typical third-pairing defenceman lands.
What this last stretch of games suggests, at least, is that Biega does have what it takes to be an everyday NHLer, even if it's only on the third pairing. That's a good thing, as the Canucks don't have many other options on the right side. 
If the Canucks don't re-sign Luke Schenn, Biega will, by default, be the Canucks' third best right-handed defenceman. Even if they do re-sign Schenn, Biega is arguably the better player.
Elliotte Friedman, in his latest 31 Thoughts, speculated that the Canucks will be looking for a young defenceman in his mid-20's like Brandon Montour, who is a 24-year-old and shoots right. If they do seek a player like Montour on the trade market, he likely would require some significant assets to acquire.
If they do add to their right side, that would once again push Biega down the depth chart as a seventh defenceman. You could argue that he deserves a bigger chance to prove himself next season.