At first glance, Whistler's rankings on Maclean's annual list of "Canada's Most Dangerous Places" should sound the alarm bell, but the results don't paint an entirely accurate picture.
Based on police-reported criminal offences from 2016, the most recent data available, Maclean's ranked 229 communities across Canada in a number of categories according to the Crime Severity Index, which takes into account both the volume and seriousness of offences. Notably, Whistler ranked third highest in the country for impaired driving, with 128 reported incidents, or roughly 1,118 incidents per 100,000 population, nearly six times the national average.
The resort also ranked 20th for cocaine trafficking, with eight reported incidents, or 17.46 per 100,000; 21st for assault, with 101 reported incidents, or 882 per 100,000; and 22nd for sexual assault, with 13 reported incidents, or 114 per 100,000. The resort ranked no higher than 69th in any other offence.
Whistler placed 49th overall across all criminal categories.
The results are somewhat misleading, however, as Maclean's used Whistler's permanent resident population of 11,452, failing to account for the resort's fluctuating seasonal population—the community's average daily population equivalent in 2016 was 33,631.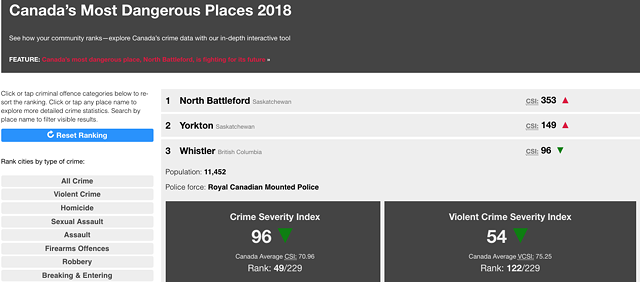 "Anytime people see numbers like this based on statistics, they really need to actually stop before they just react to what the number is and understand how that number came about and what the methodology was," said Whistler RCMP Sgt. Rob Knapton.
Another factor to consider, Knapton said, is that in some cases the number of reported incidents, particularly with impaired driving and drug offences, are driven mostly by a detachment's enforcement priorities.
"If we're putting work into proactive efforts like impaired driving and prevention, so we're out there doing roadblocks, we're going to catch more impaired drivers," he explained. "So, in reality, that means that our crime rate for impaired driving will go up, but it doesn't necessarily mean there are more impaired drivers here than anywhere else."
Even still, the rankings should push the community to consider the risk factors that exist here, explained Jackie Dickinson, executive director of the Whistler Community Services Society.
"I thought it was interesting to see we ranked 22nd for sexual assault, because when we are sitting with employers and talking with their leadership teams, we are spending a lot of time addressing these subjects," she noted. "So I look at that and say, 'Well, based on what we're seeing and hearing from the community, these types of rankings solidify that the information and the resources and the conversations we're having about the risks in the community, we need to continue having.'"
Victims of sexual assault in the Sea to Sky will now have another option to report thanks to an announcement this week that the Howe Sound Women's Centre (HSWC) in Squamish is now equipped to facilitate third-party reporting. This means that adult survivors of sexual assault can now report the details of their sexual assault to a reporting worker at the HSWC while also remaining anonymous to police.
"It's another form of justice for survivors of sexual assault," said Shannon Cooley Herman, sexual assault response and prevention facilitator at the HSWC. "Why it's great for the corridor is that it hasn't been available before. I know there have been inquiries in the past and we've had to say, 'No, you have to go out of the community for that particular resource,' so we're thrilled to be able to offer this now."
For more on third-party reporting in the Sea to Sky visit piquenewsmagazine.com.