Last Sunday, roughly 150 people lined up at the Vancouver Area Network of Drug Users (VANDU) building on East Hastings Street and waited their turn to be let in and given a free bag of cannabis products. Depending on the week, the package usually contains two or three kinds of edibles, a couple of joints, a capsule of THC oil and sometimes infused honey.
The packages are doled out by Neil Magnuson who started the Cannabis Substitution Project more than year ago for drug users looking to ease their cravings for opioids.
Brad Williamson, who makes use of the program, rolled joints with two other volunteers at one of the two rolling stations inside VANDU. The recovering heroin user said in the two years he has been complementing his methadone use with cannabis, he has not relapsed. Before he embarked on a "marijuana maintenance program," he would relapse whenever he tried to quit cold turkey. Without a consistent supply of cannabis, the withdrawal symptoms were too taxing, he said, even after taking Kadian, a slow-release morphine drug, which he takes to detox from methadone. He said the cannabis suppresses the sickness that comes with eliminating opioids.
"As far as symptoms go, edibles are way better. They cure more symptoms for me. Edibles actually help with the nausea," Williamson said. "Now that I have used marijuana as a maintenance for that, it actually helps."
Man with a plan
Throughout the week, Magnuson, a long-time pot activist and co-organizer of Cannabis Day and the 4/20 festival at Sunset Beach, collects donations from local cannabis companies, such as Apothecary Labs, Green Wilderness and Cannabis Culture, and puts together the packages, while volunteers help rolling on the day of distribution.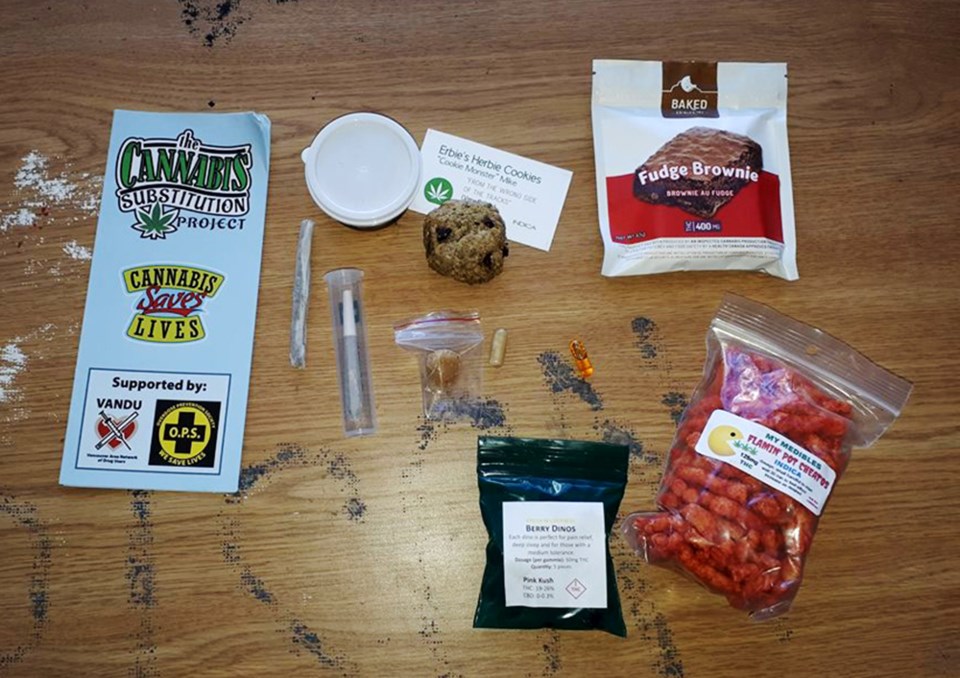 His initial involvement with cannabis activism was first sparked 20 years ago when he attended the first 4/20 rally at the Vancouver Art Gallery, after which he actively started reading up on the history of cannabis in society and advocating for pot legalization. Before that, he worked mainly in the insurance restoration industry and continues to do some maintenance work for Cannabis Culture.
Magnuson said amid a national opioid emergency, government should look beyond "stupid laws" in order to help those who are struggling daily with addiction. He said the success of his initiative is testament that it should be funded and supported by the government. So far his attempts to get the government involved have gone unanswered.
"I went to City Hall and presented it to them and wrote a letter to follow up to explain what the project would be about, and appealed to them for funding and support," Magnuson said. "And they wouldn't even talk to me about it. [Coun. Kerry Jang] kept hanging up on me. I have been all over about him lots of times in person and on the phone until he hangs up on me, asking him to explain to me why in a world of alcohol would cannabis be regulated more harshly."
Lack of clinical certainty
Not everyone is convinced, however.
The province and the city want clinical certainty and legalization first before moving ahead with outright support for cannabis as a means to curb the use of harder drugs.
In a phone call with the Vancouver Courier, Jang said he could not remember ever talking to Magnuson or receiving any letters. The outgoing Vision councillor said any claims that he does not support cannabis substitution are "bulls***." He called the use of cannabis as a substitution to street drugs "promising," but that any adoption and subsequent support of it by the city warrants rigorous scientific research first.
"Cannabis substitution will be covered under CIHR, which will be a proper clinical trial," Jang said referring to the mandate of the Canadian Institutes of Health Research to study the plant's potential uses and effects. "Currently, it's still illegal, so how can we fund an illegal project. To simply ask the city, 'Oh, we want you to fund this.' Well, a) it's illegal, and b) who would do the research? VANDU?"
Dr. M-J Milloy, a research scientist for the B.C. Centre onSubstance Use, echoes Jang's position on clinical trials. Milloy said there is anecdotal evidence cannabis can be used as a substitute for hard drugs, but medical professionals require more definitive scientific evidence and conclusions.
"We can't be sure if reductions in opioid use are the results of cannabis itself or a result of something else," Milloy said, suggesting that a reduction in opioid use could also be an individual reaction to cannabis by the user. "Until we do a controlled clinical trial, where we have placebos and blinding, we really can't conclude that cannabis is an effective substitute for either illicit opioids or licit opioids."
In 2017, Milloy's colleagues at BCCSU conducted a study of 122 crack cocaine usersfrom the Downtown Eastside and found cannabis use can help reduce the frequency of crack cocaine use. Another study of 25 crack cocaine users in Brazil saw 68 per cent of them stop using the drug altogether over a nine-month period of cannabis use.
Amanda Rainey, manager of the opioid replacement therapy program at Surrey's Health Gate Medical Clinic, said she was in disbelief when one of her patients told her someone was handing out cannabis products to combat the danger of opioid use in the Downtown Eastside. So she decided to check out the Cannabis Substitution Project for herself last January and ended up also volunteering as a joint roller. She said she has seen people who have gotten off methadone and managed withdrawal symptoms by using cannabis.
"It's not a cure, by any means," said Rainey. "But it does help if they got the pain or something. If there's problems with the sleeping, instead of taking all their prescribed meds, there is something that they're able to do instead."