From one perspective, Bo Horvat is having an excellent season. He's fourth on the team in scoring with six goals and 14 points in 18 games, putting him on-pace for 27 goals and 64 points, which would match or best his career highs from last season.
Even if you look at his underlying numbers at 5-on-5, Horvat is excelling. His corsi percentage is the highest its ever been at 54.7%, which is right behind the top line of J.T. Miller, Elias Pettersson, and Brock Boeser among Canucks forwards.
There's just one problem: Horvat isn't scoring at even-strength.
Horvat has just one goal at 5-on-5 and just five points. That's behind Jake Virtanen, Brandon Sutter, and Josh Leivo, who all have eight 5-on-5 points despite playing fewer minutes than Horvat and starting a higher percentage of their shifts in the defensive zone. Most of his scoring has come via the power play.
That's an issue because the vast majority of the game is played at 5-on-5. Power play scoring comes and goes; consistency at 5-on-5, on the other hand, can be a source of sustained scoring success.
His lack of scoring at 5-on-5 hasn't exactly hurt the Canucks, but it hasn't helped, particularly in the team's recent slump. His team-worst minus-9 plus/minus is inflated by empty net, shorthanded, and 3-on-3 goals — his goal differential at 5-on-5 is just minus-1 — but getting more out of Horvat and his line could help them turn around their losing streak.
One big issue is Horvat's linemates, which haven't been as consistent as he might have hoped heading into the season. With the addition of several top-six forwards over the last year, it was thought that Horvat might have a little more consistency on his wings, but that hasn't been the case.
"It'd be great, I'm not gonna lie," said Horvat about having more consistency heading into the season. "Last year with injuries and stuff, playing with pretty much everybody and every combination you can think of, it's tough to get chemistry.
"If we stay healthy and get off to a good start and find chemistry with guys early, then being together with guys for a long period of time, you know each other's tendencies and where we're going to be and where we're going to be on the ice. And I think that'll be huge for my game and help the team out as well."
So far, Horvat has had just one consistent linemate — Tanner Pearson — and he's on the team's biggest slump. Pearson hasn't scored a goal in a month, with just two assists in 14 games in that time. Now Pearson is expected to slide down to the third line with Brandon Sutter and Jake Virtanen, as head coach Travis Green looks for more out of the Horvat line.
Against the Nashville Predators on Tuesday night, Horvat is expected to lineup with Sven Baertschi and J.T. Miller, which means Miller has been bumped off the dominant Lotto Line in hopes of spreading the scoring around.
That's a new line combination for Horvat in a season that has already seen so many. Horvat has played at least 10 minutes at 5-on-5 this season with eight different wingers: Pearson, Baertschi, Miller, Jake Virtanen, Josh Leivo, Adam Gaudette, Micheal Ferland, and Brock Boeser. Part of the issue is that two potential Horvat linemates have been injured: Ferland suffered a concussion early in the season, while Antoine Roussel has yet to play after ACL surgery last season.
Horvat has taken the line juggling in stride. Earlier in the season, he said, "I like to think I can play with anybody and make everybody around me better. That's what I try to do every single night, no matter who I'm playing with."
Will Baertschi and Miller help Horvat bump the even-strength slump? Miller has been dominant at 5-on-5 this season, with a league-best 63.5% corsi and 11 5-on-5 points. Baertschi has played just two games this season, but has had chemistry with Horvat in the past, and has the playmaking game to get Horvat the puck in dangerous areas.
On the other hand, maybe it's just a string of bad luck that has kept Horvat off the scoresheet at 5-on-5.
Horvat's on-ice shooting percentage — the shooting percentage of the Canucks when Horvat's on the ice at 5-on-5 — is a dismal 4.90%. The only Canucks with a lower on-ice shooting percentage (other than Baertschi and Ashton Sautner, who have barely played) are Loui Eriksson, Tanner Pearson, and Jay Beagle.
That's well below average for Horvat, whose career on-ice shooting percentage is 8.49%, which is better than league average, as is fitting for a top-six forward that creates so many chances in front of the net.
In other words, Horvat's been more than a little unlucky. The puck just hasn't been going in for him at 5-on-5 the same way it has in the past. In fact, Horvat is actually averaging more shots per 60 minutes at 5-on-5 than he has in any previous season.
Horvat suggested that getting a little lucky might open the floodgates.
"It's a matter of one going in off somebody's rear end or shin pad or something," said Horvat on Monday. "I don't know if it's us getting more pucks and bodies to the net — I think we're doing a good job getting shots. Maybe getting in the goalie's eyes more and creating havoc out front."
The truth is, Horvat and his line have been creating shots from dangerous areas. His offensive heatmap from HockeyViz shows where shots have been coming from with Horvat on the ice at 5-on-5, and they're getting a lot of opportunities from the middle of the ice and in the crease.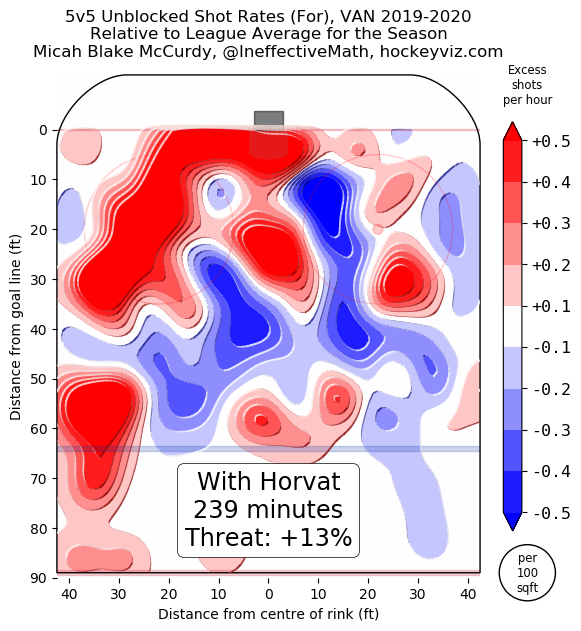 Eventually, those shots from dangerous areas should turn into goals from dangerous areas. Perhaps different linemates will help that happen, or maybe it's just a matter of a puck going in off "somebody's rear end." The Canucks just have to hope that those goals come soon.