The Canucks took a good, hard look at their injury issues this off-season and concluded there wasn't much they could do.
As detailed in Jason Botchford's article at The Athletic (paywall), the Canucks felt that most of their injuries last season were unavoidable. They determined that just 6% of their injuries were "avoidable": things like soft-tissue injuries that could potentially be prevented with better preparation and medical care.
Benning suggested previously in the summer that more size at forward could help prevent injuries.
"We've had a lot of injuries the last couple of seasons," he said. "If we can add some bigger bodied guys, then hopefully they can withstand the rigours of the season better, so we don't have any injuries."
Unfortunately, that belief does not appear to be well-founded, as teams with more size don't have fewer injuries. 
Some of the "unavoidable" injuries, however, could be prevented in another way: better puck possession.
"My take on it is that part of this is our size and speed," said Benning. "The game has got so fast, if you're attacking more and more aggressive and fast, you're on the offensive side of things and you spend more time in the offensive end.
"We've spent a lot of time in our own end. You're getting hit. You're grinding in front of the net. And you're blocking shots. Those seem to be the things that have been happening."
That's well-reasoned and makes a lot of sense. Many "unavoidable" injuries are a result of bad luck — getting hit by a puck in the wrong spot or taking a hit in an awkward position — but spending more time in the offensive zone with better puck possession can potentially reduce the number of opportunities for bad luck to be a factor.
We can look at man-games lost across the NHL last season and compare it with that team's corsi percentage, which acts as a proxy for puck possession. When we do that, we do see a relation between man-games lost and possession, even if it's a small one.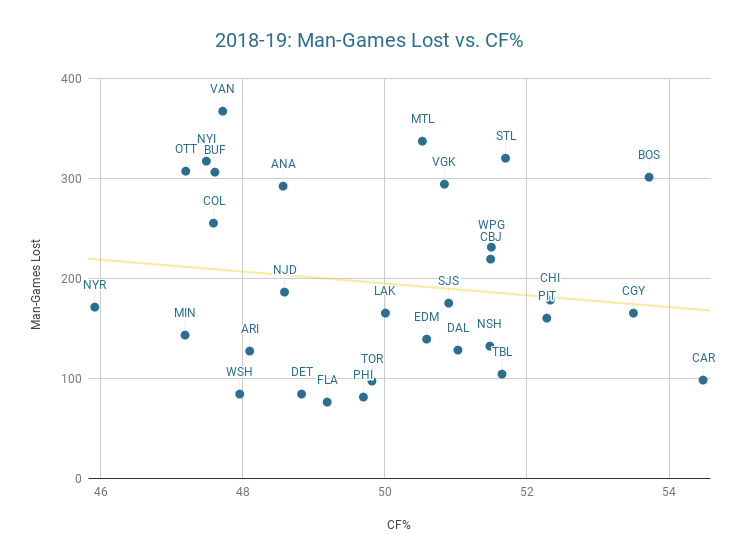 That certainly isn't definitive, by any means, but it certainly doesn't contradict the assertion that better puck possession should lead to fewer injuries. With that said, if you look at the Canucks' recent history, it doesn't exactly follow.

The Canucks' lowest man-games lost over the last 8 years came in 2014-15, when they had a sub-50% corsi. In 2010-11 and 2011-12, when they were a dominant puck possession team in the regular season, winning back-to-back Presidents' Trophies, they had more man-games lost to injury than in 2015-16, their worst year for corsi.
Of course, there are always outliers, so let's just assume for the moment that Benning's belief that spending more time in the offensive zone will, in fact, reduce injuries. As I said, it's a reasonable, logical belief, and one with which I completely agree.
So, what did Benning do with this belief?
"It's part of the reason we signed [Jay Beagle, Antoine Roussel, and Tim Schaller]," said Benning. "These guys are all good skaters. They have good size. They can get in on the forecheck. Hopefully, we spend more time in the offensive end with them this year."
Evidently, Jim Benning believes that his three free agent signings — Beagle, Roussel, and Schaller — will help the Canucks spend more time in the offensive zone thanks to their size, speed, and ability to get in on the forecheck. Those are certainly elements that can help puck possession, but they're only a part of the picture.
Unfortunately, when you look at the impact of those three players on puck possession in the past, it's a mixed bag.

This chart shows the three free agent signings and their career individual corsi percentage, as well as their career corsi relative to their team. Only Roussel has had a net positive impact on his team's underlying numbers.
There are some mitigating factors here, to be sure. Schaller spent some time with the woeful Buffalo Sabres and had a decent 51.36% corsi with the Boston Bruins last season, though that was admittedly low in comparison to the rest of the Bruins.
Beagle, of course, has fairly extreme defensive zone usage, so that explains a part of his lousy corsi. Even with that in mind, however, if your thought process is that Beagle will help your team spend more time in the offensive zone, that hasn't been true of Beagle at any point in his career. That's not a slight on Beagle, by any means; it's just not his role.
So, you could make the argument that Roussel could help the Canucks spend more time in the offensive zone, and there's room for optimism with Schaller as well. While Beagle is unlikely to help the Canucks' puck possession, Roussel and Schaller might, albeit by a small amount. Will that be enough to limit injuries?
There are other related factors. When you're a more talented team, which is generally reflected by a strong corsi percentage, you don't have to work as hard for every win. A team like the Canucks has to grind out every win and that can take a toll on a team. There's something to be said for occasionally being able to coast to a victory, which also allows you to rest your best players a little in the third period.
There's also the penalty kill, where the danger of getting injured blocking a shot seems heightened. The Canucks were shorthanded 276 times last season, the third most in the league.
The three free agent signings might not have a huge impact on that number. Roussel may take a lot of penalties, but he draws just as many as he takes, with many coming as coincidental minors with no power play. Schaller likewise draws as many penalties as he takes and Beagle mostly avoids the penalty box.
Here's the thing: injuries happen for a whole host of reasons. Those reasons range from age, travel, past injury history, poor medical advice, and pure bad luck. Some of the man-games lost are from several minor injuries adding up, while others come from one devastating, season-ending injury.
There's only so much you can do. Even with that in mind, of course the Canucks should absolutely be looking at every possible avenue to prevent injuries. It's great that Benning is looking at puck possession as a positive, even if it's just in regards to injuries and not winning games.
It just doesn't seem clear that Beagle, Roussel, and Schaller will be able to help enough in this area to truly make a difference for the Canucks.