The Canucks' big free agent signing is exactly that: big.
As was widely rumoured/reported heading into July 1st, Tyler Myers is coming to Vancouver on the wings of a five-year, $30 million contract. The second-tallest player in the NHL, at a towering 6'8", is now tied with Loui Eriksson and Alex Edler for the highest cap hit on the Canucks, at least until Brock Boeser re-signs.
"[Myers] has made a big impact on every team he's played on throughout his career and we're excited about how he'll improve our blueline next season," said Canucks General Manager Jim Benning in a press release. "He gets up and down the ice with ease, has incredible size and reach, but most importantly, he's a character player and role model that our younger players can emulate."
Myers' $6 million cap hit is less onerous than the $7-8 million that was rumoured a week ago, but it's still a significant number. Is it an overpayment? It really depends on how you view Myers.
If you think Myers is a top-pairing or, at the very least, a good top-four defenceman, then the $6 million price tag and five-year term doesn't phase you in the slightest. That's just the price you pay in free agency for a player of that caliber. If you don't think Myers belongs on a first or second pairing — if he's more properly cast as a third-pairing defenceman, then $6 million is a significant overpay and the five-year term could be an anchor in the coming years.
If we look at Evolving Hockey's contract projection model, Myers contract is very close to what was projected. That model predicted a seven-year contract worth a little over $6 million a year.
A model depends on its inputs, however. In this case, the model uses past contracts to predict future contracts. Essentially, the model predicts how the NHL's general managers will behave, not how they should behave, and past general managers have made plenty of mistakes. Canucks fans should be well aware of this given the team's track record when it comes to scouting NHL defencemen over the last few years.
The defencemen that have played NHL games the Canucks have acquired under Jim Benning aren't exactly a murderer's row: Luca Sbisa, Adam Clendening, Matt Bartkowski, Philip Larsen, Erik Gudbranson, Derrick Pouliot, Michael Del Zotto, and Luke Schenn. While some of those defencemen were cheaply acquired, others cost significant assets. Did the Canucks learn from their mistakes or is Myers another one?
It's immediately apparent how Myers fits a key need for the Canucks on the right side. He's a right-hand shot and has played significant minutes and put up points in the past. The Canucks are in need of offence from the blue line, and Myers seems to provide that.
Over the last four seasons in Winnipeg, Myers has averaged 21:28 per game, third on their defence behind Dustin Byfuglien and Jacob Trouba. That's good. He also averaged a little over 30 points per season, which is also good. What's less good is his impact on the defensive side of the ice.
Myers' three-year heatmap from Hockey Viz adjusts for zone starts, teammates, competition, and other contextual factors. It isn't pretty.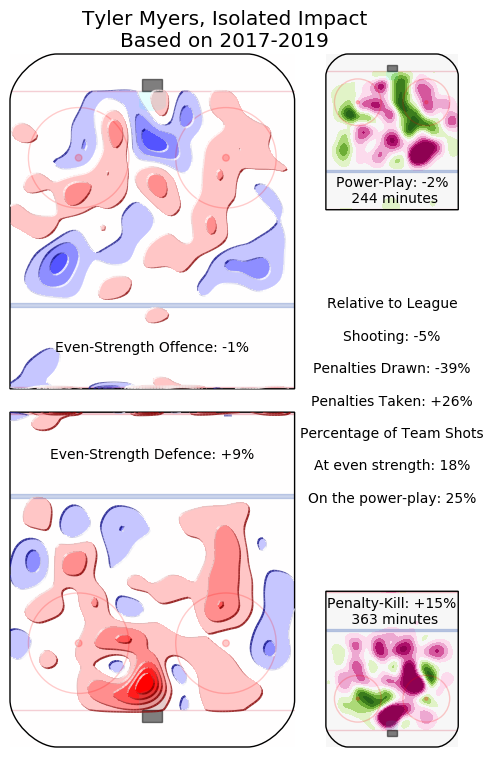 Essentially, the Jets gave up shots that were 9% more dangerous than league average when Myers was on the ice at 5-on-5. This coincides with the eye test: Myers is entirely too passive at defending the blue line and, despite his size, doesn't defend the front of the net particularly well. Anyone looking for a stalwart defensive presence will be sorely disappointed.
In hockey, there's frequently a bias that big defencemen are defensive defencemen and small defencemen are offensive defencemen. Watching Myers quickly destroys that rule of thumb. His defensive reads are questionable and he frequently chases in the defensive zone, leaving massive gaps for talented forwards to exploit.
The question is whether Myers provides enough offensively to make up for his issues in the defensive zone. That is the crux of the matter. According to a couple different analytics, his offence isn't enough.
Myers' Hockey Viz heat map above shows his impact offensively over the last three seasons as merely average: in other words, the average NHL defenceman given the same opportunities and linemates as Myers would create similarly dangerous shots.
Evolving Hockey's WAR model sees Myers the same way. Last season, Myers was below replacement level by this metric, and it's not a one-season blip but an overall pattern.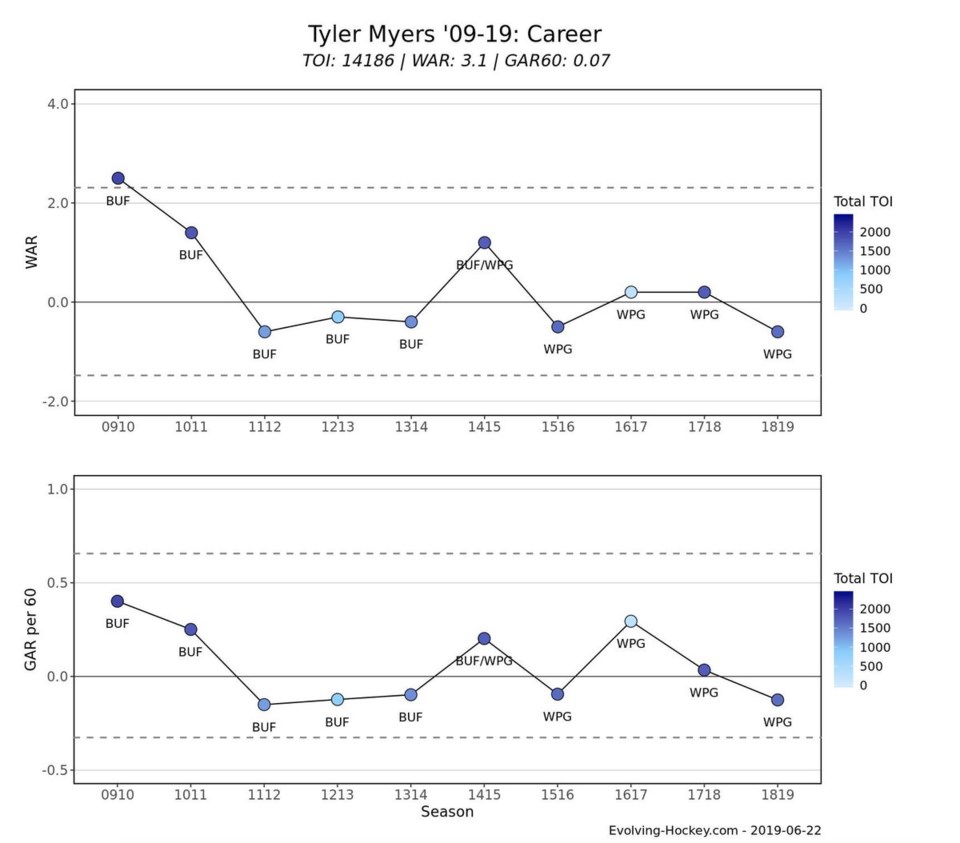 In seven of his last eight seasons, Myers was either at or below replacement level. In other words, you could find a defenceman capable of providing similar value on the waiver wire or in an AHL callup. That doesn't inspire confidence, particularly when the Canucks have paid such a premium for his services.
We can also look at Expected Goals from Natural Stat Trick: over the last three seasons with the Jets, Myers has the worst rate of Expected Goals Against among regular Jets defencemen. In terms of actual goals, the Jets barely broke even with Myers on the ice at 5-on-5, which isn't a good look on a team that significantly outscored their opposition in that time.
Part of the issue too is what role Myers will play. It seems safe to assume that either Edler or Hughes will play on the first power play unit, leaving Myers to pair with one of them on the second unit if he gets power play time at all. That removes some possibility of him putting up points to make up for his defensive lapses at even-strength, particularly since the second power play unit doesn't play much under Travis Green.
Myers will also likely get significant time on the penalty kill, where he wasn't particularly good either, giving up the second-highest rate of unblocked shots against and expected goals against among Jets' defencemen.
All that said, Myers is definitely an upgrade for the Canucks defence, though that perhaps says more about the state of the Canucks defence than Myers himself. He's very good at rushing the puck up ice, which provides options in transition that the Canucks didn't have last season. He can score a few goals and provides some insurance on the power play if Edler or Hughes gets injured.
The issue is the cost. A moderate upgrade isn't worth five years at $6 million per year. $16 million of the total $30 million of the contract is in signing bonuses, which makes it essentially buyout proof. Myers also has a no-move clause in the first year of the deal, a full no-trade clause over the next two years, then a limited no-trade clause that allows a 10-team list for the remaining two years.
The dream, of course, is that Myers somehow recaptures the magic of his Calder-winning rookie season, when he racked up 48 points and gave the Buffalo Sabres visions of a true number one defenceman for years to come. If the Canucks are banking on that happening, however, then they're completely out to lunch.
The real danger is that Myers' contract is simply the sequel to Loui Eriksson's: a premium paid for a declining player that quickly becomes an anchor on the team.