Maple murder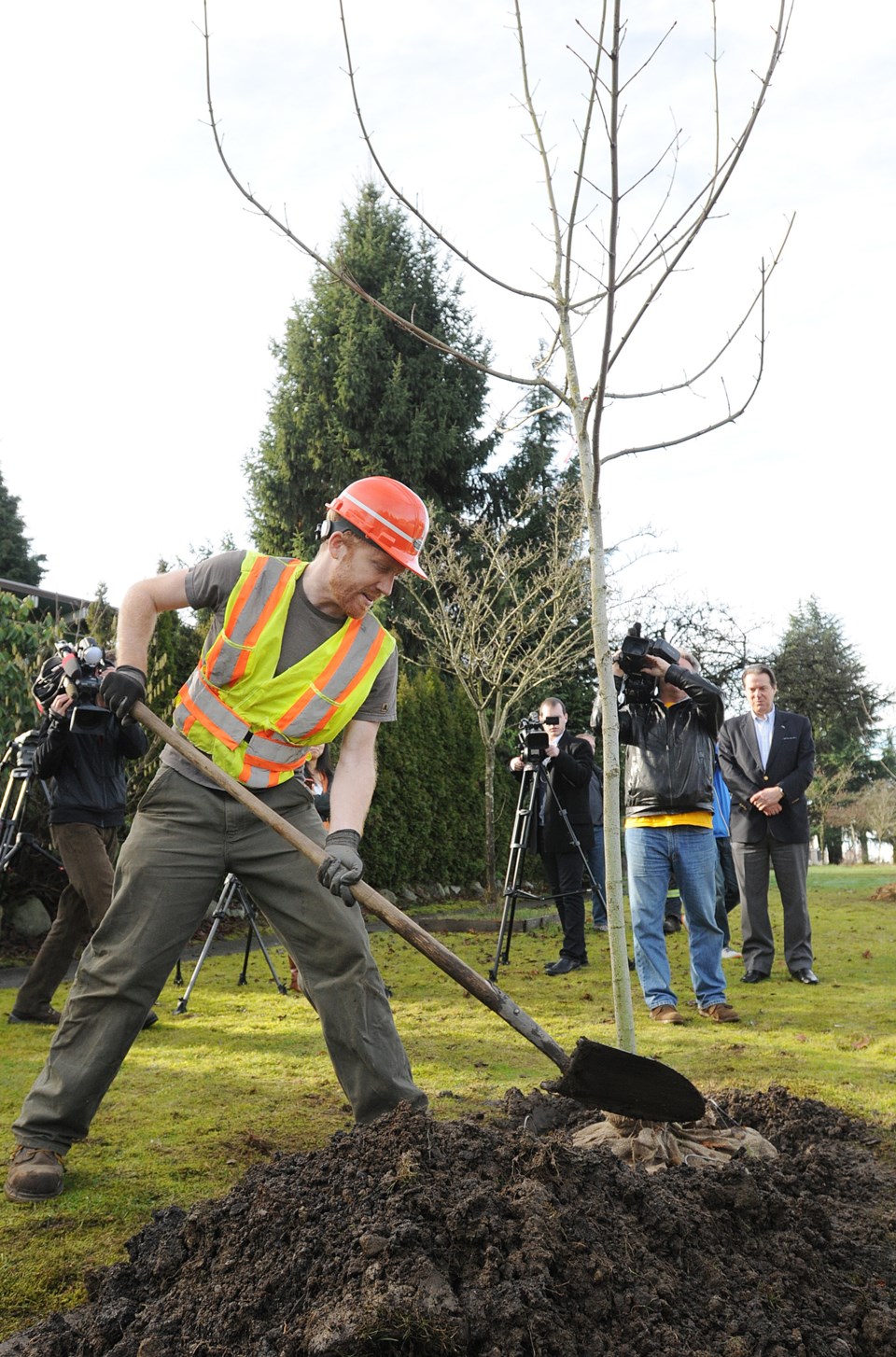 Seriously, did whoever cut down those 17 young maple trees on West 29th Avenue truly believe the park board wouldn't replace them?
If it was up to me they'd be replaced with 34 maple trees just to prove a point, but it's not, so the board is planting another 17 in their place at a cost of almost $10,000. To date, the identity of the person who took what is suspected to be a power saw to the trees sometime during the night of Jan. 6, is still a mystery — as is why it costs almost $10,000 to plant 17 trees. 
The truncatum maples, cut off at about 50 centimetres above the ground, were planted by the park board on the city boulevard in November 2010. According to the board, the matter is still under investigation by police. A multi-lingual leaflet was delivered to nearby homes last week appealing for assistance in catching the perpetrator.
Meanwhile, park board staff finished replacing the trees this Monday afternoon accompanied by NPA chair John Coupar, acting manager of Urban Forestry and Specialty Parks Howard Normann and urban forestry crews. The replanting supports the City of Vancouver's Urban Forest Strategy, which provides tools for growing and maintaining a healthy, resilient urban forest for future generations. The park board asks that anyone with information contact the Vancouver Police Department at 604-717-3321 and quote file No. VA15-3826.
Trans swim win
The trans-inclusive public swim at Templeton Pool was such a hit it will continue weekly now through March with support from the park board's Trans and Gender Variant Inclusion Working Group. It was former Vision Vancouver commissioner Trevor Loke who pushed to get the ball rolling on this much-needed and ongoing change to policy.
The swim has been ongoing unofficially since 2010, when it was first organized by trans advocates, but the city and park board recently made it official and threw their support behind it.
The swim was organized to provide a safe environment for people to access the pool, change rooms, washrooms and showers without fear of discrimination based on their gender identity.  
On Jan. 11, trained staff were at Templeton to help educate patrons regarding gender sensitivity, answer questions and help direct people to the appropriate change rooms, washrooms and showers. In April, the park board accepted 77 recommendations, including new signs, staff training and updated community programming, to make public spaces more welcoming and inclusive of trans and gender queer individuals. The signs at Templeton Pool no longer use traditional male and female symbols for washrooms and change rooms. Instead the signs reflect function and are open to all. The weekly swim takes place from noon to 2 p.m. on Sundays, beginning. The working group hopes this is just the first step in expanding the program to other community centres. 
Feeling flexi
Is getting in shape on your list of New Year's resolutions?
Well, the park board is here to help. New users can pick up a park board Flexipass and get access to 21 fitness centres, 13 pools and eight arenas. Enjoy lunchtime workouts, skating with friends, family time at the pool or run indoors on a rainy day. From now through Feb. 8 you can also pick up a 30-day Flexipass for $30. Flexipass purchasers will also receive an extra month free when they purchase a three-month pass and $50 off a five-session personal training package. There are some restrictions, so drop by your local community centre or visit vancouver.ca for more information.
twitter.com/sthomas10