A failed urban farm located in a downtown Vancouver parkade continues to be a costly headache to the City of Vancouver.
According to documents filed in a continuing lawsuit against the city, a greenhouse and equipment from the farm is still located in the parkade, over a year after the company operating the farm went bankrupt.
In a counterclaim filed April 20, EasyPark, a non-profit authority that manages parkades owned or leased by the city, claims it has been unable to use the roof of the parkade or make any income from the space.
EasyPark alleges the greenhouse is a safety risk because it could collapse in a heavy snowfall, and it continues to pay for security and maintenance related to the greenhouse, according to court documents.
EasyPark is asking for an injunction requiring the farm's current owners to either remove the greenhouse from the roof of the parkade, or permit EasyPark to remove and dispose of the structure.
The counterclaim follows an initial lawsuit filed by Clay Haeber and a numbered company on March 3. In that claim, Haeber alleges the City of Vancouver's refusal to transfer a licence to operate the farm in the parkade to his company is breach of contract.
Meanwhile, Donovan Woollard, one of the proponents of the high-profile vertical farm that went bankrupt in 2014, says he still believes in the concept and is now working with an Australian company on a new project. 
Home of the lettuce-eaters
In 2012, Alterrus, a company trading on the Canadian Securities Exchange (CSE), signed a licence agreement with the City of Vancouver and EasyPark to use space in the parkade at 535 Richards Street.
Alterrus and its subsidiary, Local Garden Vancouver, operated the vertical farm in the parkade. It used a system involving stacked trays that moved automatically "to maximize exposure to natural light," according to court documents.
The business model for the farm involved selling pesticide-free greens and herbs to high-end restaurants. Local Garden hired people with barriers to employment and planned to deliver by bicycle, according to media reports from 2012.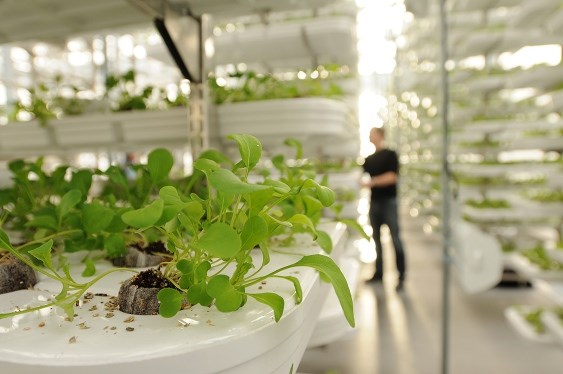 At the time of its launch, Vancouver Mayor Gregor Robertson said the project showed "the innovative spirit in our city's booming clean tech sector," according to in Business in Vancouver's sister paper, the Vancouver Courier.
Public filings for Alterrus show the company tried several business ideas from the time it was incorporated in 1996, from bicycle rentals for hotels to online dating to skin care. By 2007, the company was focused on vertical farming, and in June 2012, changed its name from Valcent to Alterrus.
Alterrus' 2012 annual financial statement showed an accumulated deficit of $52 million.
In 2014, both Alterrus and Local Garden Vancouver went bankrupt. The companies owed over $4 million, including $1.2 million to the largest creditor, Vancity Credit Union, and were behind on rent payments to EasyPark.
As the owner of sustainable business consulting company Transom Enterprises, Woollard partnered with Alterrus to launch Local Garden.
Woollard is also director of Radius Ventures, a social  enterprise program at Simon Fraser Univerity's Beedie School of Business.
"For various reasons which I'd rather not get into, Alterrus as a company went bankrupt," Woollard said. "At the end of the day there were a number of creditors of which I was one. I am hopeful for the space and [I] continue to do work in the vertical farming space and would love to see that facility open up again."
Woollard is working with a potential business partner in Australia on another vertical farming project, although the venture is in a preliminary stage, he said. It's possible the project may be based in Vancouver.
Strawberries, not marijuana
Haeber was appointed to Alterrus' board in November 2013. In his lawsuit, Haeber claims he incorporated a numbered company because he wanted the vertical farming operation to continue and he was "keenly interested in the urban gardening concept."
Haeber did not respond to interview requests from BIV. 
Haeber is currently head of information technology for Kit and Ace, a clothing firm started by the son and wife of Lululemon (NASDAQ:LULU) founder Chip Wilson. According to his LinkedIn profile, Haeber worked at Lululemon between 2007 and 2013.
Haeber's numbered company purchased the loans owed by Alterrus and Local Garden and became owner of the farm in July 2014, but still had to negotiate with the City of Vancouver and EasyPark for a licence to operate.
Haeber claims he told the city that once he got the licence, he would sell all his shares in the numbered company to Affinor Growers Inc., a company with experience growing medical marijuana in a vertical farming format. Like Alterrus, Affinor trades on the CSE, an exchange with simpler reporting requirements and lower fees than the Toronto Stock Exchange or the TSX Venture.
According to Haeber's claim, Affinor confirmed to the city in writing that it would only grow vegetables such as strawberries in the parkade, not marijuana.
Affinor is not a party in the lawsuit.
Haeber alleges that both EasyPark and the city, along with Alterrus and Local Garden's bankruptcy trustee, agreed to the terms of the licence agreement, prompting Haeber and Affinor to ink a $1.4 million deal for the operation, which included $500,000 in cash and the rest in Affinor stock.
The city's refusal to grant the licence meant Haeber lost $1.4 million, he alleges. Haeber is now searching for a new buyer.
In a response, the City of Vancouver claims that city solicitor Heidi Granger made it clear to Haeber that final authority to sign a licence agreement rested with either the city's director of legal services or city council.
The city alleges that while Haeber advised them he planned to sell the business to a third party in April 2014, he didn't tell the city the identity of the buyer until the following August.
When the city did due diligence on Affinor, the response claims, it learned the company was in the business of growing medical marijuana. Affinor's financial statements "raised concerns with respect to Affinor's financial circumstances," according to court documents.
"Ultimately, the City rejected the plaintiff's proposal that Affinor be substituted in place of Haeber," states the city's response.
Now Affinor is considering launching its own lawsuit, said Nick Brusatore, the company's chairman. He said his company lost $210,000 when the deal fell through.
"I feel borderline discriminated against," he said.
Affinor has several projects in the works for both vegetable and medical marijuana production, Brusatore said. None of the farms is yet operational.
Brusatore doesn't believe a vertical farm in the downtown parkade is viable as a business. His aim was to use the farm as a demonstration project to "have something pretty for the city so we could brag about what we did."
The City of Vancouver declined, and EasyPark did not respond to, interview requests for this story.
Is vertical farming viable?
Nick Brusatore, chairman of Affinor Growers, believes vertical farming has big potential.
"Human beings, we're fairly dirty — E. coli comes from us," Brusatore said. Because vertical farming is automated, it's "impeccably food safe … there's no water waste."
At a vertical farming operation his company is developing in Quebec, Brusatore said, 1,100 plants can fit into every 120 square feet. Affinor is interested in growing vegetables and medical marijuana using vertical farming techniques.
But Navin Ramankutty, a professor who studies global food security at the University of British Columbia, is skeptical about the business of vertical farming.
"I think it makes sense from a demonstration point of view," Ramankutty said.  "But from a pure economic point of view it doesn't make sense to me. Urban areas are some of the most highly valued pieces of land. And vertical farming requires a lot of energy."
Ramankutty said it was difficult to imagine how vertical farming, with high infrastructure and energy costs, could be profitable — with one exception.
"If you have a high-value crop like [marijuana], then it makes sense to do that."
— with files from the Vancouver Courier
jstdenis@biv.com
@jenstden
For more business news go to biv.com