With less than two years to go, the City of Vancouver is closing in on its goal of planting 150,000 new trees by 2020.
"Vancouver is aiming to be the world's greenest city and I'm pleased that we're on track to meet our goal of planting 150,000 new trees by 2020," Mayor Gregor Robertson said Thursday at an event at East Vancouver's Templeton Park celebrating the city passing the 100,000 mark.
"In Vancouver we've worked hard to build clean, green neighbourhoods with the world's most spectacular urban forest," Robertson said, thanking the city's urban landscape team, as well as residents who are planting trees on private land.
As part of Thursday's event, the city planted, with a little help from a kindergarten class from Lord Nelson school, three more trees at Templeton Park bringing the total number of new trees planted since 2010 to 105,933.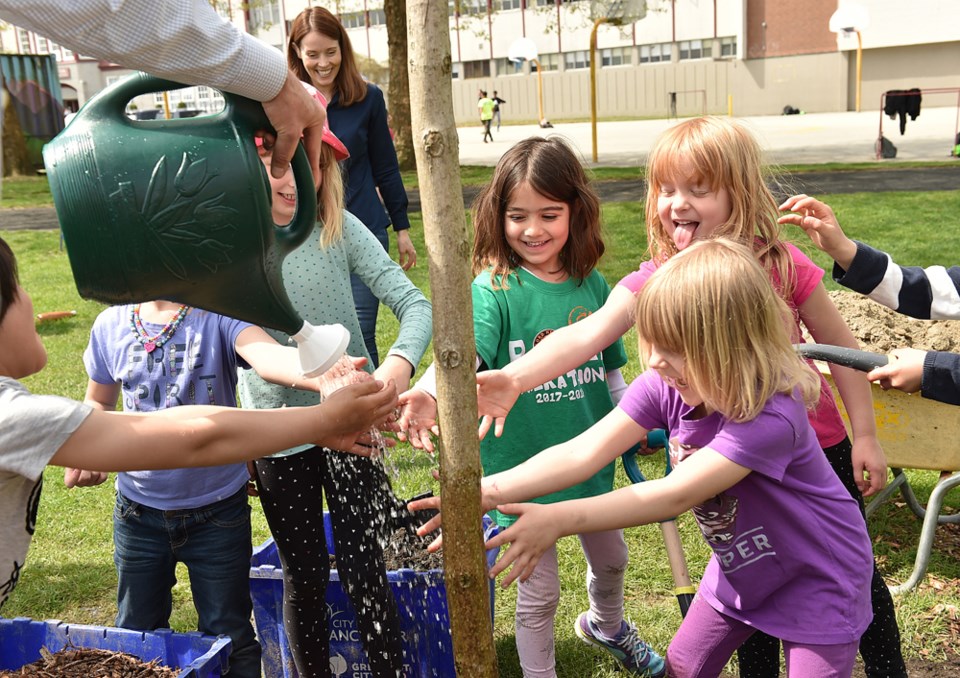 Forty-five per cent were planted on private land — in people's yards and on development sites — another 16 per cent were planted on city streets and 39 per cent in parks.
"The park board remains committed to growing our urban forest well beyond 2020 with thousands of new trees planned for community parks, natural areas in large parks such as Jericho and Everett Crowley and in neighborhoods such as the Downtown Eastside where the canopy needs the most help," said board chair Stuart Mackinnon.
The park board has a number of "priority actions" outlined in its Urban Forest Strategy, including planting more street trees in the Downtown Eastside, Marpole, False Creek Flats and other neighbours that have a low urban forest cover, and restoring the natural forests in the city's larger parks — Stanley Park, Jericho, Musqueam, Everett Crowley and Renfrew Ravine — with a goal of reforesting more than 18 hectares in those areas by 2020. It also includes the goal of increasing the city's tree canopy to 22 per cent by 2050.
In 1995, more than 20 per cent of the city was covered in trees. By 2013 that number had dropped to 18 per cent. Between 2013 and 2015, it increased to 19 per cent, with the bulk of the increase coming from new trees planted on public land — in parks and on streets. The next tree canopy measurement is planned for later this year.
According to a report from park board biologist Nick Page, which was presented to commissioners earlier this week, the tree canopy on private land is still decreasing but the rate at which it's decreasing has slowed substantially since the council brought in by-law amendments in 2014.
Previously, a property owner could take down one healthy tree per year. Under the amended bylaw a tree can only be removed if it is diseased or dying, or causing damage to a water line or foundation. In the case of a site under development, a tree can be removed if it is located within the building envelop, or is interfering with the location of a proposed garage or accessory building.
For each tree that is removed, the property owner must plant one or two replacement trees, depending on the size of the tree.
At Thursday's event, Page spoke about the importance of urban forests.
"Forests are part of the day-to-day life of Vancouver. Trees are waypoints that mark the changing of the seasons, enhance the physical and mental health of city residents, provide food in our gardens and support biodiversity," said park board biologist Nick Page. "Urban forests are increasingly recognized as a critical part of a healthy and sustainable city."
In an effort to encourage residents to plant trees in yards and on balconies and patios, in 2015 the park board launched its first tree sale. Taking place in the spring and the fall, the sale offers up 3,000 trees — flowering, fruit and shade — at $10 apiece.
The latest tree sale is on now. Residents can pre-purchase trees online at vancouver.ca/tree-sale. Trees will be ready for pick up at Hillcrest Centre on May 12 and 13.
jkerr@vancourier.com