There was a sense of optimism among staff and politicians at city hall Thursday morning as the six-month-long "listening phase" of the city-wide plan kicked off. The message centred on creating a plan with residents, particularly First Nations and those who've been historically underrepresented, and producing a shared vision of what Vancouver should look like over the next few decades.
"This early stage of the engagement is probably the most exciting part because we can think about and we can dream about what the city is going to look like," Mayor Kennedy Stewart said.
Chief planner Gil Kelley said much the same.
"As an urban planner, I'm thrilled because I think this is a once-in-a-generation opportunity for this city to articulate a very actionable strategy about what kind of city we want to be in 30 years, or 50 years, and how we get there, including the incremental steps along the way to an articulated vision that is compassionate, about a healthful, joyful city in the future," he said.
A wide range of issues will be addressed including housing, affordability, transportation, reconciliation, the economy and public amenities.
But Kelley stressed "this is not your grandfather's oldsmobile."
"It is not the traditional land use plan only. We need to take on the issues of climate change, of affordability, of an inclusive society, risk from sea level rise and earthquakes, and other things that we'll be facing in the coming decades."
Councillors, some with reporters in tow, then fanned out across Vancouver for pre-organized meetings with diverse groups — among them neighbourhood organizations, students, immigrants, refugees, artists, seniors, Downtown Eastside residents and business people.
They were armed with the same five pre-written questions to tease out discussion among participants, including:
what connects them to Vancouver,
what their most pressing issue is,
what they enjoy or makes their life better,
what makes their life difficult or creates stress or sadness, and
what they want the city to know or understand as the planning initiative moves forward.
Green Party Coun. Pete Fry headed to Roundhouse Community Centre for a meeting with about 10 artists and with an Indigenous focus. The session was meant to last about an hour but went longer. Part of the meeting was filmed by a videographer.
While the formula for the session may have seemed promising, many of the artists assembled weren't impressed. Only introductions and the first question had been addressed well into the first hour. That's when criticisms started surfacing about process, including the format, a lack of a traditional welcome, and even the questions themselves, which participants considered "generic" because they didn't have anything to do with the arts community. They suggested that artists be consulted on what questions should be asked and then another meeting scheduled so their involvement could be meaningful.
Some participants also raised concerns that artists' professional expertise and time wasn't being valued, while others stressed that all three First Nations — Musqueam, Squamish and Tsleil-Waututh — should be represented at feedback sessions and their participation should be compensated. They added that historical wrongs should be acknowledged and there should be an understanding of "the privilege settlers and people in power have."
Delannah Bowen, executive director for the Downtown Eastside Centre for the Arts, said her community is being eroded.
"I don't understand why the city is giving approval for the gentrification that eradicates the sense of community that we have established over the years," she said.
Bowen, who is African-Canadian and Cherokee, hesitated about participating in the session because of being confused about what the plan is. She added that her community has offered feedback in the past to no avail.
"It makes people feel ineffective, so 'why bother' I've heard many times. Because, if we're in consultation, I don't want to be a person that just is on the video camera and not heard and not effective," she said. "I've been coming to city meetings for quite a while, six years at least, and look at the change in my community — it's quite distasteful. I want to know where this is going to go. We're sitting here in a circle, we're not offered an honorarium — our time isn't [considered] valuable — and are we going to be heard?"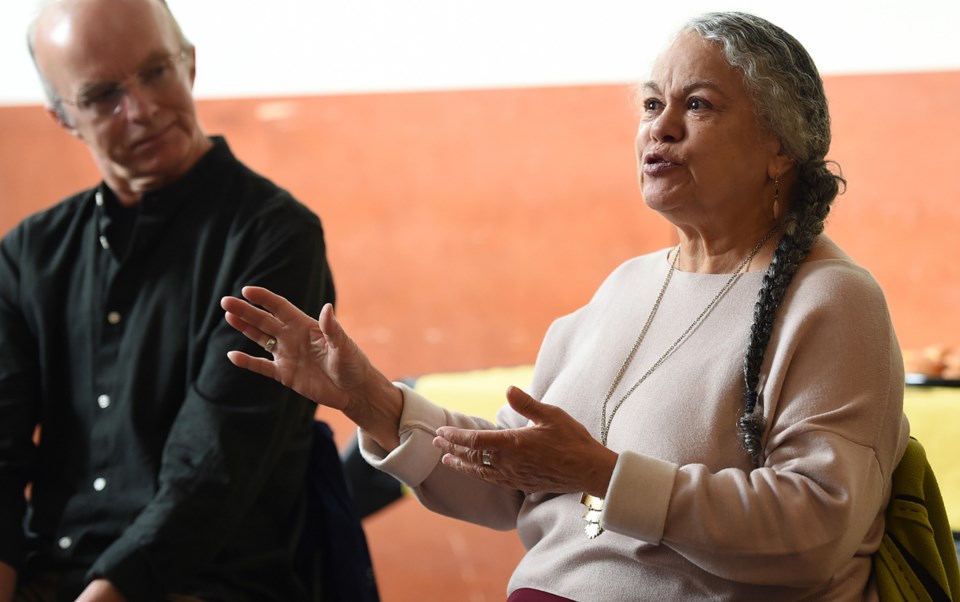 Mark Haney, a musician and composer-in-residence at Mountain View Cemetery, was frustrated. Haney, who also runs the Little Chamber Music Series That Could, thought the city was looking for input from professional artists about what it could do with that sector. Had it been a community session, he told the Courier he would have had no complaints but he felt his time was wasted.
"I find often dealing with the city, they don't treat us like professionals. We were asked to set aside an hour of our time for this. We're five minutes over and I don't feel like you have, in any way, tapped into the incredible wealth of experience and professionalism here. If you had called eight lawyers to the room, this wouldn't be how it was going," he said during the session.
"Everyone you've invited here is skilled, experienced and professional and we're never treated like that. It seems like the city is only interested in getting pictures of our events to show how great the city is. You're getting video of people talking about what connects them to Vancouver. Why ask experts in a field for such general things?... I'm frustrated and upset and I'm sorry if it seems personal but I feel this is just another meeting where the work I do and the communities I've worked with are just a tool but no one is listening or caring."
While time constraints and the format didn't lend itself to a deep discussion, participants were able to touch on some general concerns of artists such as the negative effects of gentrification and colonialism, the difficulty in obtaining grants and lack of funding for artists, disappearing artist venues, and the fact artists — particularly younger ones — are being forced out of Vancouver because it's unaffordable.
For his part, Fry stressed this is only the start of the consultation process and that he understood people's skepticism about the planning process. But he pointed out it's a new council that's committed to co-creating the plan. He, and a city staff person at the session, also promised to deliver all the feedback and criticism to city hall.
After the meeting, Fry told the Courier he could have managed the session better but he welcomed the reaction, acknowledging the meeting "totally went off the rails" but he called that a good thing because the process could be improved.
"It's a good validation of how much work we need to do and how we need to get there. This was a really great opportunity to get that kind of early feedback that's saying, 'No, no, no, no, no… don't go off in this wrong direction, you need to actually check your course correction and come at this the right way,'" he said.
"It was hugely valuable and a good takeaway for our staff for how we're going to approach this community differently. This was a really optimistic approach, but it was also a little bit of a tokenizing approach because we tried to wrap it into a media messaging and a positive spin and, really, this is about serious work and recognizing that we're a city in crisis in many ways and we need to step up to the plate differently than just smiles and media ops."
More information about the city-wide plan and opportunities for participation can be found at vancouverplan.ca.
@naoibh