Colleagues of a former private school teacher and school trustee were still reeling Thursday after Vancouver police announced the arrest of 47 men who were allegedly willing to purchase sex from girls between the ages of 15 and 17.
Nikolaos Dais, a retired teacher from the all-girls Catholic high school Little Flower Academy, and Ken Clement, who resigned last June for personal reasons as a Vancouver school trustee, were charged with communicating for the purpose of obtaining sexual services for consideration from a person under the age of 18.
The offences are alleged to have occurred in June 2018 at or near Vancouver. So far, the Crown has approved charges against Dais, Clement and five other men: Mario Celo Amistad, Jim Malmros, Jun Jie He, Donald Schroeder and Mehran Arefi.
One of the men charged is a firefighter from a department in Metro Vancouver, another is connected to "an outlaw motorcycle gang." Police declined to say where the firefighter works, or the name of the biker gang.
Diane Little, principal of Little Flower Academy, said she was "absolutely shocked and heartsick and sad" when news broke Wednesday. Little said Dais was a long-time employee, but she wouldn't disclose how long he taught at the school or when he retired.
On Thursday, Little continued to talk with staff, students and parents about the charge but wanted to keep the nature of the conversations private. Little Flower, which is located in the 4000-block Alexandra Street, has 480 students in grades 8 to 12.
"These are conversations we're having with our own school community, who is hurting right now, and I'm not prepared to talk about the private conversations we're having with staff, parents and students," she said. "We are providing support for any kids that need it, though."
Little said she had not been contacted by police when she spoke to the Courier Thursday.
"All I can tell you is the school has never been contacted by the VPD, and so all of our information is 100 per cent coming from the media," she said. "The VPD has not informed us of the investigation, or any charges."
An online site called Rate My Teachers has several entries for Dais, who is listed as a multiple subjects teacher at Little Flower. The Courier was unable to verify whether comments from students and parents — including those posted today and yesterday after news broke — were credible since the authors were anonymous.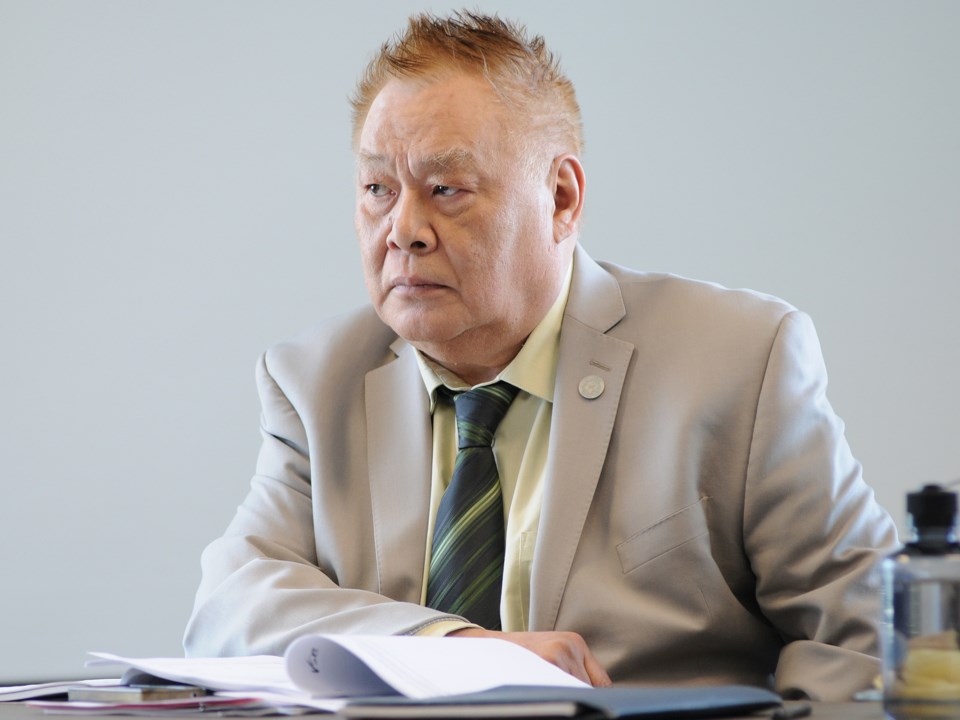 Patti Bacchus, who served with Clement for six years as Vision Vancouver school trustees, said she was devastated and heartbroken about the news that her former colleague was charged in connection with obtaining sexual services from a young person.
"Having been a school trustee, the safety and well-being of children and youth is the most important thing," said Bacchus, who was clearly upset as she spoke to the Courier by telephone. "So to hear this news about someone who I trusted and I care about is really devastating."
She described Clement as a good friend and was worried about him, noting she hadn't heard from him — despite messages left with him over the Christmas holidays — since he resigned last June, citing health issues.
Bacchus said Clement, who is of Ktunaxa First Nation ancestry, told her he was returning to his community last June, possibly near Cranbrook, to participate in a healing program and a sweat lodge. Clement is a residential school survivor.
"There's absolutely no excuse for what he's being accused of and I would never, ever want to diminish the harm that that would be causing to young people, if he was actually engaging with them," she said.
Various online biographies related to Clement's work as a trustee note that he was a leader in organizations serving Aboriginal people in Metro Vancouver, including offering "executive guidance" to health organizations. He was involved with Aboriginal HIV/AIDS movement since 1998.
Bacchus said Clement, who is gay, wasn't married.
"He worked so hard to build a life from a very difficult start," she said.
Board chair Janet Fraser and superintendent Suzanne Hoffman both declined interview requests Wednesday and again on Thursday.
First elected in 1999, Allan Wong is the longest-serving board trustee and was the lone Vision candidate to win a seat in last year's election.
He worked alongside Clement on the board for seven years, first as a COPE trustee and as a Vision member since 2013.
Wong hasn't been in contact with Clement since July 2018.
"I had no idea that was coming out," Wong said. "When it was said that a trustee was involved, I was thinking it was elsewhere in the province."
Michael Haack, a spokesperson for Vision Vancouver, said in an email that "Vision Vancouver's priority has always been ensuring that everyone in our communities is safe from abuse and harm."
He continued: "In that respect, these charges are very troubling. Ken will be proceeding through the criminal justice system and we will monitor this situation very closely as the case unfolds. We appreciate the hard work and dedication of the VPD.  We encourage anyone with any information or concerns to reach out to the police."
The arrest of Clement, Dais and the other men came after Vancouver police ran a two-month operation that targeted people willing to purchase sexual services from young people. Vancouver detectives posted "decoy advertisements" on web escort listings and social media platforms for sexual services.
After prospective clients made contact via text message, they were told the girls were between 15 and 17 years old. Police then operated nine "arrest days" to capture the men who showed up to a hotel, as arranged, to pay for sex.
"I want to make it clear that these projects were not about sexual activity between two consenting adults," said Vancouver Deputy Chief Laurence Rankin at Wednesday's news conference at the VPD's Cambie Street precinct. "Police will continue to focus their attention on those willing to prey on and exploit young boys and girls."
Media relations officer Sgt. Jason Robillard said Thursday that investigators are still working through the 40 other cases.
"We anticipate that all 40 arrests will be considered for criminal charges at some point and so far seven have already been approved," he said in an email. "Our investigators are working diligently on these matters and will continue to work closely with our partners at the B.C. prosecutions office."
The Courier contacted several fire departments in Metro Vancouver to determine which department the firefighter charged in the sting belonged to. Vancouver, Burnaby, Richmond, West Vancouver and the District of North Vancouver all said none of their firefighters were among the charged.
Of the seven men charged, Amistad, Malmros, He and Dais have court dates Jan. 30. Arefi's next court appearance is Jan. 28 and Schroeder's is Jan. 31. Clement has a trial date scheduled for Oct. 29 of this year.
— with files from Jessica Kerr and John Kurucz