Concept drawings for the Safeway site at East Broadway and Commercial Drive were revealed at an open house recently, unveiling plans for 649 condo units and more than 100,000 square feet of commercial space.
The site's developer Westbank and designer Bing Thom Architects released renderings illustrating a grand staircase connecting the project's public spaces to the Commercial-Broadway SkyTrain station at East 10th Avenue. Plans for the site include a mix of affordable rental and market condos, co-op housing and micro suites.
An off-site public plaza over the Grandview cut is also proposed, as required by the Grandview-Woodland community plan. The three-tiered public space will include terraced seating, a concourse and a children's playground. The multi-level public area is modelled after the High Line in New York City.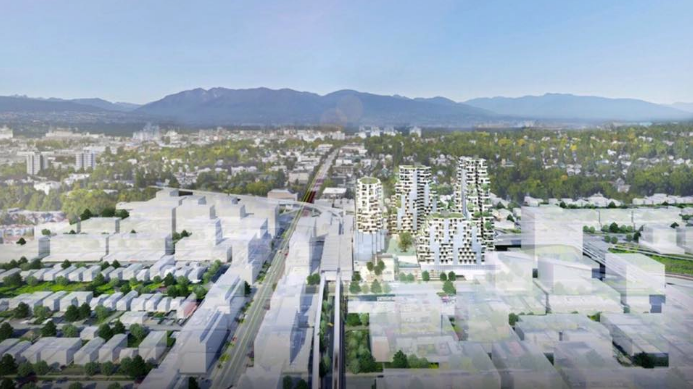 The new Safeway store will measure 56,000 square feet, with an additional 11,200 square feet of retail space and 55,000 square feet of leasable office units. 
Condo designs will mimic single-family homes in the neighbourhood, including bright exteriors and porches.