A Dunbar "castle home" at 3815 West 39th is the latest character house featured on Caroline Adderson's Facebook page Vancouver Vanishes. It was knocked down Saturday. Built in 1936, it was first owned by Jack and Beatrice Wood. Wood was manager of Dunbar Heights Realty and built all the Dunbar castle homes. Adderson says it was in excellent condition.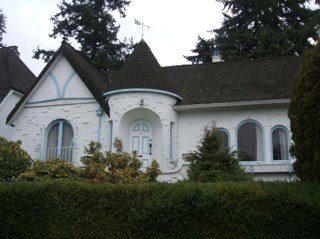 Since she started her page, Adderson has chronicled the demolition of about 240 character homes, which she said is a fraction of the total number that have been torn down — 993 demolition permits were issued last year, mostly for single family homes.
Concern about the loss of Vancouver heritage homes is why she'll be among those offering feedback at open houses about the city's Heritage Action Plan and Character Home Review. The first of three open houses was held Feb. 24 from 4 to 8 p.m. at the Hellenic Community Centre at 4500 Arbutus St. Two more are scheduled Feb. 28 and March 4.
Brian Jackson, the city's head planner, said the goal is to cover three topics.
First, the city will present options for First Shaughnessy. Last June, council approved a one-year prohibition on demolishing pre-1940 homes in the First Shaughnessy District so the city could review the area's official development plan and determine what steps can be taken to conserve heritage property in the district.
"[Options] would include the designation of the area as a heritage conservation district, which other cities have done under the local government act," Jackson said. "There's actually about 70 of them throughout British Columbia."
While people have the perception that heritage designation affects the value of land, Jackson said Vancouver has been able to do it through density bonuses and allowing people to achieve as much density as they would have by knocking a house down and rebuilding.
"So, we're trying to find ways to allow for housing to be designated heritage or even to be saved as character homes without affecting its value and that is the nub of the tricky issue we're trying to deal with," Jackson said. "We're trying to deal with it so it's not a punishment. It becomes an incentive."
The city's second objective is to talk at a high level about character homes. The city will present a menu and ask for feedback on different tools that it can use to better protect character homes such as stratification of single-family lots, density bonuses and allowing more flexibility with building forms.
"Thirdly, we want to review the best practices we've observed in other cities throughout North America on how they protect heritage resources and obtain public input on how they think it applies to the City of Vancouver," Jackson said, noting possibilities include ideas such as tax deferment, tax abatement and waiving fees.
Well known heritage expert Donald Luxton is the city's lead consultant for the Heritage Action Plan. Luxton is also working with other consultants on legal and economic aspects of the plan.
Adderson said she plans to raise several issues at the open house.
"A number of people in the heritage community have pointed out to me that in 2009 the city introduced changes to certain zones allowing .7 FSR [floor space ratio] outright, as well as laneway houses and basement suites. One of the solutions, therefore, is to reinstate the .6 outright FSR and only allow up to .7 and a laneway house if the original house is retained. Tax incentives for retention instead of demolition would help, and a streamlined process that favours such applications. Anything that might discourage developers from picking character homes as building lots would be most welcome," she told the Courier in an email.
Adderson said stricter rules around deconstruction were supposed to discourage people from knocking down character homes, but she said that hasn't happened, pointing to the demolition of the Dunbar castle home.
"Despite the 90 per cent deconstruction/recycling requirement, they bulldozed it," she wrote.
Jackson said that the deconstruction rules are designed to divert material into reuse.
"That's a very small component of heritage conservation. We were always very clear when we brought forward that initiative that that's just one leg of the stool to respond to the need to do something about the number of character homes that were disappearing," he said. "So we're working on it."
As for Adderson's other suggestions, Jackson stressed again that the key is to introduce measures that don't lead to loss of value for preserving homes.
"We want to make people want to do this. And the best way you can make sure people want to do it is make sure there is no loss of value. We have to think carefully about her suggestions to make sure loss of value wouldn't happen," he said.
The second open house is at city hall, 453 West 12th Ave., in the ground floor town hall meeting room from 11 a.m. to 3 p.m., Feb. 28.
The third open house is from 4 to 8 p.m., March 4. It's at the Hellenic Community Centre, 4500 Arbutus St.
Telus Gardens sign
More than 55 people checked out the recent open house outlining a proposal for a large media screen on the Telus Garden building facing Seymour Street between the 16th and 18th floors.
Henriquez Partners Architects has applied on behalf of Westbank Corp. and Telus for an amendment to the city's sign bylaw to allow for the screen. The proposal is to show video art with "limited branding" and drop the screen down daily from dusk to 11 p.m.
Jane Pickering, the city's deputy director of planning, said public reaction was mixed.
"I think the concerns lie around the amount of illumination from the sign. There are people worried about that. They are kind of equating this sign with all the signs down at B.C. Place, which of course are not approved by us," she said. "Some people are not fussed at all and some people are saying if you can deal with the advertising content and the illumination and the time that it's on, we'd be OK. We got an across the board reaction about it."
Pickering isn't sure when the staff report will go to council. The proposal is also subject to a public hearing because it requires an amendment to the sign bylaw.
"The people wanting to put up the sign have to agree to a number of conditions, so it's really in their court to get those conditions in place that will satisfy the city," she said. "We won't be taking anything to council until all the issues around the sign — when it's going to be used and how it's going to be used have been resolved.
Brian Jackson, the city's head planner, told the Courier earlier this month that he believes there is a higher tolerance for signs displaying art as opposed to advertising.
"So the staff have to work through the content in a lot more detail with Telus and Westbank to make sure the public understands what they're getting in terms of the content," he said.
The retractable screen is already installed in the Telus Garden office building, which is under construction.
"Most people know it's already installed," Pickering said.  "I guess they took a bit of a risk because there is a tenant, I believe, going into the building. So they needed to get the construction of the projection equipment in before the tenant went in. If council doesn't approve the sign, they would either leave it in and not use it or take it out. That would be at their cost," she said.
twitter.com/naoibh