Chef David Robertson leans towards his cooking students, holding a mushroom between two fingers.
Using a paring knife, he peels off the thin outer layer of skin, starting underneath the cap.
"You pinch under — see how that comes off? Take your time with this one. Some people get so aggressive, there's no mushroom left after," he explains.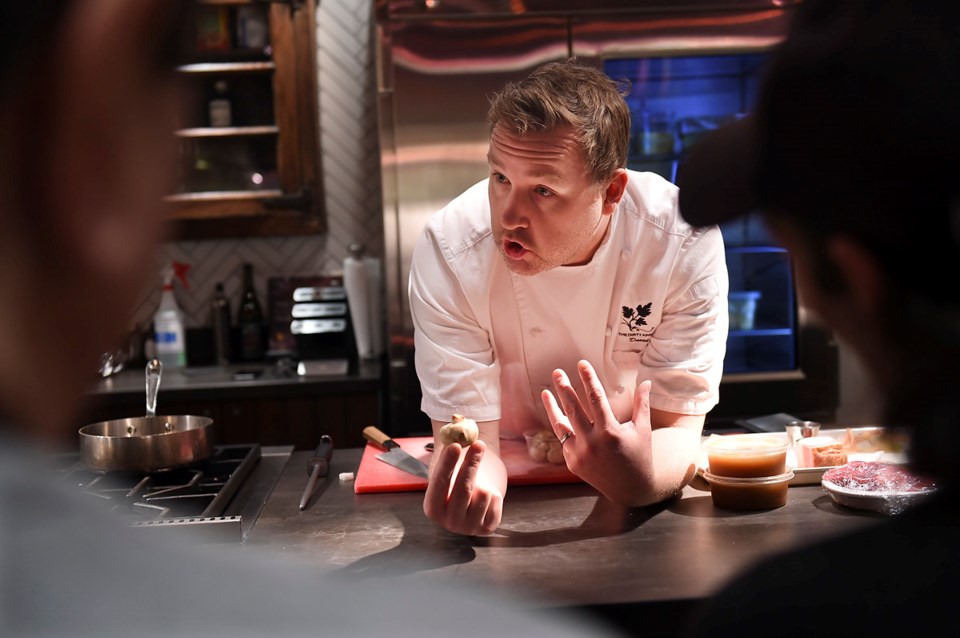 Robertson, owner of the Dirty Apron cooking school on Beatty Street, is demonstrating a version of his Boeuf Bourguignon recipe before students go to individual stations to prepare the meal themselves.
Johnny Poplar is among them. Poplar and his classmates live nearby at the Avalon Hotel on Pender Street and are members of the SRO's Crock Pot Cooking Club.
Robertson sponsors the club — providing the ingredients and lessons. It operates through Whole Way House, a charitable organization run through the hotel, which also organizes other events including a weekly dinner, games nights and haircuts from the Chop Shop.
Jenny Konkin, president of Whole Way House, co-founded it with her brother Josh in 2013. Their grandmother owns the SRO, and their cousins run it.
Whole Way House's stated aim is to "reconnect, rebuild, recenter," in order to ease loneliness and create relationships among residents, many of whom have addiction or mental health issues.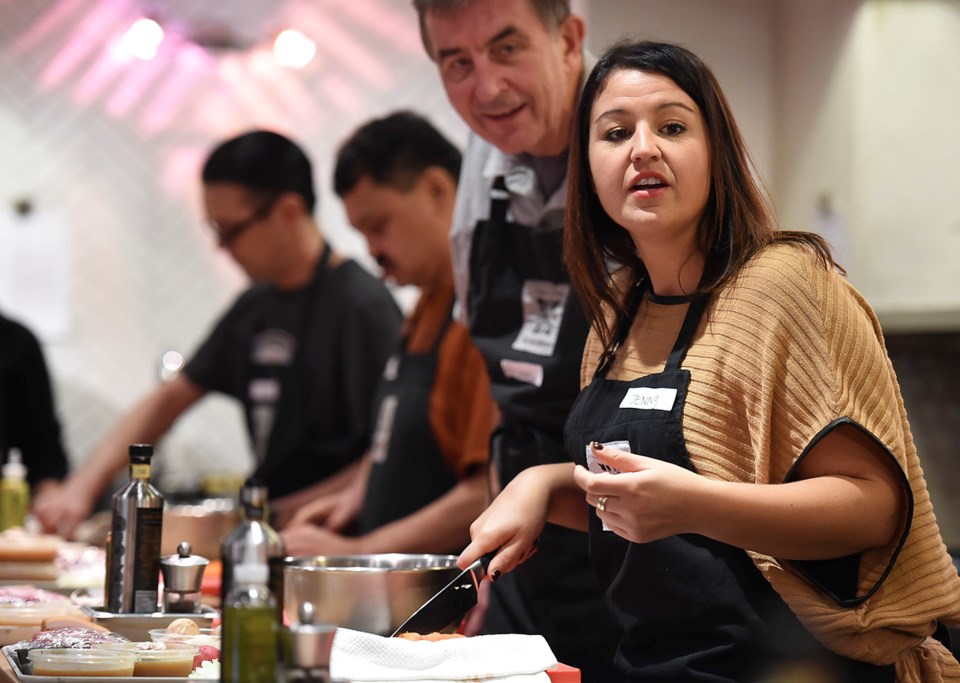 Usually the cooking class is held in the SRO about once a month, but today it's taking place in the Dirty Apron's professional kitchen as a year-end celebration.
Konkin said the club's overall intent is to build tenants' self-confidence and sense of purpose while teaching them easy meals to prepare in crockpots.

"Everyone has gifts and talents and abilities. We want to give the guys opportunities to use them. Every time we feel we're able to use our gifts, we start to rebuild something inside of us that maybe some of these guys, they started to lose."
Poplar, who's lived at the Avalon for four years, is an eager student — he used to work as a cook and is familiar with some techniques, while open to learning new and advanced ones.
Once Robertson finishes his demonstration, Poplar preps his own tray of ingredients, including dicing an onion, chopping a carrot and potatoes into chunks, mincing garlic, seasoning the beef and searing it in pan of hot grape seed oil. Robertson walks back and forth between students, offering tips and checking on progress.
"Let me know if you can't remember something or if you need a hand," he says.
Poplar says he's been cooking since he was about 12 and loves it.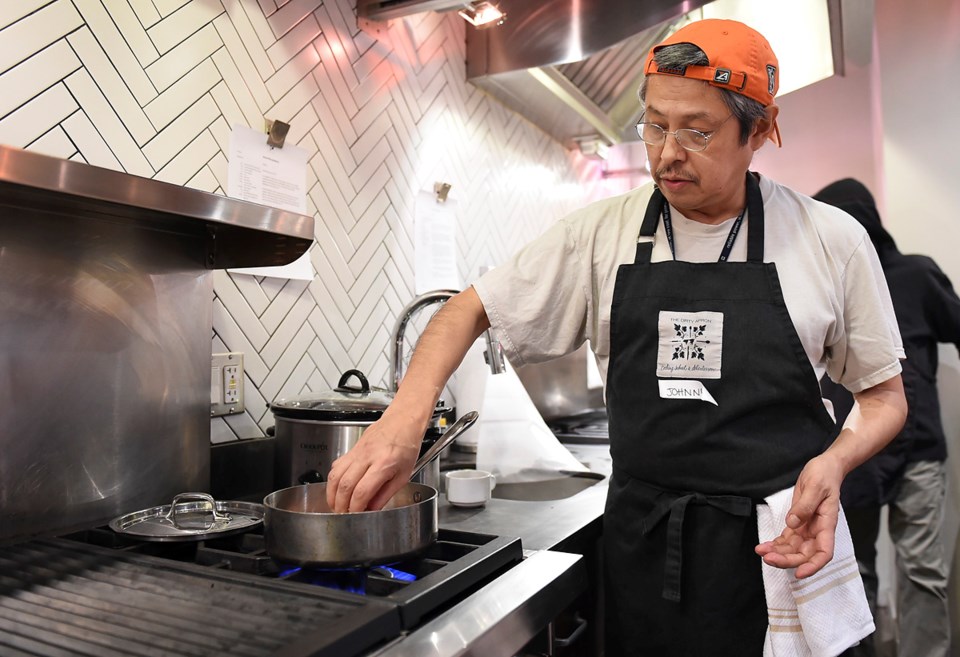 "I enjoy being in kitchens, being part of the team. You try and learn everything you can," he says.
Once all of his meat and vegetables are in the pan, Poplar realizes one item is missing.
"I just need the spices now… the thyme," he says. Robertson grabs it for him and he drops it into the stew. "That goes right in there. Yup, right there. Now that looks nice. It looks great. But I wish I had more green in there like celery. But that looks fantastic."
Robertson reminds all the students to bring their ingredients to a simmer before putting it all into their crockpots to take back home.
Afterwards, while they enjoy a sandwich and soup in the dining room, Robertson tells the Courier he became involved in the program because the cooking school is a neighbour of the SRO and it was also an opportunity to share his area of expertise.
"It's teaching people a life skill. I just found food was a good medium and a good way to connect on that. Everybody can relate to food and having a good meal," he says. "I'm a chef-teacher, so I just wanted to use my skillset in the best way I could. They seem to receive it quite well and in the meantime we've built relationships."
Robertson says since some of the students have worked in the restaurant industry in the past, the lessons may renew their interest in cooking and perhaps lead them back to the workforce. But he says it's also important to empower people to cook even if it just becomes a hobby.
"That could be daily enjoyment for some of them — to do their grocery shopping, put on a meal at night. It's enough to keep some people happy in life. So, that's the feedback I get from them and that's what keeps me doing it."
While Whole Way House doesn't yet have permanent funding, Konkin says she will be applying for some grants. She's also grateful for support from individuals like Robertson and the organization has earned financial donations from other individuals and businesses, as well as Coastal Church, which enabled the hiring of a project coordinator.
"We wanted to create a place that feels like a home," says Konkin. "Whole Way House's purpose is to create a community within the building."
noconnor@vancourier.com
@naoibh