It's 10 o'clock on a Tuesday night. Fifteen-hundred people are gathered in the ballroom of the Vancouver Convention Centre for the Courage To Come Back awards. If the proverbial pin was to drop, it would sound as jarring as a tray of wine glasses shattering on the floor.
Lorne Segal is standing on the stage. In front of him are government ministers, captains of business and some of the city's most influential philanthropists. Moments before, many of them had stood up and pledged donations to Coast Mental Health — $10,000, $20,000, $50,000 and even one stunning contribution of $250,000.
As awestruck as he was to witness nearly $1.63 million being raised in a single evening, Segal is struggling to control his emotions as he speaks about six people seated at the front of the room.
Three of them were once homeless and addicted to drugs. One lived in an internment camp and stared down cancer twice. Another had his face rebuilt by a team of plastic surgeons after suffering burns to 75 per cent of his body. The youngest finds happiness in each and every day because he knows that few people with his disease live to see middle age.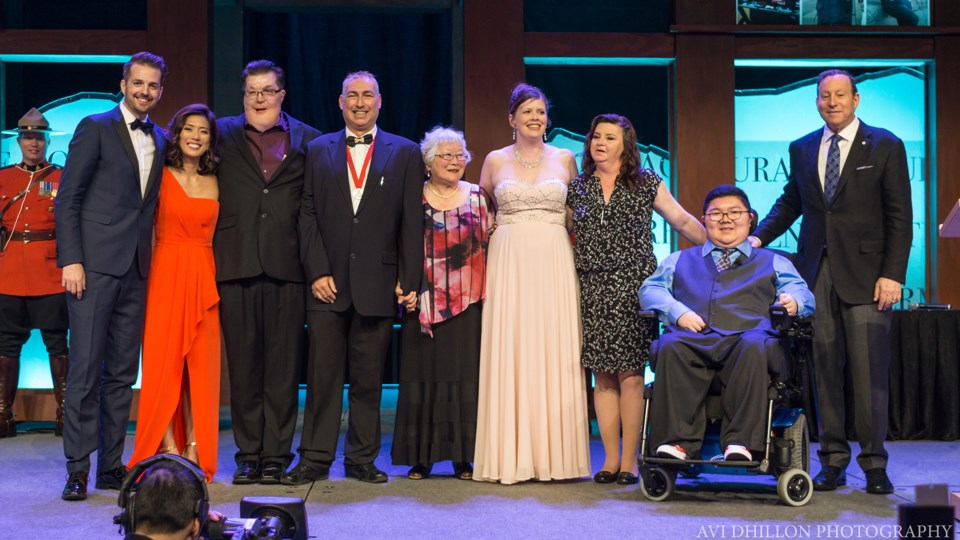 The stories of these six Courage To Come Back award recipients — which have been chronicled by the Vancouver Courier — have obviously touched Segal in a very deep and personal way. Segal's gaze takes in the sold-out gala crowd. "Why," he asks everyone. "Why are we all here?"
His answer speaks not only to the heart of what makes the gala so purposeful but also to his unwavering dedication, as Courage chair, to keep the evening's focus on what to him is most crucial — the six recipients.
Tonight, he said, everyone opened their hearts and minds to "the extraordinary power of the human spirit and [connection to] a deep humanity so often lacking in our lives." The recipients' stories of courage, faith, hope and endurance illustrate what we can all aspire to should we ever have to cope with the seemingly overwhelming challenges the recipients have endured.
"Life presses against us and our power will be tested, our dreams will be tested. Courage allows us to pass the test," Segal says. "The very best we can do in life is push through every difficulty, no matter how painful."
In the beginning…
Shirley Broadfoot co-founded the Courage awards 19 years ago with a dual purpose. One was to shine a light on people who had overcome adversity and sometimes horrendous circumstances not only with their souls intact but with a desire to help others. The other goal was to raise money for Coast Mental Health, of which she was its foundation's chair.
One of the people who came the first year was Lorne's father, Joe Segal. When Joe was 14, his father died. Joe quit school and started to work, pausing only to fight in the Second World War. After the war he started his business empire by selling olive-green army surplus paint, eventually founding a store chain that took over Zellers, as well as Kingswood Capital Corporation.
Coast Mental Health had helped a Jewish organization, with which Joe was involved, provide housing for people with mental illness. Joe was invited to the first gala and "was blown away by the recipients' stories," Broadfoot says.
Joe Segal's reaction then was the same as it's been every year since: "There but for the grace of God go I."
The next year, Joe invited Lorne to join him at the gala and, in 2006, Lorne Segal took on the role of Courage awards chair.
"We were raising bits and pieces and had a nice event," Broadfoot says, but in those pre-Let's Talk days, mental illness was not a popular topic of conversation, let alone in such a public forum. "Lorne really made people care about mental illness and Coast. People were accustomed to galas for mainstream things. The awards brought an unfamiliar topic to people in a familiar way."
Darrell Burnham, the long-time CEO of Coast Mental Health, says that most galas have a peak and then gradually fade away. By the time Segal came on board, Coast was wondering whether the effort of putting on such a big event was worth the return.
"Courage was financially shaky before Lorne got involved," says Burnham, noting that the event was attracting 750 people, tops. "Lorne transformed that into a fundraiser that energizes everyone. We sold out this year. It defies physics. More people see Courage as their event than ever before."
Broadfoot says the work Segal puts into the role is phenomenal.
"He's very into the details that it takes to do something well and that's why he knocks himself out every year," she says. "And do you know what he's spectacular at? Gratitude. He's so grateful for what he has and anything anyone does to help him and he lets them know that."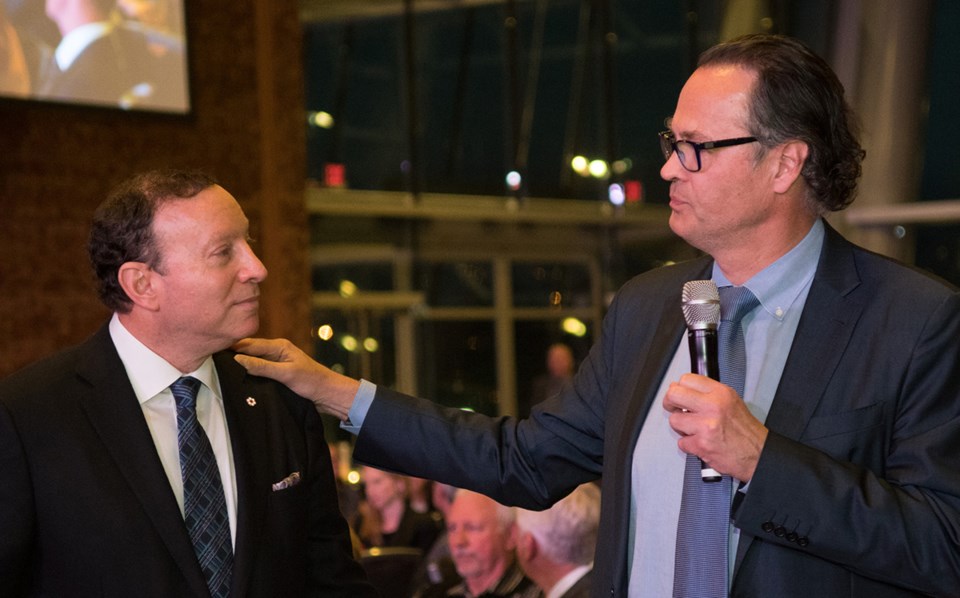 A family approach to philanthropy
On the night of the 2017 Courage awards, one of the people who stood up to make a donation was Joe Segal.
"Everybody needs somebody. You can never be alone," he said, praising Coast Mental Health for the work it does to provide housing and employment support, among other services, to people with mental illness so they know there is a community behind them. "My $50,000 won't change my life, but I hope it will change someone else's."
Bigger changes are anticipated this August when the Joe and Rosalie Segal Family Health Centre opens at Vancouver General Hospital. Even though no one in his family has been touched by mental illness, Joe credits the Courage awards for making him aware of the struggles many people face.
The centre will replace the current mental illness centre which was built in 1940 and has no private rooms, with 20 men sharing one bathroom and 20 women another. The $82-million project was kickstarted by the Segals' $12-million donation, which in 2010, set a record at VGH.
The emphasis on giving back was inculcated in Joe and Rosalie Segal's four children, and it's very important to Lorne that philanthropy is a family endeavour.
"Lorne's a person who sees something good and fans the flames," Burnham says. "The acorn doesn't fall far from the tree."
Not only does Segal take heart in how many of his colleagues bring their children to the Courage gala, but he is also responsible for bringing the immensely popular We Day to Vancouver.
In 2007, Lorne and his wife Melita — who also works tirelessly for various causes — took their son 12-year-old son Matthew and 15-year-old daughter Chanelle to Africa, where they were all moved by the burdens people faced just to have access to clean drinking water. Later that year they attended Me to We Day in Toronto, an event founded by Marc and Craig Kielburger to support their Free the Children organization.
"As a family, we decided to take it on," Segal told the Courier. "You could take a trip, take a few photos, or maybe you can leverage it into something more meaningful.
"A common thread [between We Day and Courage] is they're both engaged with education of the heart. We Day teaches these kids that it can be cool to care and Courage does the same thing. I think both bring out the concept of gratitude. Sometimes it's the little things that can make a huge difference."
The first Vancouver event was in 2009; the 2016 event saw more than 20,000 young people fill the Rogers Arena.
Civil rights activists Jesse Jackson was one of the speakers in 2010, along with Vice-President Al Gore and actor Martin Sheen. At a banquet the Segals hosted at their Southlands home that year, "I remember Jesse Jackson sitting in front of our fireplace," Segal says. "He put his arm around me and said, 'Brother Lorne, not since the days of Martin Luther King have I seen so much hope for the future.'"
One of Segal's striking features is his willingness to be emotionally vulnerable in front of others. At a dessert reception the night before the gala, tears welled up in his eyes as he welcomed the 2017 recipients and their families.
"We all take our hats off to each one of you," he said. "We are all asking ourselves, 'What would we do if we were in that position or faced a fraction of the adversity? How would we get through it, or even get up in the morning and greet the day?'
"I aspire, really, to accomplish even a fraction of what you've each been able to do."
Afterwards, Steven Cochran, a recipient's brother-in-law, came up to Segal to thank him.
"Men are taught not to show emotion, especially in a public format," Cochran told the Courier afterwards. "I could feel the room get to a place of kindness, witness and authenticity. I see this man showing himself here. It sends a powerful message. It has an impact. You can tell his heart is really speaking."