Garry Monckton can't see his daughter from his third-floor apartment window in the Haro Park Centre, but he can sure hear her on the street below.
Monckton, 78, is blind.
The former physiotherapist also has dementia.
And just a few days ago, he tested positive for COVID-19, one of 28 residents in the West End long-term care home to be infected with the disease.
Another 27 staff have also contracted the virus.
One resident has died.
For the last couple of days, Monckton's daughter Samantha has stood on a quiet stretch of Bute Street to belt out a few songs she remembers from her high school days to cheer up her father.
She doesn't sing the songs, but plays them on a trumpet.
On Wednesday morning, her repertoire included sentimental standards such as "Blue moon," "When the saints go marching in" and "By the light of the silvery moon."
Samantha, a communications consultant, can't visit her father because he's in isolation.
She calls him on the telephone daily. The trumpet playing, she said, gives her another connection, even if her father doesn't fully comprehend the gesture, or understand the extraordinary times he's living in.
"He's familiar with that sound," said Samantha, noting the pair used to sing "By the light of the silvery moon" together during their days in Oshawa. Ont.
"I was no Doris Day, but it was definitely something that he remembers singing to me, so I wanted to bring that song to him today."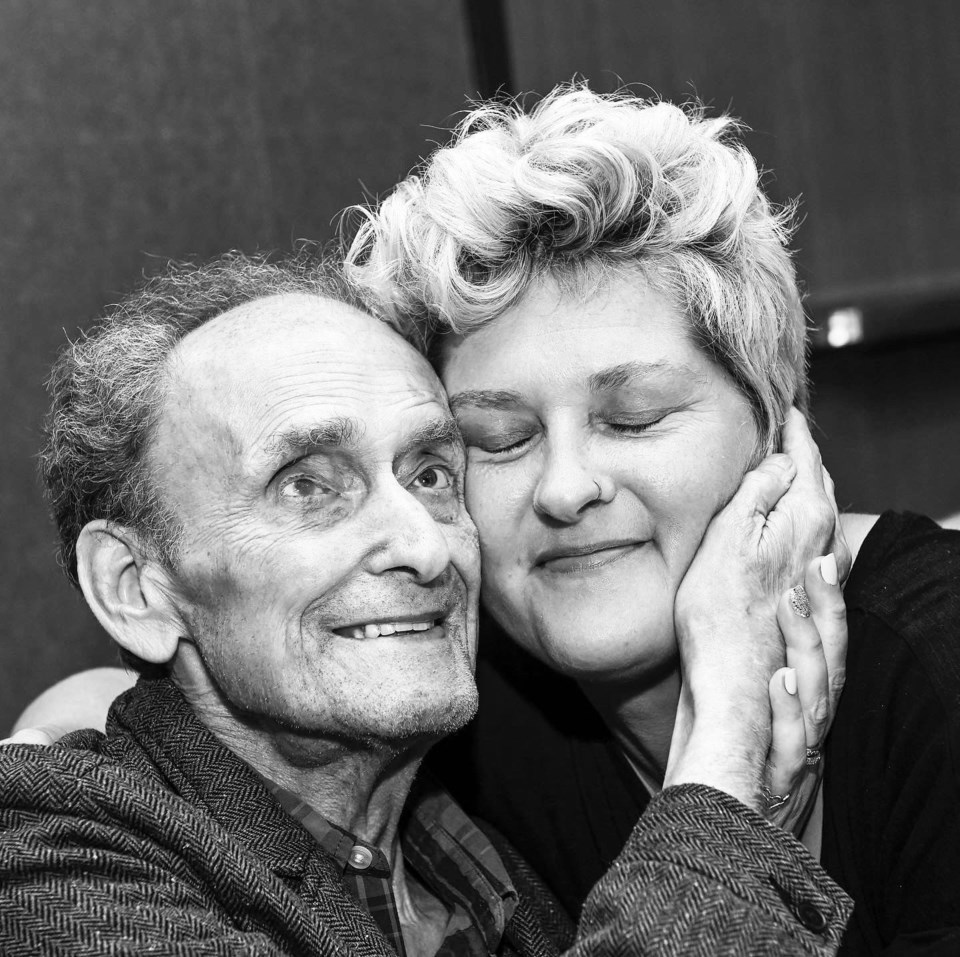 Her father never appeared at his window during the Courier's visit. But his masked health care worker did, giving a big wave to Samantha and others looking up from the street.
As she played on, more residents came to their windows and some to their balconies, including Margaret Holtz, who has lived in the independent living section of Haro Park for 25 years.
"Very nice," said Holtz from high up in the facility's tower, before coming out minutes later to the street to hear more of the music and thank Samantha.
Getting outside and going for a walk is part of Holtz's daily routine. But the meet-ups in the lounge, the three happy hours per week and other activities she participates in are postponed because of the outbreak.
"I just hope this [virus] bypasses more people and the world gets back to normal," said Holtz, who is in her eighties and has a daughter who lives in the building.
Naturally, Holtz said, she's worried about the staff and residents infected by the disease, one of whom died a few days ago. She didn't know the man, she added, but feels for his family and friends.
Before Holtz continued down the sidewalk, she made a point of praising health care workers. She's one of the many residents in the West End and throughout the city who now claps and shouts from her balcony at 7 p.m. every night to celebrate the workers.
She calls it her social time.
"Good luck to them all, they're the best in the world, we couldn't do without them," said Holtz, who has maintained her thick Scottish accent after decades in Canada.
Samantha, meanwhile, remains positive about the outcome for her father, saying the staff at Haro Park are like family to her and she's confident in the care.
"I couldn't be happier, if that makes sense," she said.
"I feel he's in the safest place he [can be], and there are beautiful people helping out and I love them all dearly. Honestly, it's just like he's in an extended home of ours."
The escalation in COVID-19 cases at Haro Park has been astonishing, with one announced March 18 by Provincial Health Officer Dr. Bonnie Henry and climbing to 55 by Wednesday.
Asked to explain the increase, Henry told the Courier at a news conference Wednesday the first confirmed cases were connected to a resident and staff person.
"Then it became apparent over the next few days that others had been exposed to those people," she said.
"So it is not surprising to us that we're seeing an increased number of people being affected by this. None of the people are in hospital. All of the residents and staff are either at home, or continuing to be at Haro Park."
Henry announced Wednesday that another Vancouver care home has a case of COVID-19, with a health care worker at Broadway Pentecostal Lodge on Lamey's Mill Road testing positive for the virus.
A staff person at Little Mountain Place on East 36th Avenue in Vancouver and another staff person at the German-Canadian Care Home on Harrison Drive have COVID-19.
The total number of care homes in B.C. affected by the outbreak is now at nine, with Lynn Valley Care Centre recording another death, for a total of 11 out of the 14 deaths in the province.
As of Wednesday, B.C. had a total of 659 confirmed COVID-19 cases, with 183 people having recovered. A total of 64 people remain in hospital, with 26 in intensive care.
Health Minister Adrian Dix warned Tuesday that cases will continue to rise and predicted the next few weeks "will be very, very difficult." Dix and Henry are scheduled to provide an update Thursday on the escalation in cases.
Until the wave of cases subsides, and those affected like Garry Monckton get better, residents at Haro Park will be glad to know their neighbourhood trumpet player is working on expanding her repertoire.
"Edelweiss" from The Sound of Music could be next, said Monckton, who can't wait for the day she can put down her trumpet, make the trip up to her father's apartment and give him a hug.
"When it's over and done with, I'll be the first to crush him."
@Howellings