The Pittsburgh Penguins are tied with the Arizona Coyotes for the most 5-on-5 goals allowed this season with 47. Some of that comes down to goaltending and bad luck — Matt Murray likely won't have a .906 save percentage all season — but a lot of it has to do with how porous they've been defensively.
The Penguins are second only to the Coyotes in shot attempts against, giving up 859 shot attempts at 5-on-5 so far this season. Their high-powered offence nearly makes up for it, with 858 shot attempts for, but it's still shocking to see the defending Stanley Cup Champions give up so much defensively.
It's not just shot quantity that troubles the Penguins, but shot quality as well. Their Expected Goals Against (which rates each unblocked shot attempt based on its likelihood to be a goal according to shot location, shot type, and other factors) is 36.76, the fourth highest in the NHL.
In their defence, they have had some bad luck with save percentages and their backup, Tristan Jarry, has struggled even more than Murray. That doesn't excuse the sheer number of shots they give up, however, nor does it explain their high expected goals against. The Penguins defence corps simply hasn't done enough to suppress shot quantity or quality.
That's the lineup that Derrick Pouliot couldn't crack out of camp.
For the Canucks, Pittsburgh's loss has been Vancouver's gain. Pouliot has been one of the most pleasant surprises of the young 2017-18 season. The 23-year-old defenceman has gradually grown into a top-four role on the Canucks' blue line and is poised to give head coach Travis Green a tough decision to make when Troy Stecher and Chris Tanev return from injury.
Pouliot's role has gradually grown since Alex Edler's knee injury forced him into the lineup. He played limited minutes early on, averaging under 12 minutes of 5-on-5 ice time in his first seven games. His ice time was already growing recently when Chris Tanev's broken thumb gave him an even bigger opportunity on the right side.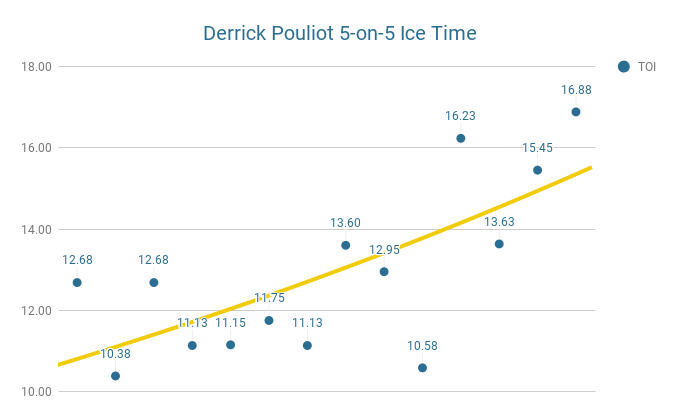 In the Canucks' most recent game against the San Jose Sharks, Pouliot lined up on the right side with Alex Edler and the pairing dominated in nearly every way. With Pouliot on the ice at 5-on-5, shot attempts were 30-12 for the Canucks; unblocked shot attempts were 23-7; shots on goal were 18-4; scoring chances were 17-5.
The only thing that went wrong is the puck didn't go in the net.
Pouliot finished second on the Canucks in ice time, playing 22:52, including 18:10 at even-strength. He was on the ice for just one of the Sharks' five goals, a shorthanded goal into the empty net for which Pouliot couldn't be faulted.
So far this season, Pouliot leads all Canucks defencemen in corsi percentage (percentage of total shot attempts taken by the Canucks at 5-on-5) at 56.76%. Only Tanev has allowed a lower rate of shot attempts against. The biggest difference is that Pouliot generates shot attempts for at nearly nine more per hour than Tanev.
Well, that and Tanev has consistently played tough minutes against the best forwards the opposition has had to offer, while Pouliot has mainly played in more sheltered minutes on the third pairing.
But it looks like Pouliot can (and perhaps should) play a more significant role on the Canucks at even-strength. He's already one of their better power play options, though with the power play struggling, that's not saying much at the moment, but he seems to have more to give 5-on-5.
With Tanev out of the lineup, the Canucks are going to need to rely on Pouliot more and more. He's the defenceman that they trusted enough to play on his off-side and he has rewarded them so far. If he can continue his strong play in tougher minutes, it's going to be tough to take him out of the lineup.
Where Pouliot has been most effective is keeping the puck in the offensive zone. Judging by the eye test, he's the best Canucks defenceman at pinching, whether down the boards or in open ice, to disrupt the opponent's breakout and extend shifts in the offensive zone. He skates the line effectively and has excellent vision to move the puck and keep plays alive.
Some of his defensive play still looks suspect — he needs to be more aggressive about tying up sticks in front of the net, for instance — but it's hard to argue with the numbers. When he's been on the ice this season, opposing teams haven't been able to create much offence.
Pouliot's play harkens back to his sophomore season with the Penguins, when he only got into 22 games, but led all Penguins' defencemen in corsi percentage. Penguins fans who paid attention to fancy stats were calling for Pouliot to get more ice time; instead, he bounced between the AHL and NHL, never getting much opportunity to prove himself.
Will that be the case in Vancouver? His underlying possession statistics are very good, among the best on the Canucks, but does the coaching staff feel the same way about him? Will he continue to get top-four ice time or will he be dropped down the lineup or even scratched when other defencemen return from injury?
Will the Canucks treat Pouliot the same way the Penguins did?