Police described it as a movie scene and, indeed, a Yaletown shooting spree in 2014 that left one man bullet-ridden and bleeding, locked-down hundreds of bystanders and school children inside a tourist attraction, forced officers to pursue a brazen bike-stealing fugitive and return the gun shots he fired at them, all played out on Vancouver's iconic seawall on a summer's day. But there was no director's chair and no cameras for all that action. Incredibly, there were no deaths either.
The Vancouver Police Department today recognized 21 officers for their response on June 10, when a troubled former employee shot three bullets into Paul Dragan, the owner of the Reckless Bike Stores, and then fled before shooting at police and endangering hundreds of bystanders.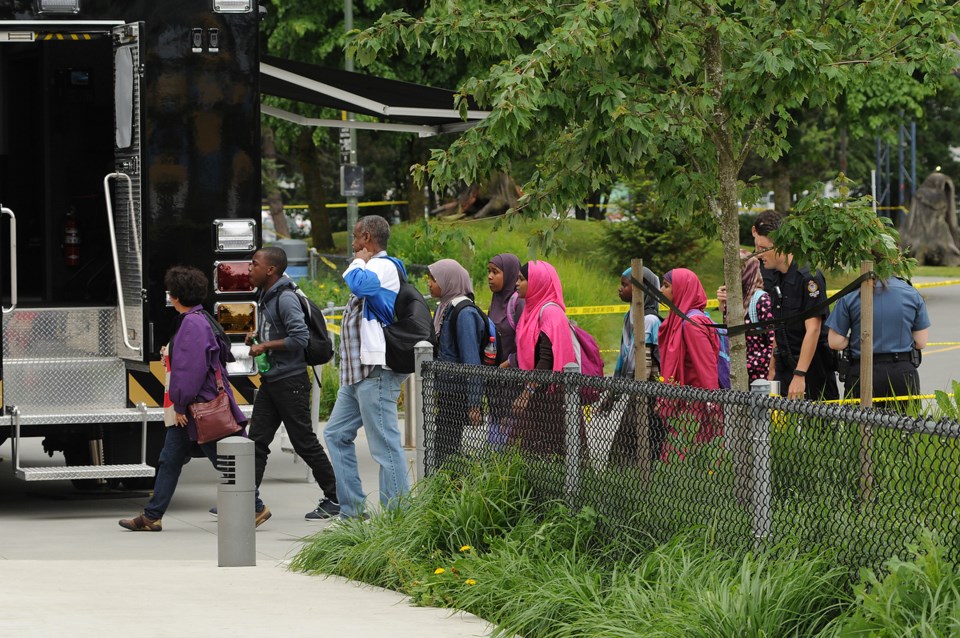 Hemmed in by a police car outside Science World, the shooter fired at the officer inside. The window shattered and shards of glass bloodied the face of constable Nadia D'Andrea, who was now feared shot. She dropped out of view inside the car, turned around and opened fire at the attacker.
Around the corner, officers Trevor Skates and Michelle Rajtschan shielded two people crouched behind a boulder. Sergeant Barry Cooke hustled other bystanders away from the gun fight.
Hiding behind a cement pillar, the shooter suddenly charged and once again opened fire at three officers, constables Josef Mancin, Chris Berda, Terry Kondo and D'Andrea. They shot back and, finally, the attacker dropped. Gerald Battersby pled guilty to three counts of attempted murder and two firearms offences and in October was sentenced to 18 years in jail.
Back at the coffee shop, Dragan lay bleeding with two bullet wounds in his chest.
Yvonne Yuen was across the street, exiting a bank when she heard shots and saw the attacker leaving with a gun tucked inside a back. She ducked back inside when the attacker shot at police and then she rushed to bring her husband to the scene so he could help. "You get in there and help," she said to him.
"I was married to her, I knew that when she says go, you go," the husband told reporters today.
A retired emergency room doctor, Clifford Chase took account of witnesses' scared faces, the pools of blood on the brick, the symptoms of the victim, and the first thing he did was stop other bystanders from performing CPR. Dragan was unconscious, pale, taking only one or two breaths every 10 seconds, and had lost so much blood that forcing his heart to pump harder would mean losing even more and risk bringing on a faster death.
Chase saved Dragan's life. The two talk regularly when they meet in the neighbourhood where they both still work.
"It's a miracle he survived," Chase said. "We chat. We say hi. He's a good fellow."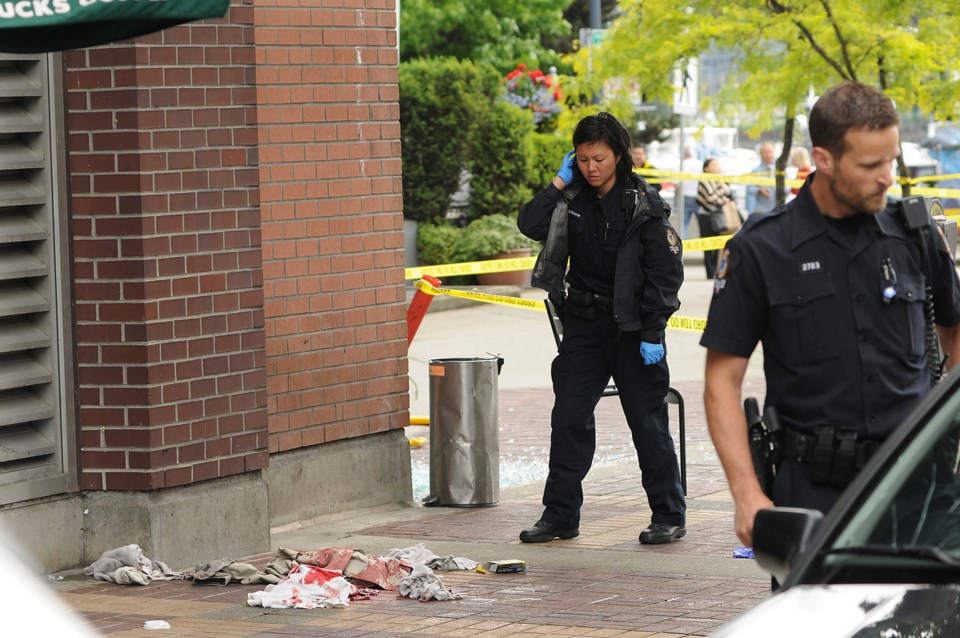 Before paramedics arrived, Chase tended to Dragan for what he remembered was 15 minutes. He stuffed the gunshot wounds with a white towel from Starbucks.
"I didn't think he would survive because he was bleeding out," said the emergency room doctor who now practises family medicine in Yaletown. "I was quite worried that he wouldn't make it to the hospital, and in fact, I understood that he arrested three times on the way to the emergency department, and once he was there, I understand that later on he received 15 units -- 15 liters -- of blood to maintain him."
The average adult man has between five and six liters of blood in his body.
Extremely modest of his contributions that day, Chase said he was merely the right person at the right place and time to respond to the emergency.
"It's not that I did a lot. I appreciate the honour. I don't take any credit, I just intervened," said Chase, who even likened his bold and expert action to the mundane chivalry of "opening a car door for someone who can't get out themselves." A thoughtful act to be sure, but perhaps not one the city's police would champion as heroic.
Indeed, not everyone would or could have brought the expertise, calm and skill that Chase showed that day nearly three years ago, and for that, Vancouver police honoured him with the Award of Merit. The humble doctor received the highest award for civilian bravery for, in the words of the police, "For selflessly coming to the aid of a critically injured stranger, making sound decisions and actions under extreme pressure to save a life."
Chase moved to Vancouver in 2012 with Yuen after the two married. A year later, she was diagnosed with cancer. She died last year.
This is not the first crisis Chase has attended to. During a long career in Saskatoon at one of the city's trauma training hospitals, he stopped to help people in car collisions and highway accidents.
"For over 20 years I practised emergency medicine." As he said, the right man at the right time.
"I don't take any credit, I just intervened. I did what I could and I was the right person with the right training at the right time at that moment."
Here is the complete list of the Vancouver Police Board Awards of Merit and Chief Constable's Valour, Commendation and Citation Awards.
Twitter: @MHStewart