Trees and hedges partially obscure the modest 1920s-era vacant building at the corner of Willow and West 23rd Avenue. It's situated in a single-family residential neighbourhood not too far off Cambie Street near Douglas Park.
Once it was a United Church. Later it became home to a Baptist congregation. Then it was transferred to the Ancient and Mystical Order of Rosae Crucis (AMORC), which used it until 2010, according to a statement of significance produced by Donald Luxton and Associates Inc.
Now it's the subject of a rezoning application and the latest proposed housing project in Vancouver that's galvanized residents against what they consider a spot rezoning.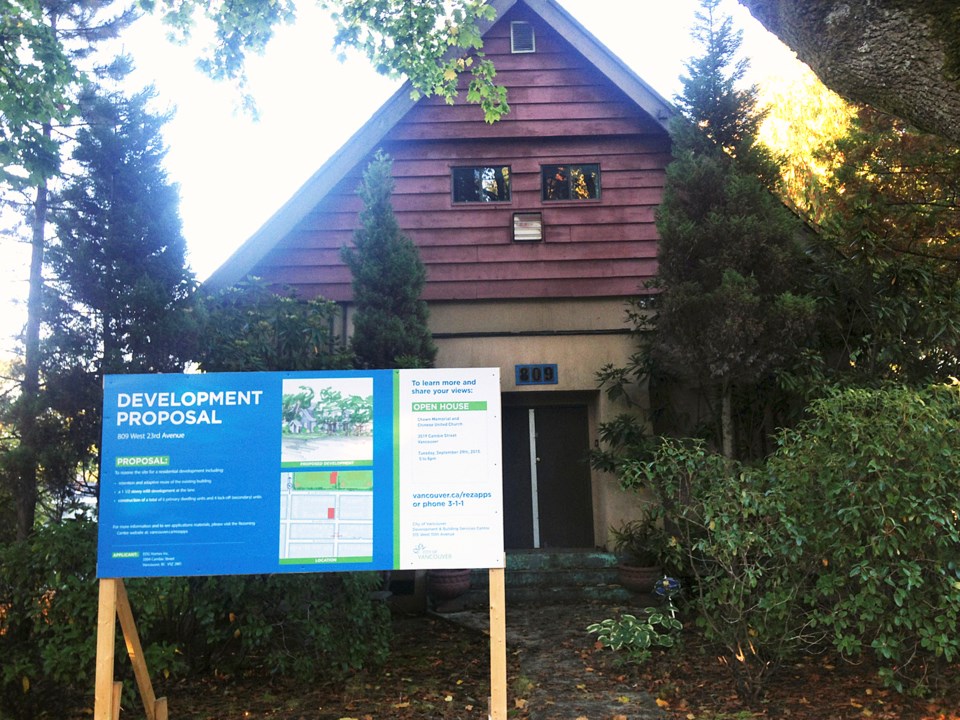 The 69-foot-wide property is about a block outside the proposed focus area being considered for change in phase three of the Cambie Corridor plan based on maps for fall workshops. [The city notes the map will be discussed and refined through the workshops]
Under current zoning, two, 34-foot lots can be approved. That would allow for a single-family home with a secondary suite on each lot, as well as a laneway home on each, for a total of six units. Two parking spots would be required.
EDG Homes Inc. wants the site rezoned to allow the wood-frame old church building to be preserved and converted into four rowhouses, each with a one-bedroom lock-off suite in the existing basement. Lock-off suites are similar to secondary suites but are connected to the main unit and can be locked off for rental or in-law use. Two laneway homes would be built in the rear yard and the proposal provides for five parking spots.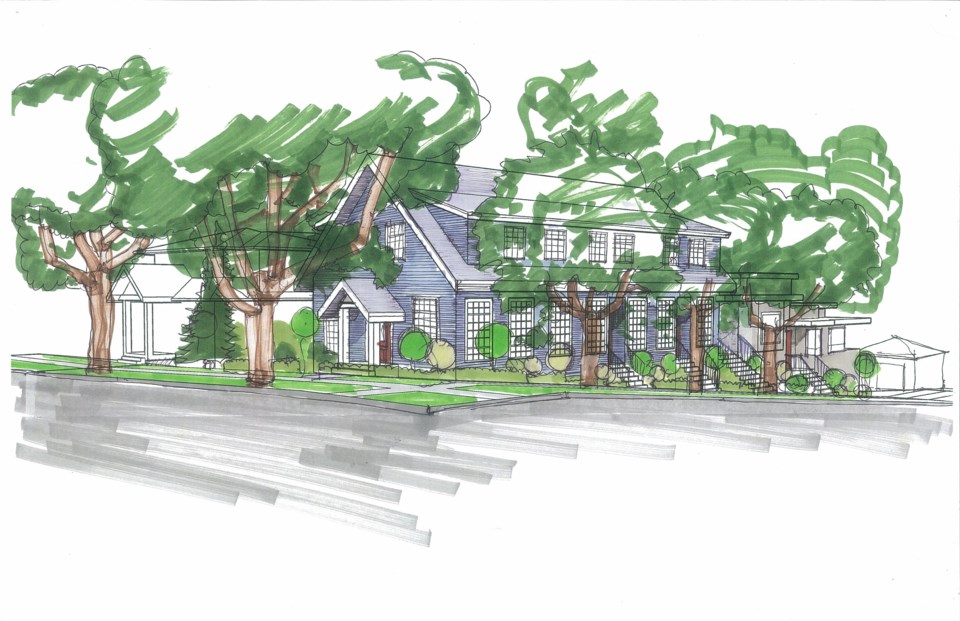 Dale Leibel, who moved into the neighbourhood in 1999, is opposed to the plan.
Leibel was one of many residents at a well-attended open house about the rezoning proposal held earlier this week.
He and other protesters sported green T-shirts reading: 'Take a stand. Say no to spot rezoning in Douglas Park.' Green signs with the same message are also posted on lawns throughout the neighbourhood. The campaign is being promoted on the douglasparkna.org website, which invites residents to email the city, get a lawn sign, order a T-shirt and support the 'no rezoning' effort by signing up to stay informed.
Some residents are worried about the added density the project would bring to the single-family area and they question the heritage evaluation, calling it "thin" and "weak."
"We're not against heritage, but in this particular case [we] have the sense that heritage is being used as a way to densify and get a more profitable outcome for the builder," Leibel said.
"In my view, if someone's going to make a change, it would be nice if it got changed into something that was consistent with what other buildings are like in the neighbourhood, which is single-family, which is what it is zoned for."
Leibel suspects residents have rallied against the rezoning proposal partially out of frustration about all the changes sparked by the Cambie Corridor plan and fear that if this application is approved it will set a precedent.
Peter Smith, who also wore a 'no spot rezoning' T-shirt to the open house, noted the church only earned a score of 32 in the heritage evaluation — it needs a score of at least 30 to get heritage C designation, he said, which is the lowest designation. He isn't convinced it deserves the 32 score.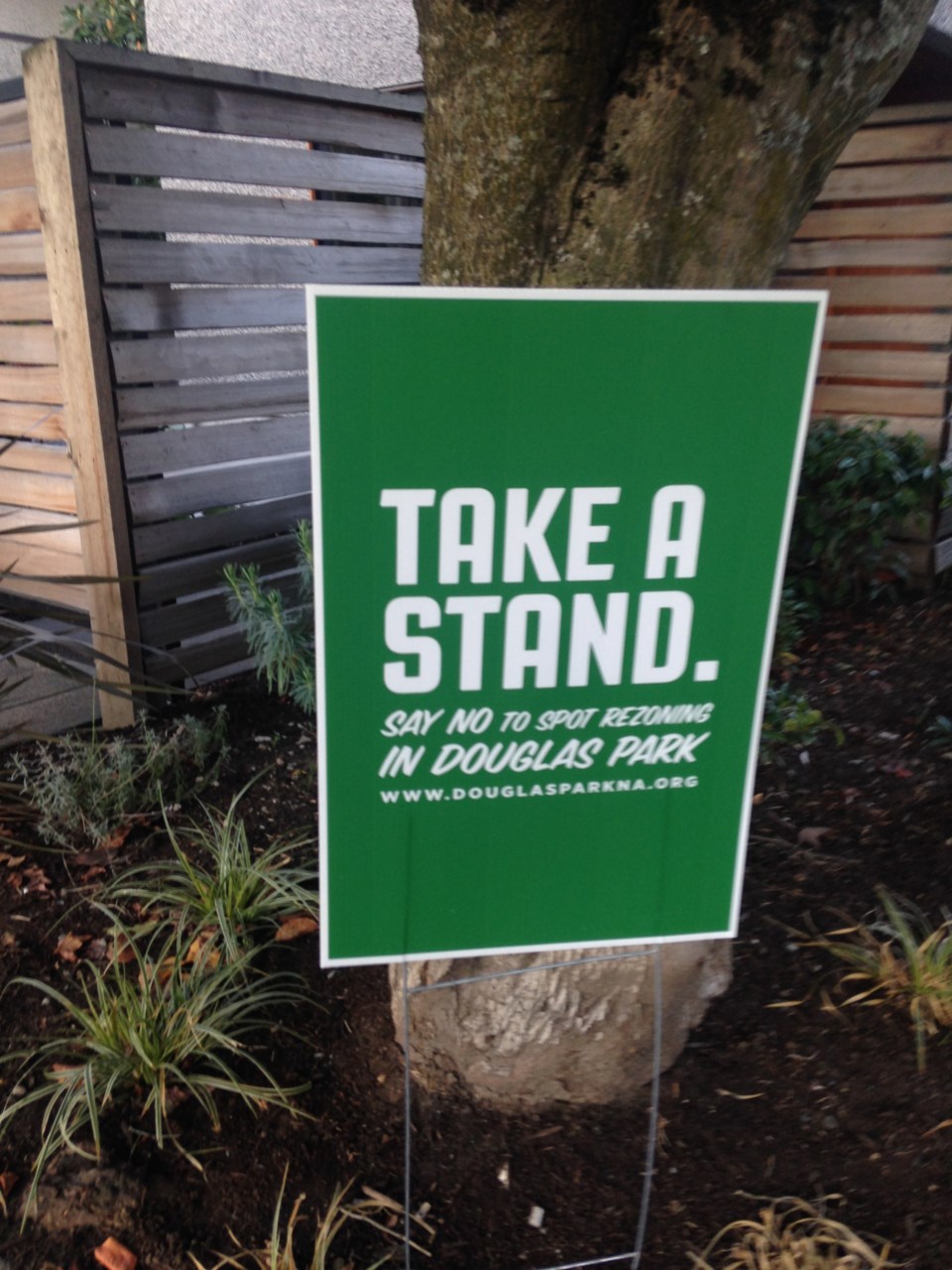 Smith said he supports the Cambie Corridor phase three planning process, but while the site is in the study area for phase three, it isn't currently inside the focus area proposed for change, and the rezoning proposal is being pitched just as consultation for phase three is starting and long before a plan will be adopted. The development would also be much larger than what's permitted under current zoning, he said.
"Keeping part of [the neighbourhood] as single-family density is also part of the plan. People forget when you restrict increased density to certain areas, at the same time you're saying that you're not supporting increased density in the other areas," Smith said. "The plan covers the whole community. Our concern is they're using heritage in a very cynical way."
The statement of significance for Douglas Park United Church notes the one-and-a-half-storey building is "valued as an example of the community facilities that were constructed in Vancouver during the resurgent interwar period and for its 1920s ecclesiastical architecture."
When it was built in 1927, it was named Oak Street United Church, according to the Luxton report, but the congregation changed it to Douglas Park United Church in 1928. They remained in the building until 1937 at which point they amalgamated with the Chown United congregation and moved into a building on Cambie Street. The church then became the Douglas Park Regular Baptist Church until 1952 when the Vancouver Lodge of the Ancient and Mystical Order of Rosae Crucis (AMORC) took it over.

Paul Phillips, principal of EDG Homes Inc., said the plan is to rehabilitate and restore the historic church building and provide housing options other than single-family homes, which are out of financial reach for most Vancouverites. The stucco would be removed and all the old windows would be reinstated to match its original appearance as shown in archival photos from the 1920s.
"Our choice is do we save it as townhouses or do we have it demolished," he said.
"Our vision is to save the heritage [building] and provide housing options in the single-family neighbourhood that it's in."
Phillips said he's been involved with a number of heritage projects and there's always some opposition and concern about proposed zoning changes.
"I'm surprised by this amount of opposition, but we don't know what the opposition is about — it's just to 'no rezoning in Douglas Park.' It's not specifically to this project, it appears. I think people are saying this is the beginning and ending to Douglas Park when it's a completely unique project driven by heritage," he said. "So I think it's a matter of information and getting the word out, which is what we're trying to do. People are just reacting to the word 'rezone' on the sign. [I've spoken] to a lot of people [Tuesday night]. A number of people have listened and we're appreciative of that."
Phillips said the previous owner of the property passed up other offers that involved demolishing the church. They promised him to do their best to try and conserve and restore the building through the redevelopment project.
The goal is also to incorporate sustainable measures in the build such as geothermal heat, rainwater catchment and recycled materials, he added.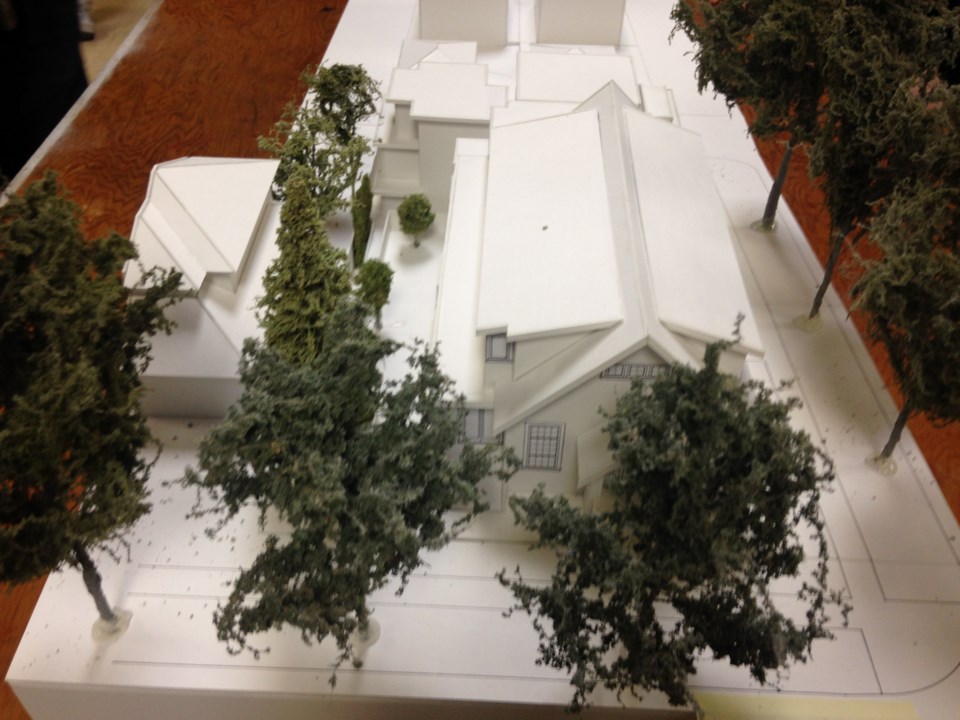 Susan Haid, the city's assistant director of planning for Vancouver South, told the Courier the application is not a spot rezoning, which she defined as a rezoning application that is not supported by city-wide or neighbourhood policy.
The application for 809 West 23rd is being considered through the city's heritage policies and guidelines, including the 2013 Heritage Action Plan.
Haid added that the Riley Park/South Cambie Community Vision from 2005 includes directions that support consideration of the application such as support for retaining character buildings not on the Vancouver Heritage Register and for adding new housing types close to parks and community centres.
The site is within the overall Cambie Corridor phase three study area boundary, Haid noted, specifically in the Cambie Village sub-area. Cambie Village has been identified as unique in the Cambie Corridor planning program, which also states that heritage and character retention strategies would be reviewed in phase three. Council also approved an interim zoning policy identifying the types of projects that may be considered while phase three in underway, which includes proposals involving heritage retention.
The Vancouver Heritage Commission is reviewing the draft conservation plan and project proposal at its Oct. 5 regular meeting.
It's anticipated council will consider the application early in the new year when it could be forwarded to public hearing.
noconnor@vancourier.com
@naoibh