While Vancouver police are saying that an increase in foot patrols in the Downtown Eastside is working, others are critical of the department's tactics.
"Overwhelmingly the response is negative," says Anna Cooper with the Pivot Legal Society which has heard from, and had a meeting with, residents and service providers in the Downtown Eastside.
Cooper said there have been reports of police "indiscriminately stopping people who are visibly poor and homeless," demanding to see receipts for items, seizing goods and urging people to sign waivers stating that things were stolen.
"Police need to have proper grounds," she said, adding that the fact that someone is poor and has an item is not proper grounds to seize it.
Sarah Blyth with the Overdose Prevention Society said she's also witnessed police confiscating items that are not stolen from people.
"Our homeless people are our most vulnerable in our society," she said. "I just think, we don't want to create a situation where people that are vulnerable, have mental health, physical health conditions are now getting stuff that's been donated to them taken away because they don't look like they should have something new."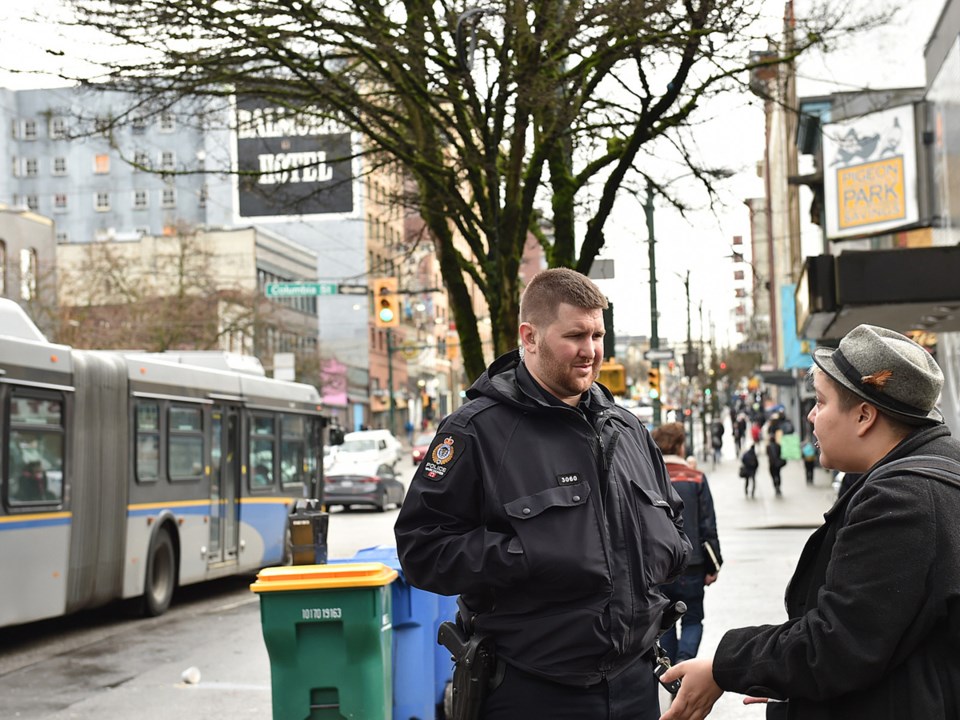 Last month, the Vancouver Police Department announced it was increasing foot patrols to "proactively address issues around street disorder and prevent violence."
"In recent months, there has been a significant increase in street disorder, including violent altercations, which has led to heightened concerns from the elderly, people with mobility issues, and businesses," Sgt. Jason Robillard said at a Jan. 30 press conference. "We are working with the community to try to make the neighbourhood safer for everyone."
On Feb. 13, Deputy Chief Howard Chow said that in the two weeks since the increased patrols started, there were two serious assaults and one robbery in the area — compared to an average of eight assaults and one robbery every two weeks in the prior six months.
"Violent crime is down and residents and merchants are able to use the sidewalks again. We have received positive feedback from the community and our officers will continue to work with residents and businesses to make the area a safer place to live, work and visit."
In response to the criticism about police tactics, Chow said, "There are instances where we will at least engage in a conversation and enter into the investigation to determine whether [an item is] stolen or not.
"If there's reasonable grounds to appear that the investigation is leading us to [believe] that it is stolen then we would seize it as part of the investigation and if it turns out that it's not then it's returned."
Cooper said she had not heard of one case yet where someone had items that weren't stolen returned.
As well, Blyth said she has heard anecdotally that the increased police presence in the neighbourhood is deterring people from using the overdose prevention site.
"Folks are letting us know that with all the police around that when they're standing out front or in the back of overdose prevention site it makes it not very appealing to use our site," Blyth said, adding that there are some regulars that she hasn't been seeing since the increased patrols began.
"Some of our regulars are just not coming and I see them and they've told me that there's just too many police on the block."
She said her main concern is that if those people are instead going home to use.
"That would be the worst-case scenario for us in a crisis that people would choose, 'I don't want to deal with that I'm just going to take the risk and go home and use alone,' she said. "And that's where people die. We don't want to be scaring them away from sites."
Numbers from Vancouver Coastal Health show a slight increase in the number of visits to overdose prevention sites since Jan. 28, when the increased patrols started. Between Jan. 14 and 27, the Overdose Prevention Society trailer saw 347 visits, and from Jan. 28 until Feb. 10 there were 386.
Media liaison officer Const. Jason Doucette said the intention of the project is to make the area safer for everyone.
"A part of that is we don't arrest people for minor drug possession. We don't provide any barriers to overdose prevention sites," he said. "We encourage people to use these facilities, remain safe, don't use alone and to educate themselves on how to look for signs of overdose and how to treat them.
"Public safety and public health, which is a part of public safety, is a priority for us."
Blyth said the society has generally had a decent working relationship with police.
"But in this particular case of these street sweeps we disagree on this one. I don't think they're helpful. I don't think they're helpful for the overdose crisis," she said.
"I don't think anything is going to change. I think it will end and everything will be the same. It's doing the same thing over and over again and it doesn't work, it's going to continue on as it is."
@JessicaEKerr