For most of this year, a bizarre game of paint ping pong has played out in the Downtown Eastside, involving a plywood wall attached to a building at 433 Carrall St., between Hastings and Pender.
At night, a well known and respected underground graffiti artist named Smokey D. (a.k.a Jamie Hardy) sprays out morbid murals, graphically chronicling the latest opioid death count or leaving tributes to fallen friends. The paintings, which show off a high level of artistic skill, serve as a harsh reminder of the very real health crisis gripping one of the most vulnerable neighbourhoods in Canada. Already in 2017, the suspected overdose deaths in the city have overtaken last year's total. As of last week, there have been more than 230 deaths this year. Province wide, the numbers are even higher.
Sometimes, Smokey's art at 433 Carrall lasts a few days, other times merely overnight, until it's painted over in a benign white or beige. Across the street at the Portland Hotel Society, employees root for Smokey D., trying to capture his latest creations on Instagram before they are removed.
Scott Stewart works for the Community Transitional Care Team, an acute care unit in the Downtown Eastside, and I count him as a longtime friend. "Those murals should be allowed to stay," Stewart said. "They serve as an important community reminder. Covering up those specific messages is a very negative metaphor in the bigger picture."
Earlier this month, Smokey D. finally blew a fuse and let fly at whoever was painting over his opioid overdose awareness art. Here's a snippet of the message he scrawled:
"[To the] owner of [this] stupid wall … go ahead and paint over it again by 9am for what? …the 15th time? Fuck it, you win."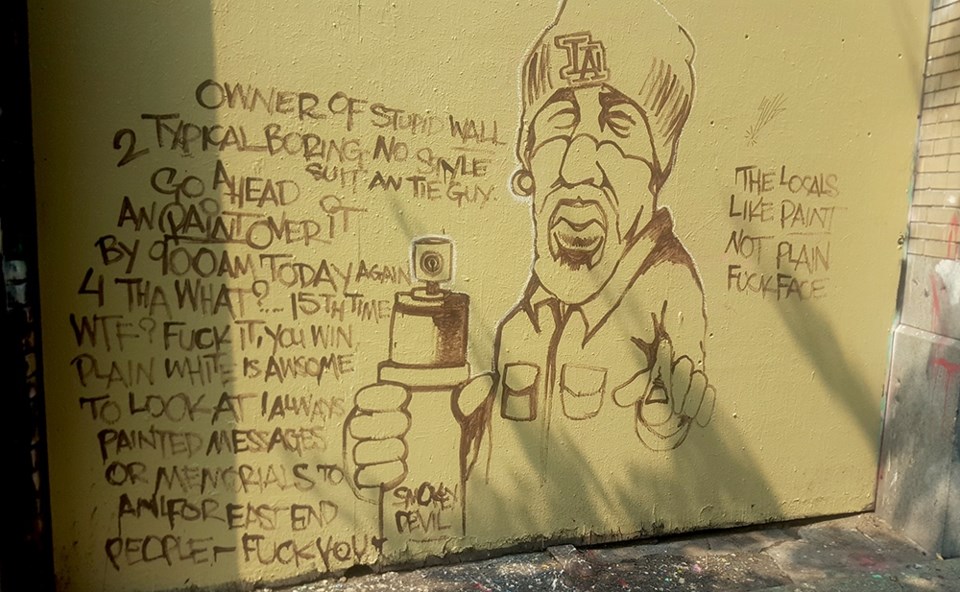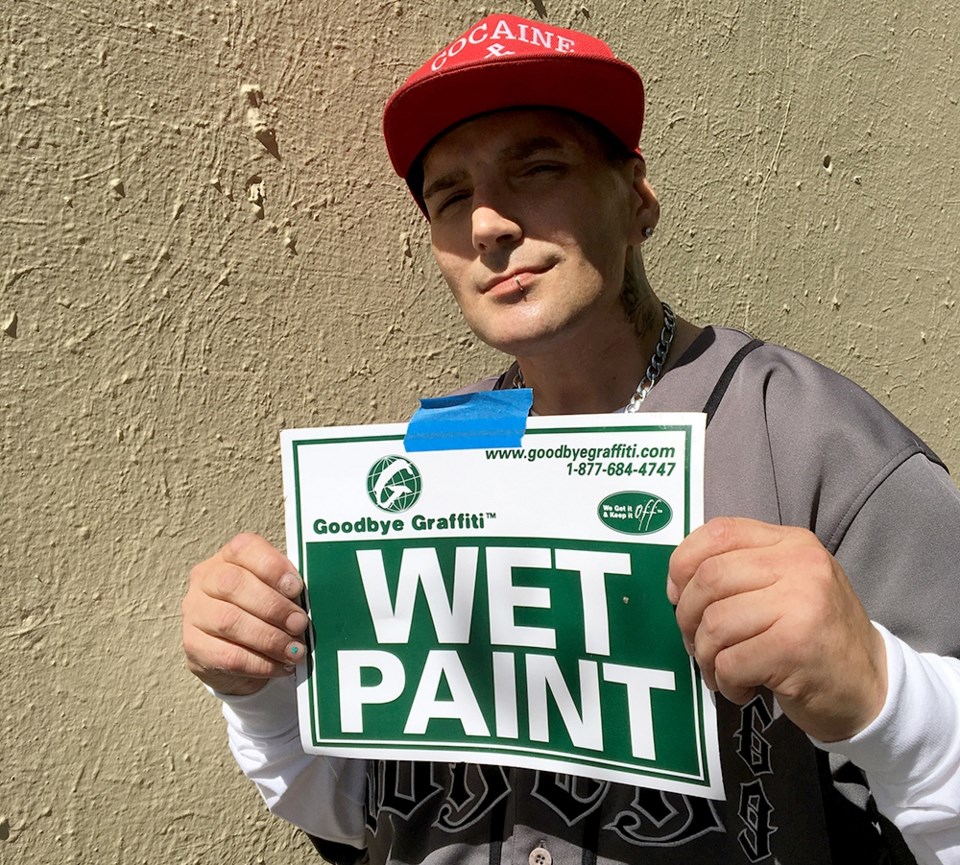 The wall has been a plain beige ever since, and the block, which is lined with bike lanes and houses the ritzy Hi-Fi Centre, Fetch eatery and Lightform Vancouver shop, is now patrolled by a security guard.
I've followed this paint pit battle on Instagram and saw some of the dramatic works of art myself before they were painted over. Last week, I stopped to talk with the friendly security guard.
"There are families and tourists walking up and down here, going from Gastown to Chinatown. No one needs to see that kind of language or that kind of stuff on the wall," he said. However, the location of the wall is the exact reason Smokey D. chose it for his messaging.
"There's lots of different kinds of people walking up and down Carrall Street, not just junkies. It's a wider variety of people, and they're the ones who really need to know what's going on down here," he explained.
I met up with Smokey last week for a walk through his DTES neighbourhood. He was dressed in baggy hip hop-style clothing and a red baseball cap pulled down low, which makes him look much younger than his years. It was like taking a stroll with the King of Kensington. Every few feet for many blocks, people of all stripes and situations cheerfully shouted his name. "Hey Smokey! How's it going today?" Smokey would answer with an equally friendly greeting.
"I've been down here for 25 years, eh? I know everybody."
Most of Smokey's most elaborate and colourful murals, all of which warn against the deadly dangers of fentanyl, are found in alleyways, but most people are afraid to venture down those, he said, hence the importance of the higher profile canvas at 433 Carrall.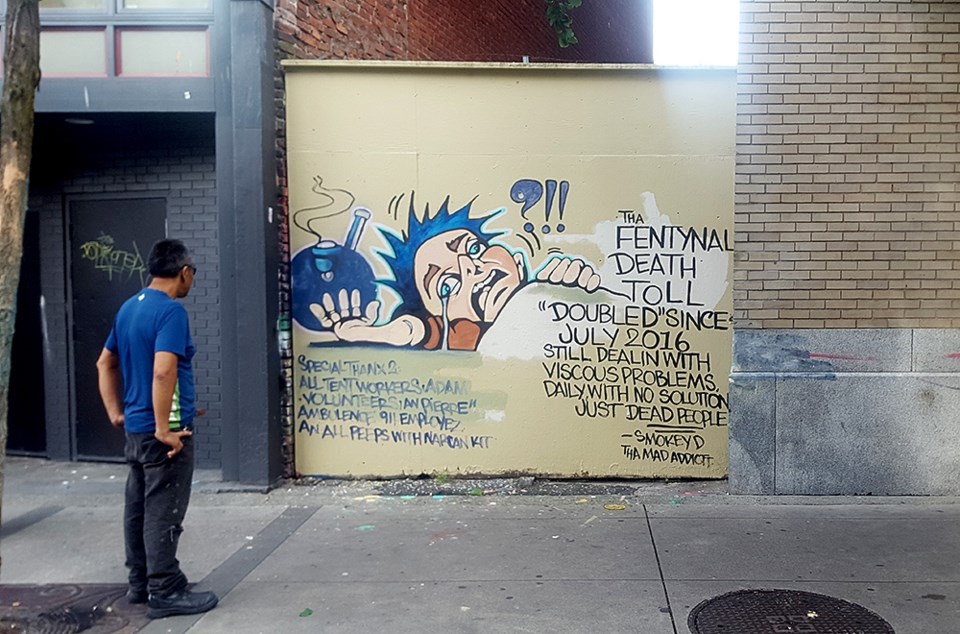 Smokey D. is a recovering heroin addict who grew up on the North Shore, graduating from Carson Graham Secondary in 1986. He admits to selling heroin before getting hooked on it himself and winding up in and out of jail. Smokey is also a dad to a 10-year-old boy named Chase, and lights up when he talks about him. "Chase is my favourite artist in the world!" Chase's name is tattooed on Smokey's neck.
Smokey credits Kurt Lock, a health research coordinator at the Providence Crosstown Clinic, for getting him off deadly street drugs and onto clean pharmaceutical heroin. Smokey's girlfriend of 10 years, Dawn Sangster, died last year of a fentanyl overdose in a momentary street drug relapse after being clean for a year and a half. It was her death in particular, among the deaths of many other friends, that sparked Smokey's graffiti awareness campaign.
"The drugs are like Russian Roulette down here man, you never know what's going to kill you. Fentanyl, carfentanil, it's in everything. It's everywhere now. I try to help other people to not repeat the same mistake."
Smokey had no idea who was continually painting over his murals at 433 Carrall St., so I decided to find out.
The Goodbye Graffiti "wet paint" signs taped to the wall in question were a pretty obvious start. According to the Goodbye Graffiti call-centre operator I spoke to, the address is a privately owned property on their "Ever-Clean Program," meaning they patrol it constantly.
Danielle Beck, general manager for Goodbye Graffiti, told me in an email that they "do not target any specific graffiti tagger or hold any particular political or ideological stance regarding any specific message." In the same email, Beck added that she can "personally understand and deeply sympathize with [Smokey D.'s] message, however the message must be delivered in the appropriate way."
433 Carroll St. is registered to Anthem Properties, a Vancouver development and management company that owns swaths of commercial real estate all over B.C.
Traci Lovell is the Anthem property manager in charge of 433 Carrall. When I explained why I was calling, Lovell claimed to have no idea that the graffiti being covered up was opioid crisis awareness messaging.
"If we see graffiti, we get rid of it. It's our private property, so we naturally work hard to make sure all of our properties remain clean," she explained, also mentioning that Anthem does outreach in the community.
When I spoke with Smokey, he said he'd be willing to adjust his message. "I'd love to find a happy medium so it could continue. I'd tone down the language and wouldn't go as hardcore with the images," he suggested.

I relayed Smokey's pledge to Lovell, and asked her if Anthem Properties would consider allowing Smokey D. to resume painting on the plywood wall attached to their private property. To my amazement, Lovell agreed.
"I'll inform security and Goodbye Graffiti that Smokey can have exclusive use of that specific wall for his messaging," she said. And, whether Lovell knew it or not, Anthem Properties' decision to allow Smokey's murals to continue couldn't have been better timed: Aug. 31 is International Overdose Awareness Day.
"That's amazing, that's so cool!" Smokey exclaimed when I told him the news. "But I guess I'll believe it when I see it." Smokey and I walk over to Carroll Street so I can introduce him to the security guard. "Just keep the art clean, man," the guard said, sternly.
Will Smokey's art survive? Check it out for yourself the next time you walk down Carroll between Gastown and Chinatown.
As for a solution for the opioid crisis, Smokey had this to add: "If more people could get into programs like mine at the Providence Crosstown Clinic, we'd see a lot less crime and, more importantly, a lot less death. That's the message I'm trying to get across. And now I get to paint again."