On the heels of Vancouver's real estate boom, East Vancouver's retail rents have sky-rocketed. Consequently many small businesses, particularly on Commercial Drive and Main Street, are being pushed out of the city.
Bernie Moschenross opened Wonderbucks 18 years ago, and the "high-end dollar store" soon became a Commercial Drive institution. But increased rent and property tax has forced him to close shop at the end of this month.
"I read an article in the New York Times saying the Drive is one of the last streets in North America that bred a different way of thinking. And for young people it was like Soho in the 1970s," said Moschenross. "We wanted to be there. Only time will tell if the Drive's vibe will disappear."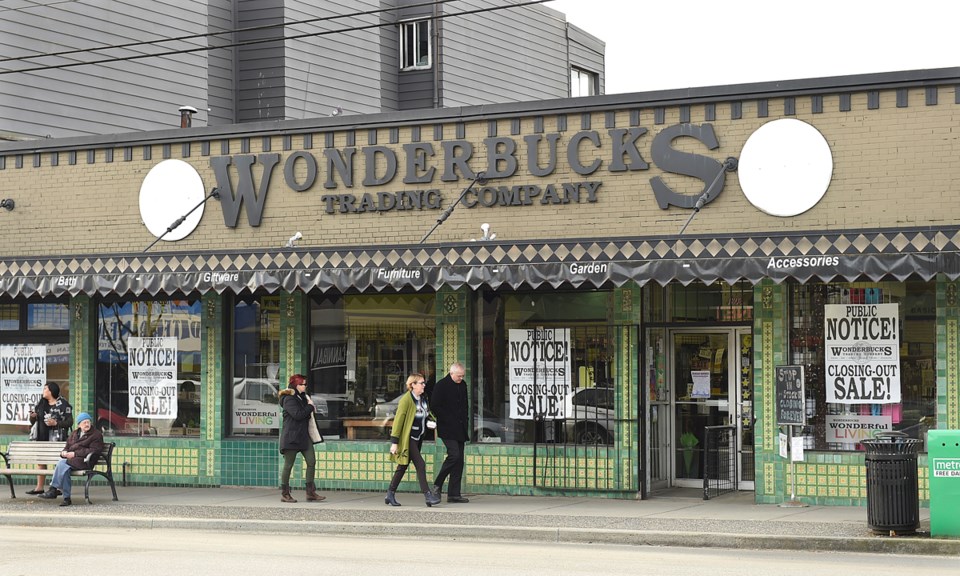 Over the past year, several independent East Side businesses have either relocated or closed shop for good, due to substantial rent increases and taxes. Rising property values spell higher property taxes, which the lease holder — not the property owner — must pay.
Over on Main Street, Glencora Maughan, co-owner of Twigg & Hottie, said the boutique closed in December after 13 years, mainly because both homeowners and renters in the neighbourhood no longer have disposable incomes. As land prices increased, sales decreased.
"Our products are designed and made in Canada so we provided local artisans with a substantial check each month that they no longer have," said Maughan, adding their store space remains vacant.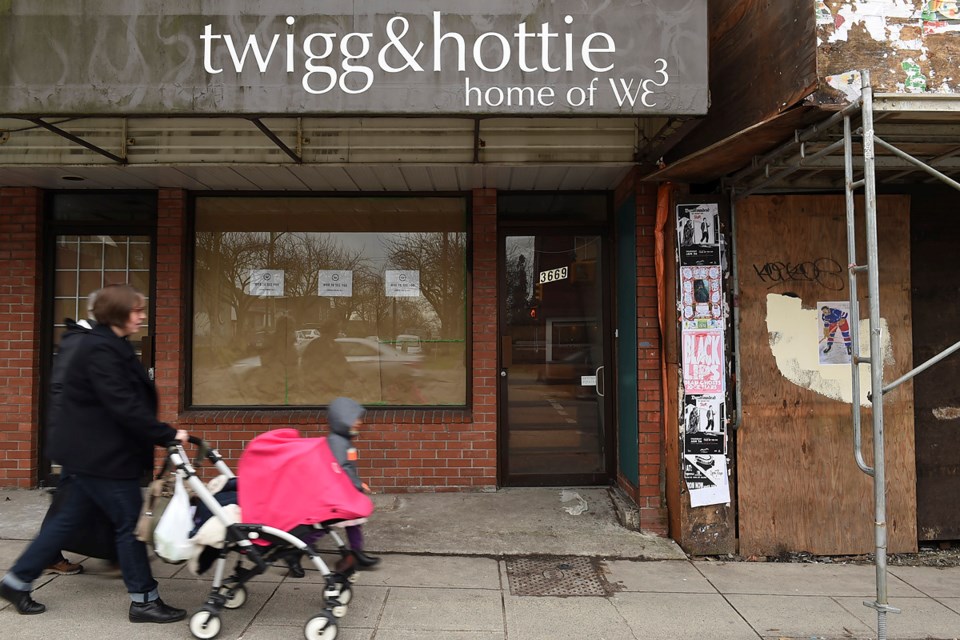 Also feeling the pinch was Sellution Quality Consignment, which sold Vancouverites vintage furnishings on Main Street for two decades, but moved to Kingsway last summer after their rent tripled. The building also remains vacant. With small, independent businesses closing, there's a fear only big box stores and franchises will be able to afford to operate in Vancouver.
Earlier this month, the owners of Main Street's long-serving vegetarian restaurant The Foundation announced it would be closing at the end of February.
"It's terrible that Foundation restaurant and Wonderbucks are leaving because of rent hikes," said Maughan. "Young people take out credit lines to make lease-hold improvements and at the end of the day the landlord wants more money. I don't know what the future holds, but I want to stay in the community. Maybe there will be more pop-up shops."
Fortunately not all landlords are on the same page. Some businesses, including Sacha Thompson's The Flowerbox on Commercial Drive, may be OK for a while, provided the landlord doesn't plan to develop anytime soon — and so long as people have enough cash for flowers after paying the rent or mortgage.  
"After 13 years on a side street off Commercial, my landlord tried to charge more than the going rate on the Drive," said Thompson. "Luckily I now have an excellent landlord with a store twice as big, the same rent and walk-by traffic second only to Robson Street." 
Thompson hears stories about retailers being forced out of the neighbourhood because their landlord, who often doesn't live in the community, doesn't care about families trying to make a living.
"The day before I met Mimo Marrello, my current landlord, I was filing for bankruptcy," said Thompson. "A lot of my suppliers and staff would be disappointed, but the stress and pressure was too much for my family."
Marrello's family has owned a six-unit building on the Drive since the late 1960s. Highlife Records & Music has been there 30 years.
"We want to have good relationships with our tenants, so we try to balance the going rental rate with what is fair and what our tenants can afford," said Marrello. "Sacha's taxes are so high and I don't want her to leave so I didn't raise her rent."
Most tenants have triple net leases, meaning they pay property taxes on the entire property. Besides the storefront, Wonderbucks also has a warehouse and a parking lot, so property taxes have become "outrageous." And with rent increased to $27,000 per month, Moschenross believes Wonderbucks was sellable at one time, but no longer. 
Now that the Grandview-Woodland plan is approved, Moschenross believes his property has been rezoned and the landlord will demolish the building. Developers can build a storefront with three floors above for residential use — in some areas on the Drive they can build up to six floors.
But Kent Munro, assistant director of planning with the City of Vancouver, says the plan won't make any changes to the Drive.
"We didn't want to destabilize businesses or encourage redevelopment at a pace different from the past 30 years," Munro said. "And since the plan was accepted last summer, there are few development applications." 
There's no getting around pressures on all types of land uses and affordability of rents for commercial use. One realtor told Moschenross that small business in East Vancouver "is done."
On the other hand, Thompson said that her landlord looks at the big picture. "He looks at the community. He looks at long-term success."
One solution is for shoppers to support East Side retailers.
But with rising rents and taxes, whether Vancouverites can afford to continue do that is uncertain.
janemundy595@gmail.com