A man wearing a turquoise cap hopped off his bike in front of the East Side Free Store Tuesday afternoon and told the Courier he wanted to poke his head inside.
"That lion sweater caught my eye," he said referring to a sweatshirt that featured a lion's face, replete with green and topaz bejeweled eyes.
Passerby Alvin Hackett said he'd picked up a jacket, shoes, a T-shirt, backpack, hat and socks for free at the store. He wishes more people knew about the shop.
"As long as they don't take advantage of it and sell things in the Downtown Eastside," he said. "That's a no-no… Bad karma."
Hackett, a resident of a low-income hotel near Oppenheimer Park, plans to donate alarm clocks to the store that runs on donations. A street-front free store as of this year, it started as an annual event created by artist Julia Higgs and a few friends.
"We had this idea just before Christmastime," she said. "We wanted to do something to curb the mass consumption of the Christmas shopping madness."
Red Gate Arts Society provides the store's 100-square foot space at 855 East Hastings St. free of charge.
A painting of a tattooed pig with a long snake-like tongue graces one section of wall and a sticker on an old boom box reads, "Not free, thanks!"
Cassette tapes, CDs, records, a Forrest Gump VHS tape, sewing patterns, clothes, books and hugs are just some of the free goods on offer.
"Part of the fun of this project is watching people's responses to the amassed bric-a-brac of forgotten commodities. I see the experience spark personal reflection on how we treat and value objects," Higgs wrote in a handout for the volunteers who help her staff the store.
Shoppers can take items from the store without donating.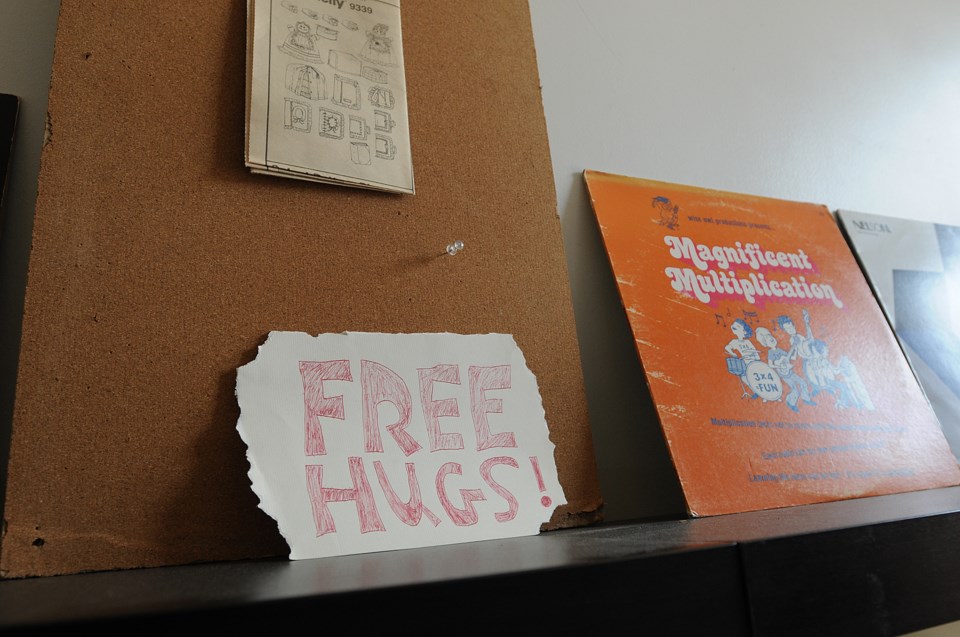 "It's not a trade or an exchange. The idea is that however it would be useful to you, that is how you can participate," Higgs said. "We find homes for abandoned objects that would otherwise go into the landfill, particularly stuff that people value but they can't use anymore, they just don't want to see it go to the Salvation Army or anywhere."
The free store has seen a snowboard, an inflatable dolphin the length of the shop, a bicycle, and flatscreen TVs pass through its door.
When the free store ran as an annual event, young backpackers from Europe once scored two sets of skis and boots that fit them perfectly, making it possible for them to swish down local mountains.
"It was just one of those perfect free store moments," she said.
Area resident McKay Wood wanted to learn about the Free Store as he and his daughter lingered outside, mid-bike ride, chewing on landjäger sausages they'd bought at the adjacent Les Amis du Fromage.
Wood prefers the idea of donating to the free store, rather than Value Village.
"Value Village is a for-profit entity and it's nice if we can donate locally and give back to our community with free stuff," he said. "Everyone loves free."
The East Side Free Store seeks clean, functional, useful objects. It accepts bras but not used underwear, bedding or cathode ray tube TVs.
"I'm not a garbage disposal service," Higgs said.
Those who want to help stock the store can visit during store hours, which are noon to 4 p.m. Wednesdays, Saturdays and Sundays, and 2 to 5 p.m. Fridays. For more information, see facebook.com/vanfreestore.
crossi@vancourier.com
@Cheryl_Rossi