If there's no culture left to crawl to, then what's the point?
It's a question Esther Rausenberg has wrestled with for 12 years.
Rausenberg is the executive and artistic director of the Eastside Culture Crawl, a multi-disciplinary art showcase established in 1997 that attracts tens of thousands to the area bound by Columbia Street, First Avenue, Victoria Drive and the waterfront.
This year's show will deviate from its past format, in that politics will be in play right alongside printmaking, photos and painting.
Two days' worth of workshops are scheduled this weekend where the topics of conversation will be solely about displacement, property tax, leases and land use.
Displacement Forum & Exhibition runs Oct. 25 and 26 at the Dudoc Vancouver location on Frances Street. The Culture Crawl happens Nov. 14 to 17.
In a perfect world, Rausenberg would be focused exclusively on the Culture Crawl alone.
"Non-profit organizations are so stretched out, so overextended and even with us, with this survey and forum, it's off the side of our desks," Rausenberg said. "It really then starts to take away from the real purpose of our organization, which is to present the visual artists and connect them with the public. This is not what I thought I would be doing. I should be programming."
The survey Rausenberg references is called "City Without Art? No Net Loss+." The report won't be released until Oct. 25, though Rausenberg shared some findings.
More than 320 art spaces were identified in the Culture Crawl's catchment area and 317 people responded to survey questions around costs, leases and pressures.
"Seventy-eight per cent of the artists surveyed said they plan on moving because the rents are going up or the building is being redeveloped," Rausenberg said.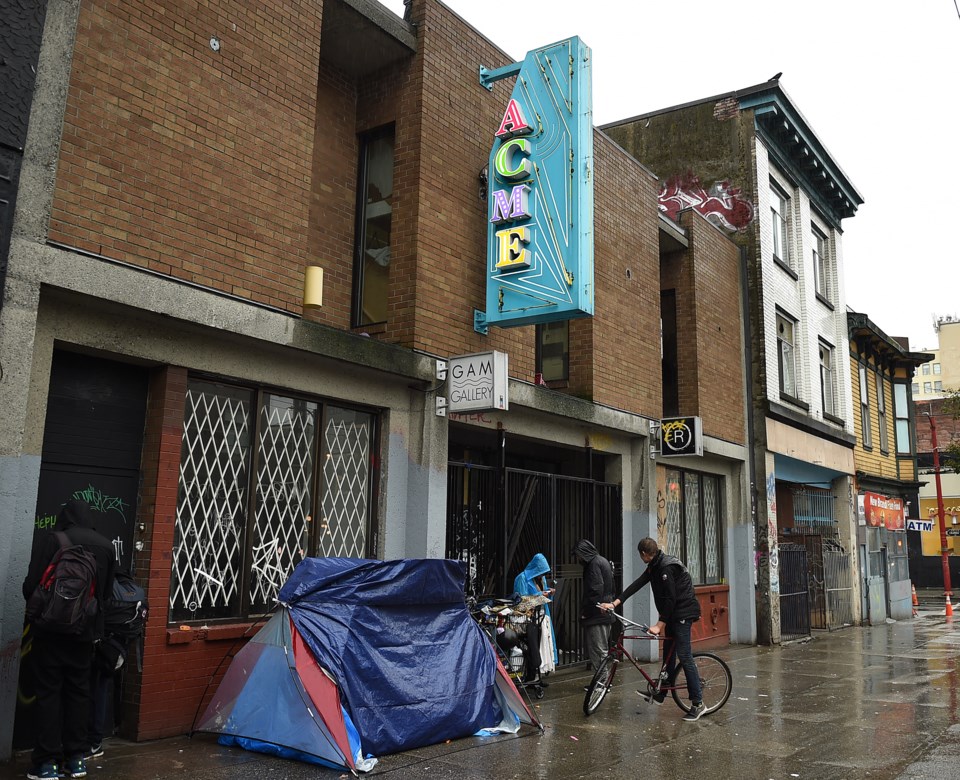 Two studios announced closures in the last month alone, displacing about 100 creatives. Clark Drive Studios closed its doors on Oct. 1 after 17 years, while Acme Studios closes at the end of October after 11 years near Hastings and Columbia streets. Land speculation and the corresponding huge cost increases were to blame in both instances.
Alex Waber is a commercial photographer who managed one of the gallery spaces at Acme for nine of its 11 years in the Downtown Eastside.
The gallery's closure is largely tied to the deteriorating conditions in the neighbourhood. As the problems around open drug use, theft and crime worsened, more and more people left the studio.
The owner's overhead got to a point where costs couldn't be recouped from the few artists who remained. At its peak, 50 to 60 artists inhabited Acme's 16 studio spaces, and Waber knows of only a few people who've found new places to go. 
"One person has given up on the city and is moving away and I'm sure she's not alone," Waber said.
That person Waber cites is most definitely not alone. Rausenberg began seeing artists leave Vancouver about seven years ago, and those issues get worse year over year. She suggests 400,000 square feet of arts production space has been lost in Vancouver over the last decade.
"We have lots of people who lived in Strathcona who are up on the Sunshine Coast, they're in Nova Scotia, they're going to Powell River — and this happens daily," Rausenberg said. "You're not going to have a show to go to at some point."
For its part, the city is trying to get a handle on the forces dogging Vancouver's arts scene. Three massive pieces of arts and culture legislation were passed in early September, calling for everything from a designated arts district to hiring a dedicated music staffer and asking the music industry to help as well.
There's also a call to preserve 800,000 square feet of affordable arts spaces in the city over the next 10 years. Many of the points raised in the three reports will take years to accomplish, if they're accomplished at all.
The property tax quandary, arguably the biggest problem of them all, requires input from the province and B.C. Assessment.
And so the Courier asked Alix Sales, the city's head of cultural spaces, what help Vancouver's artists can expect in the short term, or what they can do to help themselves.
Sales commends the work Rausenberg is doing and encourages residents to participate in any and all feedback channels and public forums. Changes will soon be forthcoming to the special events licensing process for gigs and other performances in warehouses and other off-the-beaten path spaces.
In the meantime, Sales stresses the need for artists to know who their landlords are and to understand the ins and outs of a lease: who pays what, how long the lease term is for and any clause that may allow for renegotiation.
"That is something we are thinking about constantly," Sales said.
For info on this weekend's forums, along with times and locations, log on to culturecrawl.ca.
@JohnKurucz