When I saw the photo, my first thought was, "That cannot possibly be real." I just assumed that it was photoshopped: someone just stuck Pettersson's face on a picture of someone on a unicycle.
It didn't help that it was posted on Reddit devoid of context: just a picture of Elias Pettersson juggling while on a unicycle. Perhaps it was a variation of a meme I hadn't seen before or some niche joke that I just didn't get. Only, the paint on the walls is definitely the colours of the Växjö Lakers, Pettersson's team in the Swedish Hockey League. And, if it's a photoshop, it's a phenomenally good one…
It's not a photoshop. That is a real picture of the Canucks' top prospect, Elias Pettersson, on a real unicycle, with real juggling balls.
Swedish newspaper Kvällsposten heard about his hidden talent and brought him a unicycle and juggling balls to challenge him and he didn't hesitate.
This is almost too much. Not only did he lead the SHL in scoring, breaking Kent Nilsson's 42-year-old junior record in the process; not only is he the top prospect not in the NHL according to TSN; not only is he the heir apparent to the Swedish tradition in Vancouver; now he can unicycle and juggle at the same time?
Does unicycling and juggling at the same time contribute to his success on ice? Maybe. The kind of core strength needed for riding a unicycle and the hand-eye coordination required to juggle at the same time, seems like it might help.
A lot of goaltenders use juggling to help train their manual dexterity and hand-eye coordination, but it's not something you usually see from a forward. That said, when he was younger with his youth team Ånge IK, Pettersson was a goaltender.
Pettersson's proficiency with a unicycle and juggling balls might speak more to his focus and determination than anything else.
"Dad was very good at cycling with a unicycle when I was a little kid," said Pettersson. "I also wanted to do that, so I taught myself to learn how to do it. Then I thought it would be cool to be able to juggle, so I taught myself how to do that as well."
According to Kvällsposten, "It was his great stubbornness that allowed him to do this."
"When I was learning how to juggle I worked on it on the lawn at home in Ånge for three or four hours at a time before I could do it," he said. "After I had learned with tennis balls, I wanted to push the envelope and make it harder, so I went down to the Recreation Centre in Ånge and bought bowling pins to juggle with."
Pettersson has clearly spent even more time and determination on becoming an incredible hockey player.
On the ice, the Lakers have cruised to the SHL Finals thanks to Pettersson. It's been smooth sailing all the way through the playoffs: they took out Brynäs IF 4-1 in the first round, then swept the Malmö Redhawks in the semi-finals.
Pettersson leads the Lakers with four goals and nine points in nine games, which is good for third overall in the SHL playoffs. His biggest goal sent the Lakers to the finals and it was a beauty.
That's what hours spent unicycling and juggling will get you.
What a gorgeous goal. And to score it in the playoffs, in overtime, to send your team to the Finals? That's the kind of goal that turns you into a legend.
Pettersson took the pass with plenty of room to shoot and Jonas Gundarsson, knowing just how deadly Pettersson's shot can be, came out aggressively to challenge him. That's when Pettersson deked around Gundarsson, going below the goal line before diving back and tucking the puck around the post. He was airborne as he put the puck into the net, a Swedish version of Bobby Orr.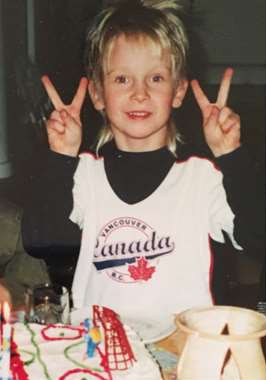 Now Pettersson has the opportunity to end his Swedish career as perfectly as possible by taking home the Le Mat Trophy as SHL champion. The finals begin on April 17th, with the Lakers' opponent still to be determined.
After that kind of season, what more could Pettersson accomplish in Sweden? All that would be left is to head to Vancouver, as he was destined to do according to a childhood photo of the mulleted Pettersson wearing a "Vancouver, Canada" shirt while sitting behind a hockey rink birthday cake.
It was meant to be.
Stick-tap to Peter Stenberg for his help with the Swedish to English translation.