Human beings are big fans of numbers divisible by five for what should be obvious reasons (just take a quick glance at your hands if you can't figure it out). Numbers divisible by five are treated as milestones — numbers divisible by ten even moreso.
This is certainly true in hockey. Just think about the value NHL teams and fans place on a "30-goal scorer" or even a "20-goal scorer." If you never quite reach that magical divisible-by-ten barrier. Think, for instance, of Sven Baertschi, who has come close to 20 goals in injury-shortened seasons, but isn't thought of by many as a legitimate top-six forward.
Elias Pettersson, however, keeps hitting those quintuple milestones in his rookie season. The latest milestone was scoring his 25th goal of the season against the Chicago Blackhawks on Thursday night.
Pettersson became the fastest player to 25 goals since Alex Ovechkin, which is pretty impressive, even if "25 goals" is ultimately an arbitrary milestone based primarily on the number of phalanges on the typical human hand.
The area he scored the goal from, however, was far less arbitrary. He blasted a one-timer from one of his favourite spots on the ice, which I have dubbed The PetterZone.
View post on imgur.com
You can see exactly the spot Pettersson shoots from: inside the top of the right faceoff circle, just above the "player restraint lines," as USA Hockey calls the L-shaped lines around the faceoff dot. You can also see in the slow-motion replay that Pettersson's one-time blast doesn't just beat goaltender Collin Delia top corner, as it initially appeared. Delia had no chance to make the save as the puck hit him in the side of his mask and deflected into the top corner. Unstoppable.
That spot inside the right faceoff circle is becoming Pettersson's sweet spot on the power play, akin to Alex Ovechkin's "Ovi Spot" at the left faceoff circle. What's intriguing is that Ovechkin didn't have his predilection for the Ovi Spot immediately as a rookie, but developed it over time, to the point that the vast majority of his shots and goals come from the Ovi Spot on both the power play and at even-strength.
This Twitter thread from Micah Blake McCurdy, who runs HockeyViz.com, is worth a look, as it tracks the locations of Ovechkin's shots throughout the years and the gradual dependence on the Ovi Spot.
In honour of that "Ovechkin shoots from that place he shoots from" article that went around without a single chart, somehow, here's a whole thread of "Ovechkin shoots through the years". All situations, regular season and playoffs. First up, 2007-2008; mostly symmetric. pic.twitter.com/H5OvFTZN1O

— Micah Blake McCurdy (@IneffectiveMath) February 2, 2019
Pettersson, on the other hand, came to the NHL as a rookie with the PetterZone already a preferred location, at least on the power play.
In this highlight video from his time with the Växjö Lakers in the SHL, you can see him take plenty of shots from the PetterZone, netting both goals and assists from rebounds with his one-timer and wrist shot. The Lakers clearly recognized the weapon Pettersson possessed and put it to good use on the power play.
Pettersson brought that same shot to the NHL and has used it to help rack up 25 goals. He first busted it out in his second game of the season, ripping a one-timer that brought him to his knees from a pass by Alex Edler to score his second goal of the game.
In November, he scored on nearly identical one-timers in back-to-back games against the Montreal Canadiens and Winnipeg Jets. Both goals were assisted by Nikolay Goldobin and Ben Hutton.
He did it again in early January as part of his hat trick against the Ottawa Senators. His second goal was a rocket from the PetterZone off the feed from Edler.
Then he brought it back again against the Blackhawks.
We've seen him blast away from the PetterZone with less success at other times, but it's always a threat of which penalty kills need to be wary. In theory, that should open up opportunities for the rest of the power play, as we've seen penalty killers cheat towards Pettersson to take away his shot.
Thus far, the Canucks haven't been able to weaponize penalty killers cheating towards Pettersson. Fans had hoped having another shooting threat on the opposite side would open up more chances for Brock Boeser to use his shot, but Boeser isn't scoring on the power play like he did last season. Newell Brown has made multiple adjustments to try to spark something on the power play, but things haven't quite clicked yet.
The PetterZone becomes particularly clear when you look at heat map of his unblocked shot attempts on the power play. HockeyViz has a tool for creating exactly that type of image and it really nails down the precise area.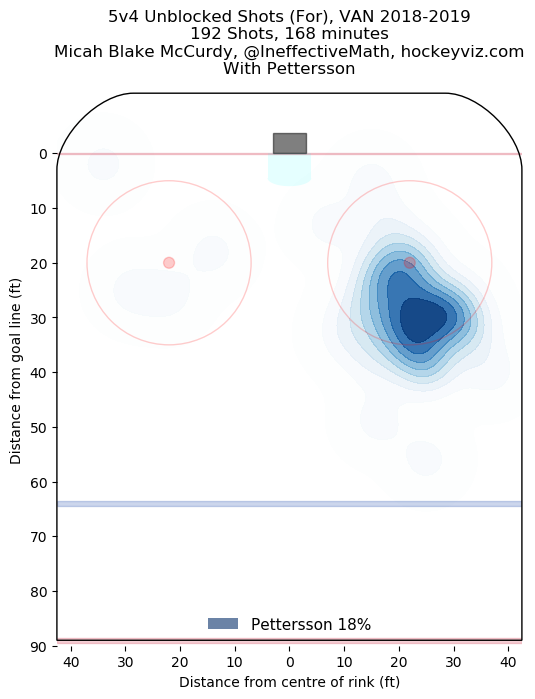 It's interesting to compare his heat map to that of Brock Boeser, who has a similar preferred area. Boeser's, however, is a little higher in the zone, mainly above the faceoff circle, and you have to wonder if that has something to do with his lower rate of scoring on the power play this season.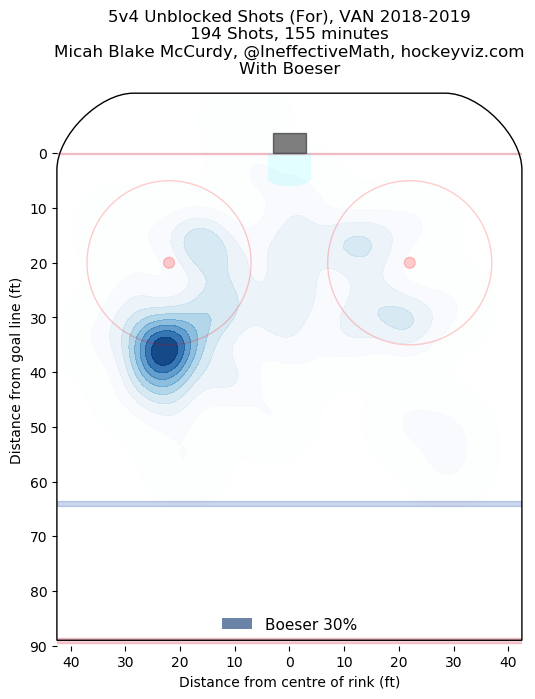 Last season, the majority of Boeser's shots came from a similar location, but he had another locus of shot attempts that came from closer in, almost between the faceoff dot and the hash marks near the slot. Boeser hasn't been able to get as many shot attempts from that area this season.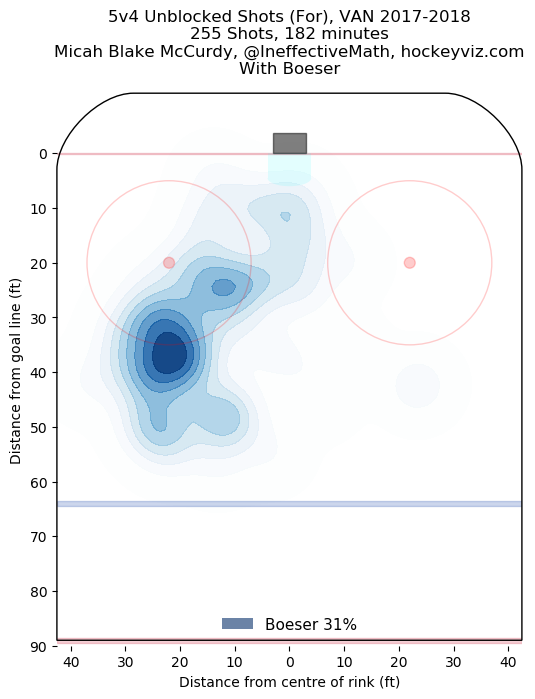 In any case, Boeser and Pettersson should be able to develop, over time, a deadly double threat on the power play, particularly with the addition of a new power play quarterback in Quinn Hughes in the near future. With those three as the nucleus, Canucks fans should be able to enjoy an effective power play for years to come.