Last season, the Canucks managed to make up for the offence lost when the Sedins retired, but didn't take a step forward. They scored 219 goals in the 2018-19 season, just one more than the previous season. That's good, considering the two greatest players in franchise history were no longer on the team, but it also wasn't enough.
The Canucks need more goals next season. Some of that will hopefully come from the maturation of their young talent — Elias Pettersson and Brock Boeser will need to score more than 28 and 26 goals — but they've also added a couple wingers that should complement their young talent.
The incoming J.T. Miller and Micheal Ferland should provide a little more scoring punch than the departing Markus Granlund and carousel of other wingers, like Brendan Leipsic, Sam Gagner, and Ryan Spooner. Unless you've been religiously watching Tampa Bay Lightning and Carolina Hurricanes games, you might not be super familiar with how Miller and Ferland tend to score goals.
So, let's look at every goal each player scored last season, along with some other things, to get a better feel for the two newest Canucks forwards. Let's start with Miller. While Miller is primarily a playmaker, he can certainly finish plays too. He's got good hands in front of the net and a quick release on his snap shot.
Miller has had three seasons with 20+ goals in his career, but last season wasn't one of them. While Miller tallied 47 points, he had just 13 goals. Part of that could be a result of less ice time on the stacked Tampa Bay Lightning. While Miller played a decent amount with Steve Stamkos — he was Miller's most frequent linemate at even strength — he played a good chunk of the season on the third line and was 8th in 5-on-5 ice time among Lightning forwards.
How did Miller score his 13 goals? Let's take a look.
1 | October 13, 2018 vs Columbus Blue Jackets
View post on imgur.com
Miller's first goal of the season caps off a three-point night. Set up on the top of the crease on the power play, he pokes a rebound over the goal line with 0.2 seconds left on the clock.
2 | October 20, 2018 vs Minnesota Wild
View post on imgur.com
Again on the power play, Miller spots a soft area in the Wild's coverage and moves from in front of the net into the slot to beautifully redirect a slap pass from Victor Hedman. You can see him beaver-tailing for the puck as soon as he steps away from the net.
3 | October 26, 2018 vs Vegas Golden Knights
View post on imgur.com
Miller's third goal also came on the power play. As the saying goes, go to the net and good things will happen. In this case, Mikhail Sergachev's shot pinballs in off Miller's leg.
4 | November 3, 2018 vs Montreal Canadiens
View post on imgur.com
Miller's first even-strength goal of the season showcases his wicked shot. Alex Killorn knocks down Charles Hudon's ambitious cross-ice pass and Miller wastes no time rifling the puck past Carey Price's glove. That is a truly unfair shot.
5 | November 8, 2018 vs New York Islanders
View post on imgur.com
This even-strength shift looks like a power play with the way the Lightning cycle the puck and create coverage problems with their movement around the zone. Miller smartly sets up in a soft spot in that coverage and Sergachev finds him with a fantastic no-look pass. Miller's one-timer takes a deflection to beat the goaltender five-hole.
6 | December 4, 2018 vs Detroit Red Wings
View post on imgur.com
Miller's one-timer rockets into the top corner past Jimmy Howard, but it gets a little help along the way. His shot hits Luke Glendening's stick, then bounces off the ice and up over Howard's blocker. He then celebrates like a stonefaced boss.
7 | December 22, 2018 vs Edmonton Oilers
View post on imgur.com
The Lightning once again make even-strength look like a power play. Miller establishes position on poorly-disguised vampire Drake Caggiula in front of the net, giving him an easy tap-in from Erik Cernak's pass. As you can see, Miller spends a lot of time in front of the net.
8 | January 30, 2019 vs Pittsburgh Penguins
View post on imgur.com
After over a month without a goal, Miller ends the drought with a one-timer that also ends a shutout bid for Matt Murray in the third period. Note the way Miller immediately opens up as he cross the blue line, ready to quickly turn on a pass and drive it into the net.
9 | February 9, 2019 vs Pittsburgh Penguins
View post on imgur.com
Miller's ninth of the year is again against the Penguins, as Miller rips a wicked wrist shot past Casey DeSmith. The key is the way Miller just casually drifts into a soft spot in coverage, slaps his stick once on the ice to call for the puck, then has plenty of room to get his shot off.
10 | February 19, 2019 vs Philadelphia Flyers
View post on imgur.com
Miller creates the turnover along the boards in his own zone, then breaks out 2-on-1. He keeps the puck and ends Carter Hart's night with a laser of a shot on the short side.
With that kind of release, you have to wonder why he didn't score more goals. The simple truth is that Miller doesn't take a lot of shots. He had just 86 shots at 5-on-5 last season and had the second-lowest shot rate among Lightning forwards at 5-on-5, ahead of only Adam Erne.
As mentioned above, Miller is mainly a playmaker and net-front presence, but if he can get back to the 100 or so shots he had in the three seasons before 2018-19, he should be able to get back to 20 goals with the Canucks.
11 | February 25, 2019 vs Los Angeles Kings
View post on imgur.com
The Lightning's relentless pressure on the forecheck creates a turnover and Miller stops in just the right spot to convert a one-timer. It's a nicely-placed shot: just over the pad and just under the glove.
12 | February 27, 2019 vs New York Rangers
View post on imgur.com
Miller gets a tap-in on the power play for his 12th goal of the season, as Nikita Kucherov's shot gets partially blocked. As the goaltender slides completely out of the net, Miller backhands the puck in.
13 | March 30, 3019 vs Washington Capitals
View post on imgur.com
Another month without a goal ends for Miller against the Capitals, as he once again goes to the front of the net, where he tips in a point shot by Sergachev. It's a great deflection, sending the waste-high shot back against the grain for his final goal of the season.
---
BONUS! Shootout goals!
1 | October 6, 2018 vs Florida Panthers
View post on imgur.com
Miller scored a shootout goal before scoring a normal goal. He weaves in on James Reimer and tries to deke to the forehand. He seems to be stymied by the pokecheck, but the puck instead ramps up and over Reimer's shoulder for the goal.
2 | December 20, 2018 vs Calgary Flames
View post on imgur.com
David Rittich loses his net as Miller moves into the slot from out wide and fires the puck inside the far post.
Miller went 2-for-2 in the shootout last season. For whatever reason, the Lightning never used him in the shootout again, instead repeatedly trotting out Brayden Point, who went 0-for-6. To be fair, Point was 10-for-15 heading into the season.
In his career, Miller is 3-for-7 in the shootout. We might see him get a couple more shootout attempts in the coming season.
---
So, what can we take from watching all of Miller's goals last season?
We can see that Miller is effective in front of the net on the power play, deflecting shots and poking in passes and rebounds. He's also adept at finding soft spots in defensive coverage to use his shot. Hopefully we'll see both of those a little more often than just 13 times next season.
What sticks out the most, and was already pointed out by CanucksArmy, is that Miller's goals last season came entirely from the right side of the ice. You can see it in the gifs above: when he's not in front of the net, he's opening up for quick shots from his off side.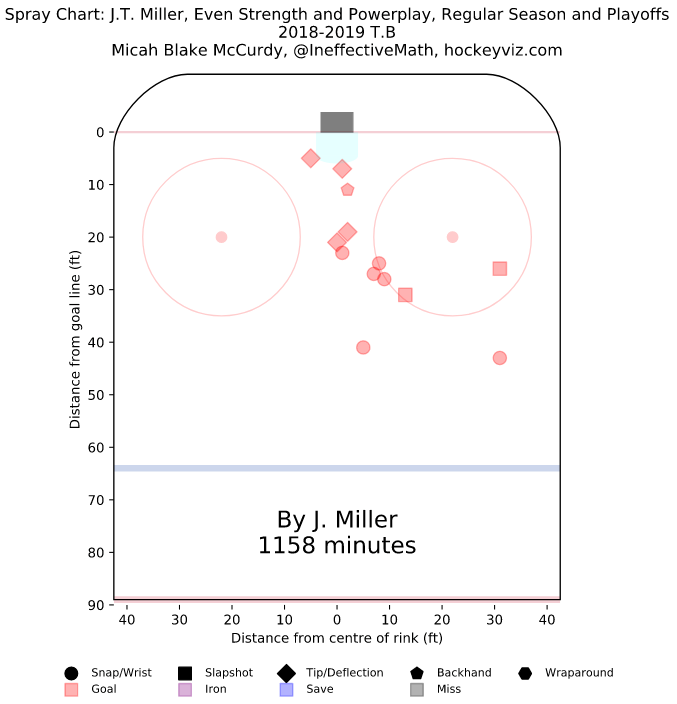 His Spray Chart from HockeyViz reflects the gifs: his goals were all from the right side. What that might suggest is that Miller belongs on the right wing, which would make him more of a fit with Tanner Pearson and Bo Horvat, rather than with Elias Pettersson and Brock Boeser.
When you look at his Spray Chart from his entire career, however, we see that Miller has scored plenty of goals from both sides of the ice, with a heavy concentration on the left side, just in front of the crease.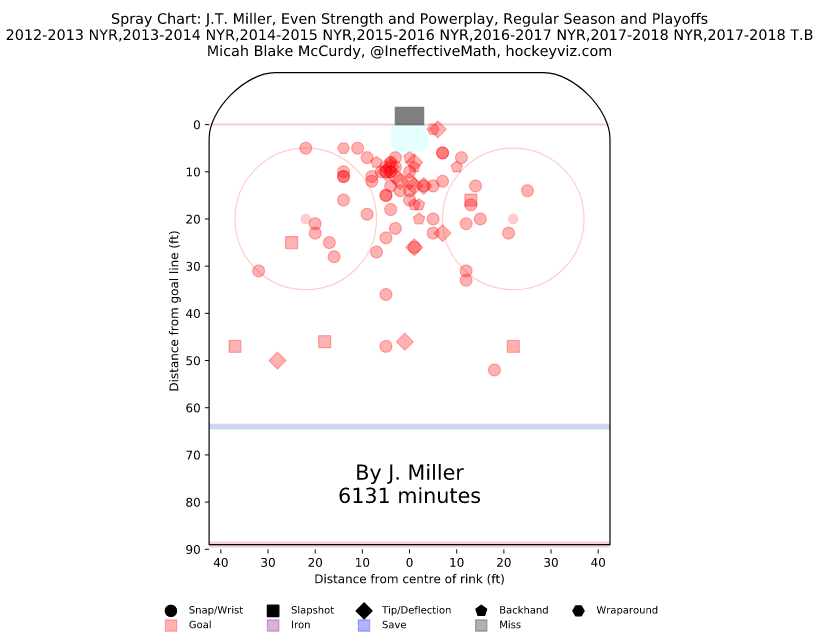 Looking throughout his career, this year's was the exception, not the rule: Miller normally scores his goals from the left side, not the right.
In fact, if we look at where his shots came from this past season, they came primarily from the slot in front of the net, but the next most frequent area was the left side, near the inner edge of the faceoff circle. In other words, Miller took shots from the left side; they just didn't go into the net.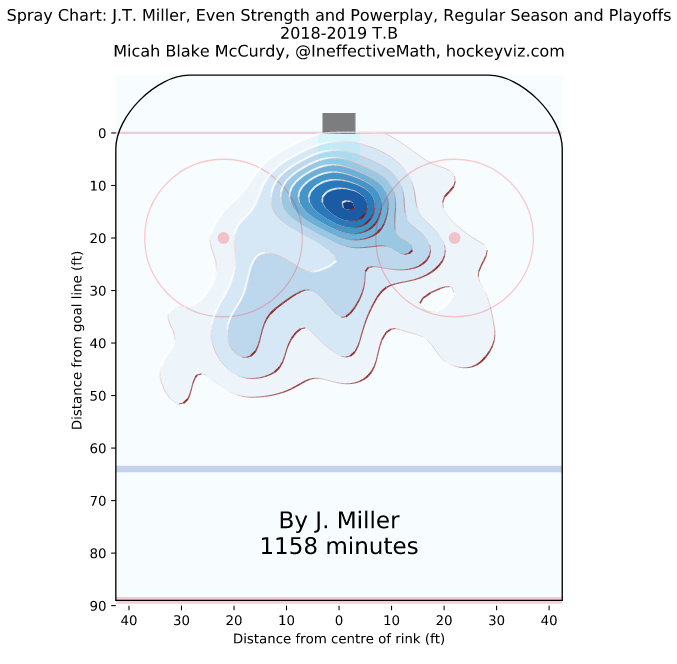 In fact, he hit the post four times from the left side and just once from the right. A little more luck and his goals would have been a little more balanced.
Overall, it looks like Miller could be a net-front presence for Pettersson and Boeser, creating screens and tipping in shots or poking in rebounds. On the power play, Miller could replace Horvat in front of the net or play in the slot as the bumper, moving to the front of the net when Horvat steps away from the net to create a passing option.
If all goes well, Miller should be able to get back to the 20-goal threshold with the Canucks next season.