If the Canucks want to make the playoffs next season, they're going to need some more scoring. The Canucks were 26th in the NHL in goals, which simply isn't good enough.
That's likely a big reason why Canucks GM Jim Benning added a couple 20-goal scorers in the off-season: he traded for J.T. Miller and signed Micheal Ferland in free agency.
Of course, Ferland has only scored 20+ goals once, but that's enough. If you score 20 goals in a season one time, congratulations, you are now branded a 20-goal scorer for the rest of your career. The same is true for other nice, round numbers, like 30 or 40. Blame the number of fingers on the human hand for our obsession with numbers divisible by 5 and 10.
Still, Ferland had 17 goals last season, which is, like Harrison Ford being a quarter Jewish, not too shabby.
One thing to keep in mind when setting expectations for Ferland is that he played with some very good linemates in Carolina. His most frequent linemates at 5-on-5 last season were Teuvo Teravainen and Sebastian Aho. Still, his overall 5-on-5 ice time was the equivalent of a third-liner, though he also got time on the first power play unit.
In Vancouver, Ferland might get more ice time at even-strength, possibly on the second line with Tanner Pearson and Bo Horvat, but he'll have a tough time breaking into the first power play unit. Horvat, Brock Boeser, and Elias Pettersson are the mainstays of the first unit, with J.T. Miller likely to get first crack as the fourth forward.
How did Ferland score his 17 goals? Just like we did with Miller on Monday, let's take a look at all the goals Ferland scored during the 2018-19 season.
1 | October 5, 2018 vs Columbus Blue Jackets
View post on imgur.com
The Blue Jackets misplay this rush pretty badly, with Boone Jenner inexplicably taking Jordan Staal in the middle instead of leaving him to the defenceman and picking up the trailer. That trailer is Ferland, who comes straight off the bench and drills Sebastian Aho's pass top corner, off the post and in. That's a wonderful one-timer.
2 | October 7, 2018 vs New York Rangers
View post on imgur.com
Alexandar Georgiev did not expect this shot. The play-by-play announcer describes it as a dart and it's an accurate description. Ferland takes the attempted clearance around the boards and flings it into the double 12 from distance. It's not the hardest shot, but it's right on target and Georgiev can't get his blocker on it.
3 | October 14, 2018 vs Winnipeg Jets
View post on imgur.com
This one might have gone in without Ferland's help, but he makes sure the puck crosses the goal line. Ferland gains the zone, but loses his stick after a check from Joe Morrow. Ferland gets the last laugh, however, as he retrieves his stick just in time to bang the puck in after Dougie Hamilton hits the post.
4 | October 16, 2018 vs Tampa Bay Lightning
View post on imgur.com
Ferland flashes some fabulous hands here, undressing Louis Domingue as Mathieu Joseph tries to check him. Note the way Ferland takes the pass off his skate after it gets deflected. This is some sublime skill from Ferland.
5 | October 20, 2018 vs Colorado Avalanche
View post on imgur.com
This is an absurd pass by Aho, but Ferland does well to get his stick down and redirect the puck through the wickets of Philipp Grubauer. Ferland was in on the puck battle along the boards a moment earlier, then backed out and got open for the scoring chance.
6 | October 22, 2018 vs Detroit Red Wings
View post on imgur.com
Some superb puck movement by the Carolina power play is capped off by a superb finish from Ferland, sending the puck off the post and in. I appreciate the way Ferland keeps moving into good spots, from going to the net on the initial blocked shot, to getting ready for a tip when the puck goes to the point, to peeling out into the slot as the puck is moved down low.
7 | October 30, 2018 vs Boston Bruins
View post on imgur.com
Ferland caps off a very successful October — he had 7 goals and 11 points in 12 games — with a hardworking goal in front of the net on the power play. Aho's shot is stopped, but it creates a mad scramble in front. Ferland finds the puck and doesn't stop jamming away, eventually poking it through on the backhand.
8 | November 10, 2018 vs Detroit Red Wings
View post on imgur.com
Some more quick puck movement from the Carolina power play leads to this lovely deflection in the slot by Ferland off a pass by Aho. A lot of the work is done by Aho's pass, but Ferland adjusts his stick nicely to redirect the puck into the far corner.
9 | November 12, 2018 vs Chicago Blackhawks
View post on imgur.com
A couple secondary assists to Duncan Keith and Brent Seabrook, who do an absolutely horrendous job defending this power play 2-on-2. First Keith gets beat wide by Andrei Svechnikov, then Seabrook leaves Ferland all alone in front of the net to take Svechnikov, but can't block the pass out front. Ferland makes no mistake, depositing the puck in the open side.
10 | November 18, 2018 vs New Jersey Devils
View post on imgur.com
The Hurricanes opened the scoring in this game just 22 seconds into the first period. 8 seconds later, Ferland makes it 2-0 with a lovely quick release on a cross-ice pass by Teravainen. Seriously, look how quickly the puck is off his stick and with great power and accuracy, despite being a left-hand shot coming down the left side. That's not as easy as Ferland makes it look.
11 | November 21, 2018 vs Toronto Maple Leafs
View post on imgur.com
After the Leafs fail to clear the puck on the penalty kill, the Hurricanes quickly make them pay. Teravainen puts the puck right in Ferland's wheelhouse and he drills a one-timer low and hard through Frederik Andersen's five-hole.
At this point, Ferland was on fire, with 11 goals in 21 games. He was on-pace for 43 goals, but, obviously, it didn't last. He scored 6 goals in the remaining 50 games he played in the regular season and had no goals and just one assist in seven playoff games. While he still had 25 points in those 50 games, his goal-scoring fell off a cliff.
Exploring why his scoring dropped off after November is something worth exploring in another article in the future. For now, let's look at the other six goals he scored.
12 | January 4, 2019 vs Columbus Blue Jackets
View post on imgur.com
At the tail end of a power play, Ferland shows the quick release on his shot yet again. Ferland isn't trying to elevate the puck here at all, just get the shot away before Sergei Bobrovsky has a chance to get set. It works perfectly: Bobrovsky is still pushing out towards Ferland when the puck beats him inside the far post.
13 | January 11, 2019 vs Buffalo Sabres
View post on imgur.com
Ferland kicks off a three-point night with an utterly bizarre goal. His shot from out wide handcuffs Carter Hutton and the puck goes off his glove, then off the top of the net, and back in front of the net. There, Marco Scandella attempts to bat it out of mid-air and accidentally knocks it into his own net.
14 | February 5, 2019 vs Pittsburgh Penguins
View post on imgur.com
It's an empty net goal. There's only so much to say. The puck is knocked away from Ferland as he chases it down in the neutral zone, but pressure from Lucas Wallmark in the neutral zone frees it up again. Ferland turns and fires from centre ice and, to his credit, puts it right in the middle of the net.
15 | February 12, 2019 vs Ottawa Senators
View post on imgur.com
Another three-point night for Ferland was kicked off by a goal. All three of his points came in the third period, starting with the game-tying goal 16 seconds into the final frame. Dougie Hamilton fakes a slap shot and sends a backdoor pass to Ferland, who does well to direct into the net after the pass takes a deflection on the way through.
16 | February 16, 2019 vs Dallas Stars
View post on imgur.com
Another quick shot on the power play from the slot after a pass from down low. Again, the quickness of the shot is the point for Ferland: he's not trying to put the puck just under the bar, but instead just get the shot off before the goaltender is set. The low shot slides just under Anton Khudobin's left pad.
17 | February 26, 2019 vs Los Angeles Kings
View post on imgur.com
Ferland's final goal of the season comes on a deflection. He darts to the front of the net to screen Jonathan Quick and Jordan Staal's shot hits his stick and goes in.
---
What can we draw from watching Ferland score these goals?
One key is that Ferland has a wickedly quick release on his shot, getting the puck away smoothly and cleanly when he gets a scoring chance. That's a big positive, as he's not dependent on getting a lot of time and space to score goals.
We also see that he's got a deft touch with deflections, angling his stick nicely to redirect pucks on net. That's also a handy skill around the net.
Another key is where he scored from: the majority of his goals come from the middle of the ice, whether directly in front of the net or along the "royal road" that stretches from the net up between the hashmarks. There are a couple exceptions, but the middle is generally where he lives.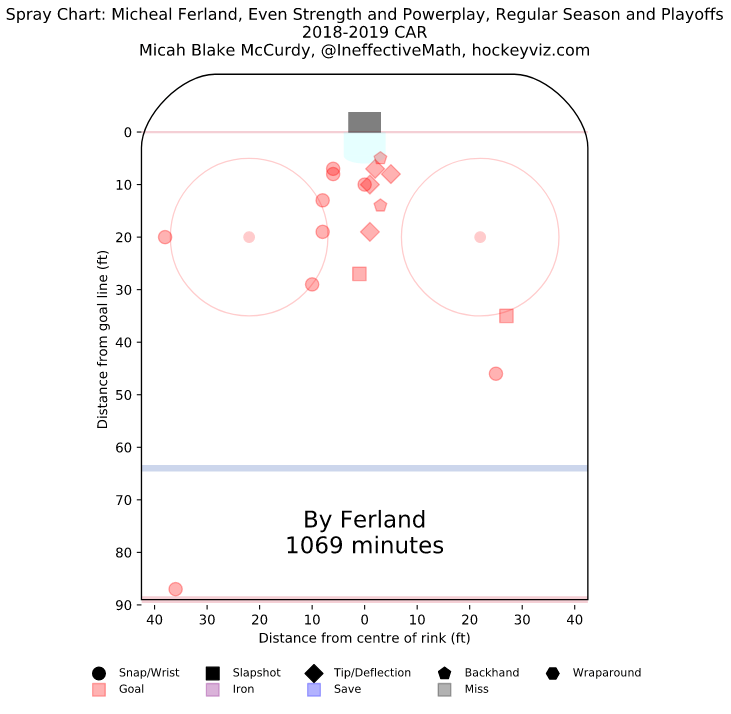 Again, that's a positive. The Canucks need more players that go to the net and get to the inside lane, rather than staying along the perimeter. Combined with his quick release and deft touch, Ferland should be able to provide some secondary scoring next season.
How much scoring? That depends on a few things, such as whether Ferland can get himself into scoring areas and finish with consistency. While he had 40 points last season, he was definitely streaky. It wasn't a lack of shots: he had 124 shots at 5-on-5, fifth among Hurricanes forwards, and he had another 23 shots on the power play.
Assuming that Ferland starts the season in a top-six role and on the second power play unit, 15 goals sounds like a safe expectation. If things go well for Ferland — he stays healthy, stays in the top-six, and draws into the first power play unit — then I wouldn't be surprised to see him score 20 goals with the Canucks.