Something important is always inside the 18-by-18-by-29-inch boxes that Liza Padrones sends to her family in the Philippines: shampoos, hand lotions, clothes and sponges.
"And any snacks that I can find on sale," said Padrones. Sometimes she sends treats like Pringles, Oreos and jars of Nutella.
It's a tradition she started after leaving home.
Padrones was working at an office in the Philippines until she left for Hong Kong in 2002 to see the world. She was 36. Padrones cared for three families there before coming to Canada in 2008 under the live-in caregiver program.
When Christmas came, she and other caregivers got together for a party, and she won an interesting prize: a balikbayan box.
"And that's how it all started," said Padrones. "From then on, I sent one every year."
Balikbayan is a Tagalog word that means to return (balik) home (bayan). Filipinos overseas send the boxes to family and friends, filled to the brim with local items from the place they're living, mostly everyday things. Last year, Padrones sent her mother cooking oil.
"It's important because we take a lot of our day-to-day things for granted, but they see this stuff as gold," said Alanna Hunter, 24, a Vancouver-native whose family sends boxes to relatives in the Philippines. Hunter's mother likes to include school supplies.
Ten million Filipinos live outside their homeland. Jobs are scarce in the Philippines, and many send money back home to their families. But the boxes from overseas offer a different kind of joy: a taste of the lives of loved ones who have left the islands.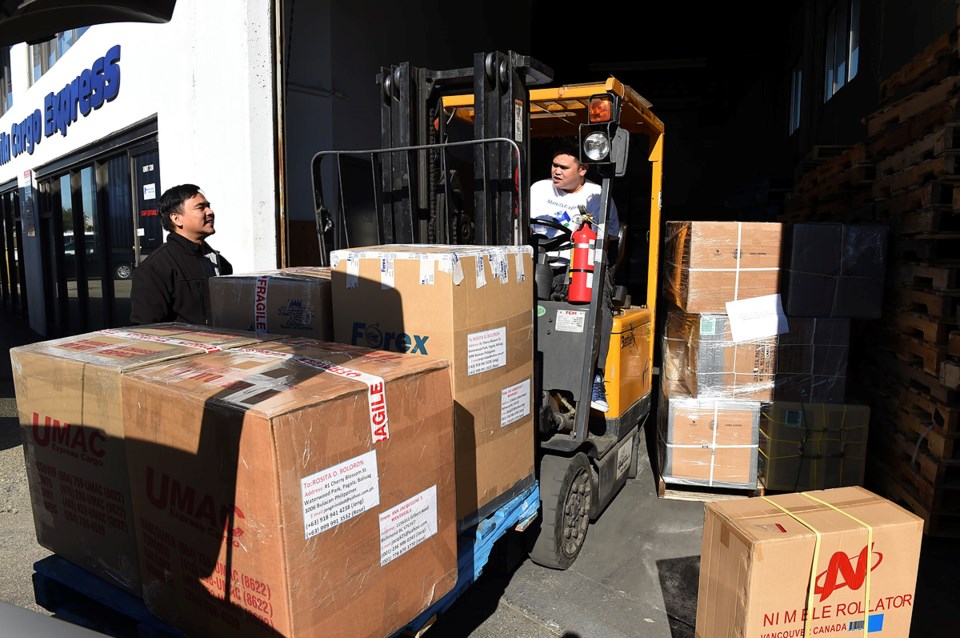 Special delivery
The moment someone tells their family in the Philippines that a box is on the way, they begin counting down the days until it arrives.
"From day one, everyone is already anxious," said Noemi Tabrilla, whose aunt in Seattle would send boxes when he still lived in the Philippines. The family would crowd together to open them. "The thrill! The enjoyment! Opening a box and finding a shirt just for you."
His favourite balikbayan gift? Sneakers.
Nowadays, Tabrilla is on the other side of the shipping. He moved to Vancouver — home to  35,500 Filipinos according to the 2011 census — 15 years ago with his wife and daughter.
In a warehouse in Richmond, every balikbayan box in Canada sent through Manila Cargo Express passes under Tabrilla's watch before voyaging to the Philippines by sea.
Manila Cargo Express was founded in 1985 and is a popular cargo and remittance company for Filipinos in Canada. The first business of its kind popped up in California four years prior, the Filipino modern take on the age-old practice of migrant remittances.
At the warehouse where Tabrilla is cargo manager, towers of large boxes reach for the ceiling. There are Sharpie-penned return addresses from Vancouver, Calgary, Winnipeg, Mississauga and even Whitehorse, paired with destinations in the Philippines like Manila, Koronadal, Sagay, Binalonan and Cebu City.
About 1,500 boxes come here a month. Cost is calculated per box, between $60 and $120, depending on the size.
There's one thing that Tabrilla knows for sure is in each box.
"You have to have chocolates in each one," said Tabrilla. "Though we know the shipping time is over a month, so sometimes they melt."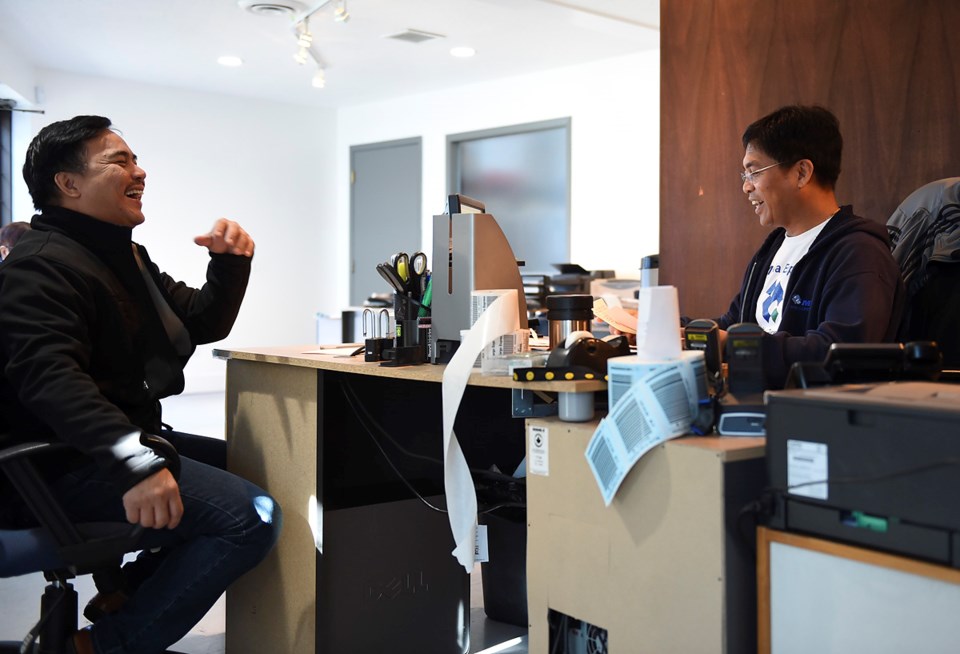 'Backbone of the new global workforce'
Filipinos are one of the fastest growing immigrant groups in Canada. In 2014, there were more Filipinos admitted as permanent residents than any other group, according to Citizenship and Immigration Canada.
Immigration streams like the live-in caregiver program, family sponsorship programs and skill-seeking provincial nominee programs have drawn Filipinos to Canadian shores.
But that's not the only force behind migration. Back in the Philippines, the government is training its citizens to leave. There aren't enough jobs at home, so the state funds the training of thousands to find employment overseas. Large numbers began emigrating in the 1980s.
The result: 10 million Filipinos working as caregivers, accountants, mechanics, nurses and more, in places like the U.S. (3.4 million), Saudi Arabia (1 million) and the United Arab Emirates (822,000) according to a 2013 Philippines government count.
"They are the backbone of the new global workforce," former President Arroyo once said, "and our greatest export."
In 2015, overseas Filipinos sent $25.8 billion in remittances back home, according to the nation's central bank. The amount equals a 10th of the Philippines' gross domestic product.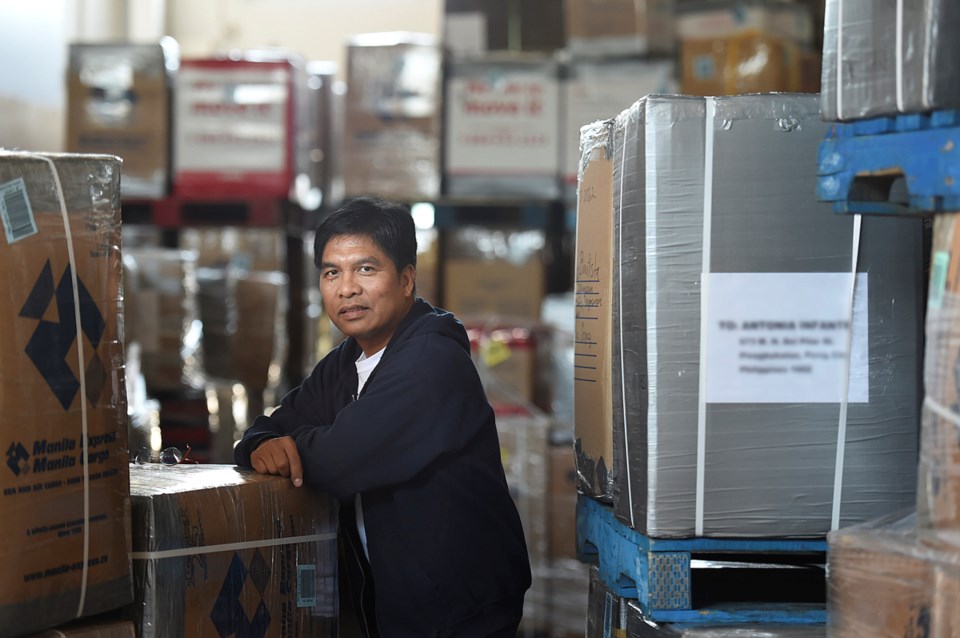 Religious offshoot
Balikbayan boxes aren't the only thing that connects Filipinos with their homeland. So does religion.
"One of the first things they look for when they land in a foreign country is a Catholic church, because they know you will find other Filipinos in a Catholic church," said Edwin Cruz, a religious educator at St. Mary's Parish at Joyce, a neighbourhood where many Filipinos live.
The Philippines has a long history of Catholicism since the Spanish arrived in the 16th century.
At St. Mary's, Fr. Pierre LeBlond encountered migrants' struggles of isolation and vulnerability, especially among caregivers, soon after he began working there in 2000.
"It was mainly through confession," said Rev. Leblond. "They would come sometimes and speak of their terrible situations — abuse by their employers, no days off, employers taking their passports or papers. And they were not allowed to phone, so they could not reach out for help."
Seeing a need, Fr. LeBlond teamed St. Mary's up with Chit Arma, a former caregiver turned settlement worker at the Immigrant Services Society of B.C. The parish began a migrant ministry in 2011 that helps newcomers on everything from navigating finances in Canada to challenges of family reunification.
"It really is booming," said Arma. "They would come here even from Squamish, even from White Rock."
B.C.'s growing Filipino population means St. Mary's is growing, too. Of their 5,000 parishioners, about 80 to 85 per cent are Filipino.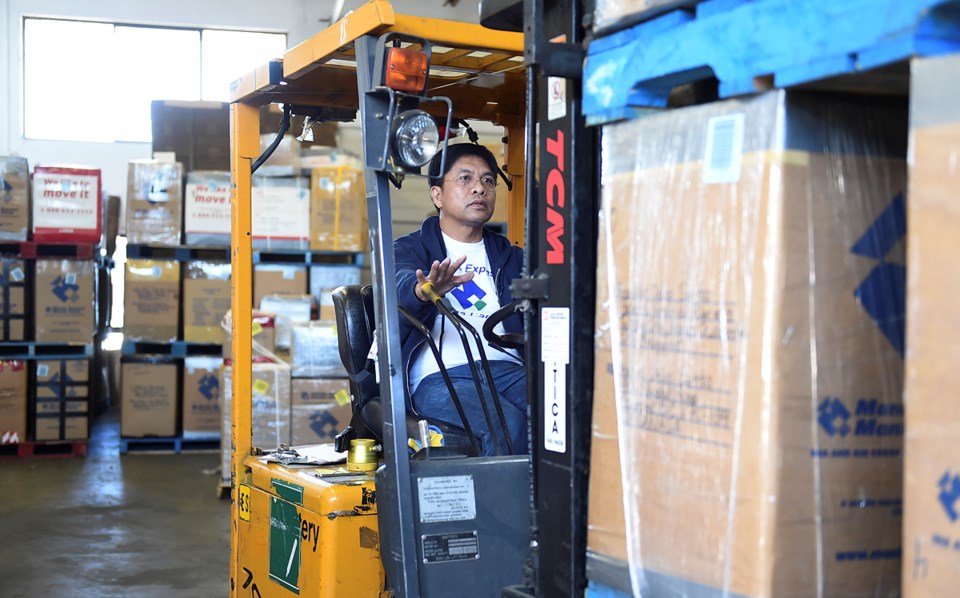 A Filipino Christmas
Noemi Tabrilla had to drive a forklift for a few hours the other day at the warehouse because an assistant was away. In the Philippines, Christmas prep starts as early as September. For Filipinos overseas, that means it's time to send boxes home. There are three times the boxes as the holiday approaches, said Tabrilla, up to 4,800 a month.
"Can you imagine if even one box was missing?" he said, gesturing to the pillars of boxes lovingly prepared by his countrymen across Canada. "It really is a sacrifice for us. To fill up a box like that? It costs a lot for us."
Come December, when Canadian Filipinos celebrate colder Christmases than they're used to, their friends and family in the sunny Philippines will taste a far away country and remember parents and siblings, children and grandchildren, friends and lovers.
"We've never lost a box in transit," said Tabrilla proudly.
bychrischeung@gmail.com
@bychrischeung