Prime Minister Justin Trudeau's visit to Vancouver on Thursday was once again the stage for the on-going discourse — and vocal discord — on pipeline politics.
While protesters opposed to Kinder Morgan's pipeline marched from the Vancouver Art Gallery to the Sheraton Wall Centre where Liberal donors sat down for a $1,000-a-plate dinner to hear Canada's leader praise the Liberals and their supporters.
After being introduced by Minister of National Defence Harjit Sajjan's wife, Kuljit, Trudeau thanked the roughly 250 donors for their cash and volunteering to recruit new Liberals. He touted his party's track record since taking office in November 2015, saying that the Canadian economy grew the fastest in the G7 nations in 2017, as well as taking credit for Canada's low unemployment and allotting federal funds for environmental action.
"Because we took action to protect and preserve our coastline with the Ocean Protection Plan, Canadians can look forward to spending time in nature with their children and grandchildren just like they did with their parents and grandparents."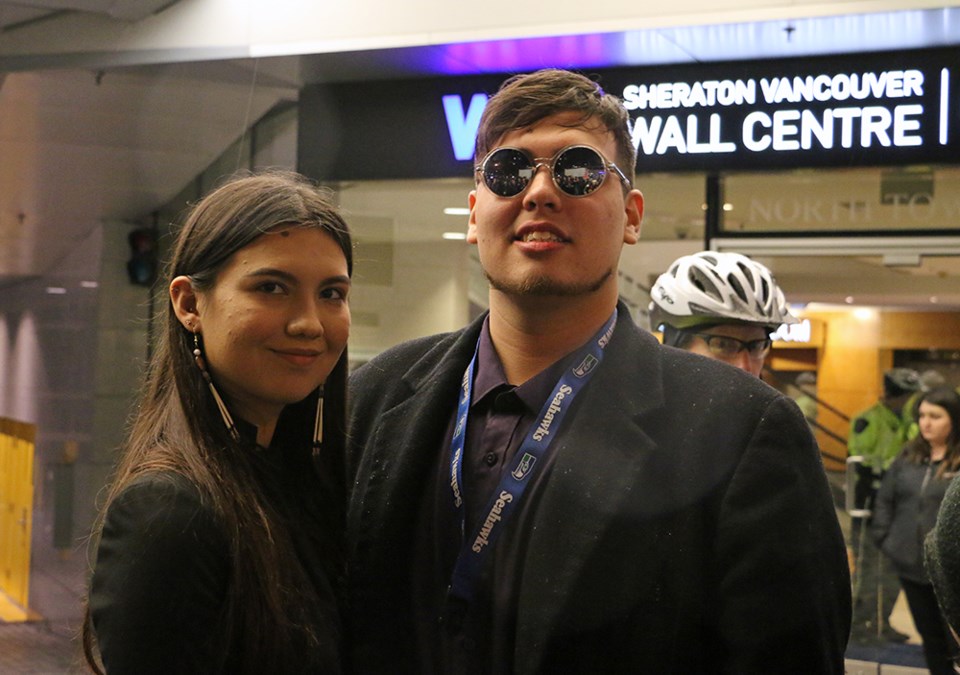 At that point, Cedar George-Parker of the Tsleil Waututh First Nation, who bought a discounted $250 youth ticket, stood up from his table and interrupted Trudeau's speech.
"That's a lie. Justin Trudeau, you are a weak leader," George-Parker shouted, catching Trudeau off-guard who attempted to ignore him by continuing with his speech. "This pipeline is not happening. The youth will stand up and stop you."
"You lie to our people," George-Parker continued, referring to the North Vancouver First Nation that has been at the forefront of action against Kinder Morgan's TransMountain pipeline. "You lie to the people of Vancouver."
When Trudeau's security entourage moved in on Georger-Parker, he raised his hands and told them that he will leave peacefully. He was escorted out without a struggle while rapping "Raindrops, Drop Tops. Smokin' on cookie in the hotbox," the first two lines of "Bad and Boujee" by American rap group Migos.
Once outside, George-Parker addressed the remaining pipeline protesters with much the same commentary as in the Grand Ballroom of the hotel.
"We will do his job for him," George-Parker told reporters while repeating that Trudeau was a weak leader. "The youth will stand up and stop this pipeline."
After the interruption, Trudeau doubled down on his party's environmental efforts and likened the approach by pipeline opponents as a remnant of the mentality of former Prime Minister Stephen Harper. For Trudeau, both protecting the environment and extracting fossil fuels from Alberta's north are possible.
"Some people are still stuck in this Stephen Harper mindset," Trudeau said of the protesters who want an immediate shutdown of the pipeline twinning. "Also friends who find themselves on the opposite side of the political spectrum still think there is a choice to be made between either the economy or the environment. That's the old way of thinking."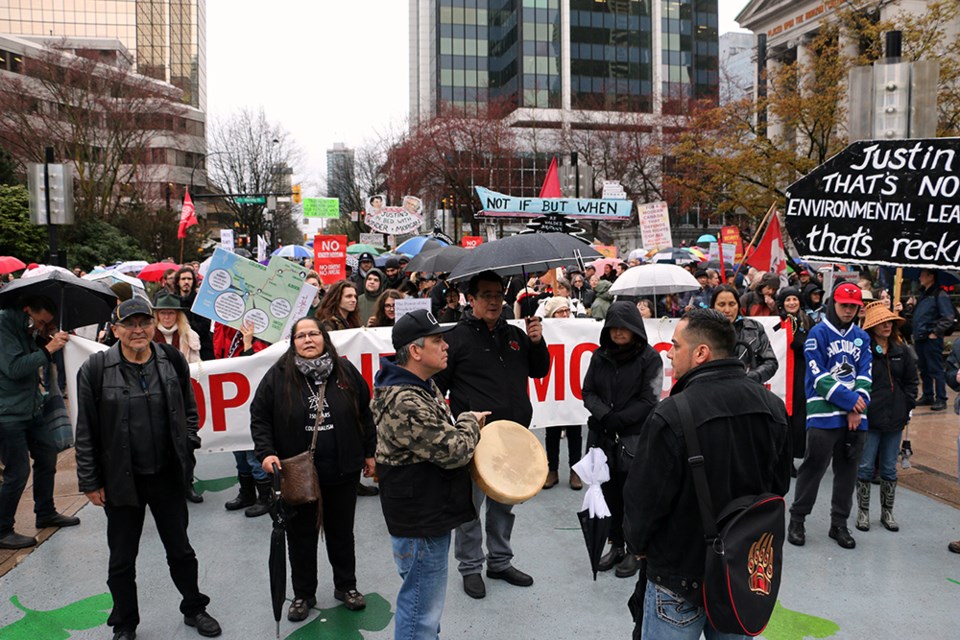 Earlier in the day, some 800 protesters had gathered in Robson Square in front of the Vancouver Art Gallery and marched in Vancouver's typical downpour towards the hotel on Burrard Street while banging on pots and pans. Cameron Fenton, organizer with environmental group 350.org, said the Liberals were anything but cognizant about their decision to approve the pipeline.
"Justin Trudeau has hung his hat on being a climate leader [and] making reconciliation, a key part with Indigenous peoples, a key part of his legacy, and he's throwing both of those things away by standing on the side of this pipeline," Fenton said.
Protesters have been a vocal fixture at the gates of Kinder Morgan's Westridge Marine Terminal on Burnaby Mountain. Almost 200 have been arrested so far for blocking the terminal gate and violating a court injunction that prohibits anyone to step within five metres of the terminal, including Green MP Elizabeth May and NDP MP for Burnaby South Kennedy Stewart.
More protests in Burnaby are planned for this Saturday.
sasha.lakic@gmail.com