The Coal Harbour community centre in downtown Vancouver has become the first centre in the city to be used to house homeless people who have been packed in to shelters during the pandemic and unable to distance themselves from others.
B.C. Housing CEO Shayne Ramsay tweeted Thursday morning that "the first few medically fragile folks" were moved from a shelter Wednesday into the community centre, which overlooks a marina near the seawall at Broughton Street.
"We'll have more info soon on how we're working with partners to bring this and Roundhouse [community centre] online to help those experiencing homelessness," he wrote in his tweet.
Lots underway. Team able to move first few medically fragile folks from a shelter into Coal Harbour centre yesterday, ahead of schedule. We'll have more info soon on how we're working with City, VCH to bring this + Roundhouse online to help those experiencing homelessness. pic.twitter.com/ggGEdtXaqo

— Shayne Ramsay (@Shayne_Ramsay) March 26, 2020
Photos on Ramsay's Twitter account show several cots and blankets inside the Coal Harbour community centre. The centre's windows have been covered with what appears to be dark-coloured paper to give the new tenants privacy.
The Roundhouse community centre in Yaletown was sealed off Thursday with metal fencing covered in black wrap.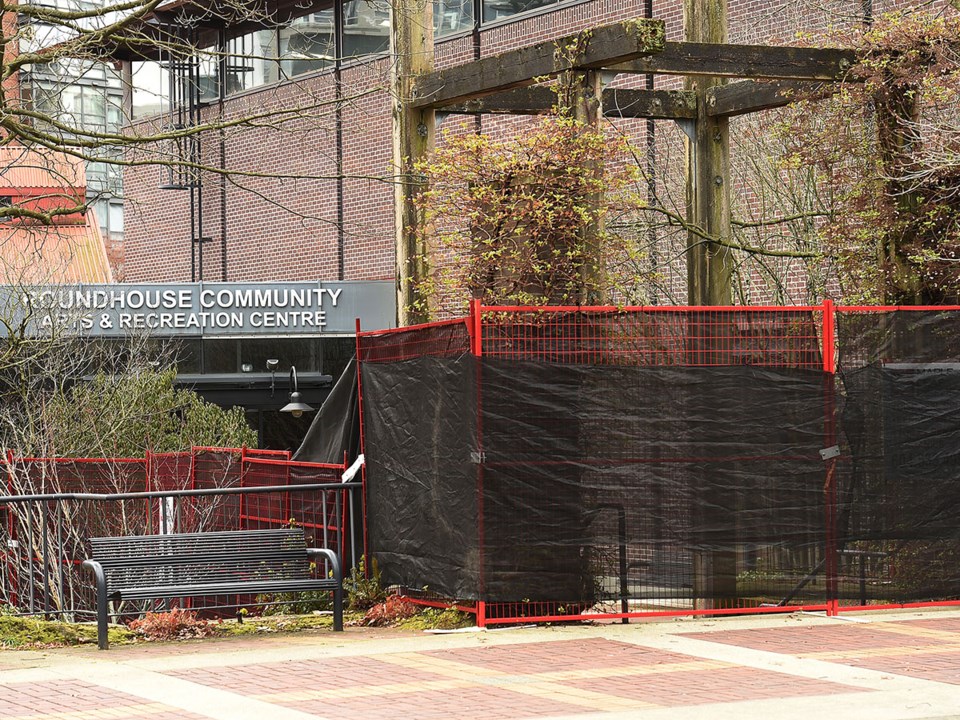 Ramsay didn't identify the shelter where the new tenants of Coal Harbour had resided.
But he told reporters at a news conference March 21 that shelters in Vancouver typically operate at 90 to 100 per cent capacity, which presents challenges for people to physically distance themselves from each other.
He said some of the winter shelters that normally close at this time of the year will remain open indefinitely. A resident of the Downtown Eastside, Ramsay is keenly aware of the city's homeless crisis, having recently posted photos on his Twitter account of people living on the street.
"The DTES is the worst I've seen it," he tweeted Wednesday. "This is a crisis. We need to be working around the clock to help these folks."
Ramsay said the move to use Coal Harbour as a refuge is ahead of a schedule that his organization, the City of Vancouver and Vancouver Coastal Health have set to help reduce the transmission of COVID-19 among vulnerable people.
All community centres in Vancouver were closed last week to help prevent the spread of the coronavirus. At the time, city officials said the centres could be used for homeless people and others who can't self-isolate such as tenants in hotels, where sharing a washroom and other facilities is common.
"This is an unprecedented use of our community centres, but these are unprecedented times, and this deployment is critical for a collective effort to try to prevent the spread of the virus, and mitigate the demand on our health care system," said Sandra Singh, the city's general manager of community services, at a news conference last week.
Rooms in hotels and motels have also been secured in case they are needed to house people who need to be further isolated or recover from contracting the virus.
Green Party Coun. Pete Fry said his understanding of the city's role in opening the community centres is to reduce the capacity in shelters to 75 per cent to allow for more room between tenants.
"Typically, shelters are pretty packed with people and obviously that can't be the case in this current context," Fry told the Courier by telephone Thursday.
The city's homeless population is estimated at more than 2,200 people, a statistic released last year after the March 2019 homeless count. The 2020 count's statistics have not been released.
In recent days, reporters have repeatedly asked provincial ministers and Provincial Health Officer Dr. Bonnie Henry whether anyone in the Downtown Eastside has tested positive for COVID-19, but none has confirmed or denied whether someone has fallen ill with the virus.
The Downtown Eastside has received an increase in media attention since the COVID-19 outbreak because of the concern raised by advocates about vulnerable people and a widespread transmission of the virus.
As the Courier observed Wednesday, the sidewalks on either side of Main and Hastings streets were plugged with people, many of whom lined up outside Pigeon Park Savings to collect their social assistance cheques.
Many drug users have underlying health problems, as evidenced in various city and provincial government reports, and are seen as more susceptible to contract the virus.
Overdose deaths also tend to rise after "cheque day," as B.C. Coroners Service reports have shown since the overdose crisis began in 2014.
Meanwhile, B.C. Housing is using its property at Riverview in Coquitlam as a central depot for cleaning supplies and personal protective equipment for its staff working at its buildings.
The Riverview buildings, which were once used to house and treat hundreds of people living with a mental illness, are also serving as a centre to store thousands of frozen meals for tenants of low-income housing.
The City of Vancouver has a news conference scheduled for 12:30 p.m. Thursday and is expected to release more details on helping the city's most vulnerable during the pandemic.
@Howellings