Friends of Jesus Cristobal-Esteban continue to search for answers as to why the beloved 62-year-old man was beaten New Year's Day in Oppenheimer Park and died the next day in hospital.
A couple close to him say he may have died over an altercation related to a beer, although police will only say they continue to investigate and have yet to make an arrest in the mid-day assault.
"It's active, it's open and investigators are still working on it," Const. Tania Visintin, a Vancouver police media relations officer, told the Courier Thursday.
Ingrid Mendez de Cruz and her husband, Byron, said they heard from friends who were at the park that Cristobal-Esteban was sitting on a bench near the basketball court and was approached by a man who demanded a beer.
"Jesus said, 'No, I don't have a beer,' and they got into a bit of a fight – he was punched, he was pushed and he fell," said Ingrid, who continues to mourn the loss of her Guatemalan friend who came to Canada in 1993 as a refugee and was on a path to become a Canadian citizen.
Like Cristobal-Esteban, Mendez de Cruz and her husband fled Guatemala in the early 1990s to escape their country's civil war. The couple became close with Cristobal-Esteban, with Byron receiving a phone message from him a few hours before the assault.
"He was wishing us a Happy New Year, and said he would see us next week, if God allows me to do that," said Byron, noting Cristobal-Esteban was a frequent visitor to Oppenheimer Park, where he met with friends in the Latino community and worked in a kitchen in the park's now-closed fieldhouse.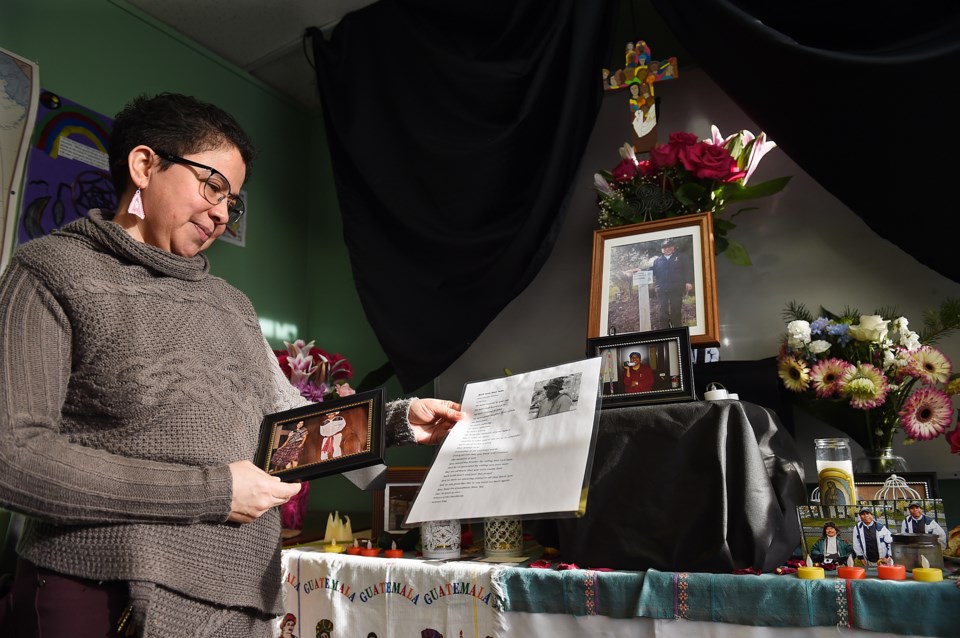 The couple spoke to the Courier a few days after more than 100 people turned up Monday at the Watari Counselling and Support Services Society on East Hastings to pay tribute to Cristobal-Esteban, who volunteered at the agency.
"Many people, we didn't even know," said Ingrid, who is the executive director of Watari. "He would have been happy to see so many people there and know that he touched so many lives."
Photographs of Cristobal-Esteban at different times in his life – dancing, gardening, cooking and decorating halls – were displayed on a makeshift altar in a room regularly used for community meals.
A poem written by Watari staff member Grace King was also placed on the altar. It read, in part, "Every person that you knew will treasure the memory of you."
Cristobal-Esteban, who lived above the Evelyne Saller Centre on Alexander Street, was known to many in the Downtown Eastside for different reasons.
That included his work in the community kitchen at Oppenheimer, his marimba playing, helping organize health fairs and Christmas parties for migrant workers, his membership with St. James' Anglican Church on Cordova Street and supporting the Latino community through activism.
He also made pinatas.
But it was his love of gardening and maintaining one of Watari's plots in Strathcona Park and working for Sole Food Street Farms that Ingrid and Byron say gave him the most joy.
The most prominent photograph on the altar shows Cristobal-Esteban posing in a garden plot at Strathcona Park with a makeshift sign that reads, "Cristobal Community Garden."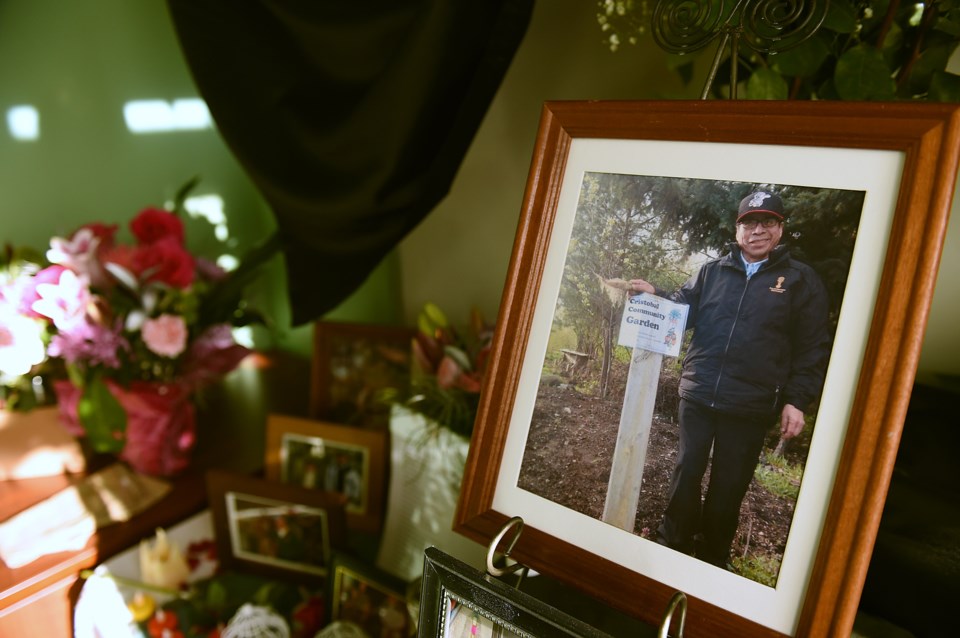 The couple recalled how their friend once called them at 5 a.m. on a Sunday to ask for their help in harvesting some vegetables to be used for a community kitchen meal.
They still laugh about that call, with Byron explaining it was common for plantation workers in Guatemala to rise early to begin their work day.
As a child, Cristobal-Esteban worked in sugar, cotton and coffee plantations to support his grandmother, Byron said.
"He never forgot that, it stayed with him," he said.
Added Ingrid, through tears: "He just loved showing people what was growing. He was a very, very proud person of everything that he did. He loved his plants. He loved being in touch with Mother Earth."
That love for gardening secured Cristobal-Esteban a job with Sole Food Street Farms for nearly eight years, where he worked as a farmer. Sole Food operates four farms on urban land in Vancouver.
Staff from Sole Food posted a statement on Facebook saying how they were devastated by Cristobal-Esteban's death, describing him as "our dear friend and colleague."
"He was a skilled life-long grower, a wonderful cook with a penchant for jalapeno peppers who made the finest guacamole, a musician and devoted friend with a big sense of humour and even bigger laugh," the post said.
Michael Ableman, founder and director of Sole Food, described his friend as a warm, beautiful man who had a smile that belied a life of hardship that began in his village of Santa Eulalia.
Ableman said he was in Guatemala during the civil war. He stayed in a village in the mountains, where he visited a church riddled with bullet holes from the assassination of men rounded up by a militia group.
"I know, having been there, what a traumatic experience that time was for people," Ableman said. "And Jesus left that country to escape that civil war and to escape violence. And in the end, that was essentially his ending."
Added Ableman: "He was an important and integral part of our team and the loss is unbelievable. I'm not talking about from a physical labour perspective, I'm talking about the place he filled on our crew as a human and how it was oversized."
Cristobal-Esteban was Mayan, and his first language was Kanjobal. He spoke Spanish and English, too. Ableman said he would speak to Cristobal-Esteban in Spanish, despite both of them not being proficient in the language.
"It was kind of hilarious," he said. "I think if a native Spanish speaker had been listening to us, they would have been rolling their eyes."
Documents from the Immigration and Refugee Board described Cristobal-Esteban as an "Indigenous leader," who once worked as a building demolition labourer in Calgary and in the Lower Mainland.
Edwin Cruz knew Jesus for a decade, having met him at the fieldhouse at Oppenheimer, which has since closed because of the homeless encampment. Cruz and Cristobal-Esteban cooked together.
Cruz's comments about Cristobal-Esteban were sent via email to the Courier from Carnegie Community Action Project coordinator Fiona York, who transcribed notes from a discussion they had about their friend.
"He was a good friend, good guy, always happy, joking, having fun," he said. "He always showed respect, never argued. He almost liked me like a son."
Cruz was at Cristobal-Esteban's bedside in hospital when he died.
So was Ingrid and Byron, along with many others from the Latino community, who listened to marimba music as their friend took his last breath while a priest gave Cristobal-Esteban his last rites.
"I kept saying let go, go in peace, there's going to be others waiting for you on the other side," she said, noting one of Cristobal-Esteban's best friends died recently in Guatemala.
Ingrid said Cristobal-Esteban received his permanent residency status in August. That status required him to first travel by train to Ottawa, where he obtained a Guatemalan passport from the embassy.
His plan, Ingrid said, was to apply for citizenship and then one day return to Guatemala for a visit. Asked what she and her husband will miss most about Cristobal-Esteban, they both said his laugh.
"He had a way to laugh like no other," Ingrid said, noting people would often laugh at his jokes, even if they didn't understand them. "His laugh was so contagious, that you would just laugh with him."
Cristobal-Esteban is survived by his longtime girlfriend Darlene and cousins, as well as children he lost touch with in Guatemala. A mass is expected to be held at St. James' Anglican Church at a later date.
Cristobal-Esteban's death was Vancouver's first homicide of the year. Anyone with information is asked to call the Vancouver police's homicide detectives at 604-717-2500, or Crime Stoppers anonymously at 1-800-222-8477.
@Howellings