As an entrepreneur, Stephen Scott does everything right.
He creates a welcoming environment and greets everyone with a friendly smile whether they buy anything or not.
He writes thank-you notes to his customers, popping in a small flyer to remind them to come back.
He gives a portion of his time to benevolent causes, his way of giving back to the community that has given him so much.
And when it comes to profits, he fastidiously sets aside a portion of his earnings so he doesn't stray from his 10-year plan.
But what makes Scott really stand out as an entrepreneur and philanthropist is also what earned him the distinction of being named Coast Mental Health's 2017 recipient of the Courage To Come Back award in the medical category.
Scott used to be homeless. He's lived in every type of shelter Vancouver has to offer and used drugs as a way of escape. Diagnosed with HIV in his early 20s, he turned to the Dr. Peter Centre not only for medication but also for his hot meal of the day. Twice he's been in accidents serious enough to make him intimate with death. His right leg is held together by pins and plates, which freeze when it gets really cold. Once, when he was sleeping in a cardboard bed on Granville Street, someone stole his most cherished possession — a carved cane —, forcing him to crawl on his hands and knees to get help. An addict high on crystal meth broke his jaw. A dark spot on a brain scan prompted a doctor to tell him to prepare for the end.
You wouldn't guess any of this when you pass Scott's pop-up tent at the corner of Davie Street and Thurlow Avenue every Friday. There you notice his laughter and endearing optimism as he sells $2 issues of Megaphone, a weekly newspaper about homelessness and other social issues. Seventy-five cents goes towards publishing costs and vendors keep the rest. Profits are higher but the selling season is shorter for Hope in Shadows, a calendar that celebrates photographs by Megaphone's community members. Vendors buy the calendars for $10 and sell them for $20.
This year, Scott's photo brightens up the calendar's month of July. Regaled in a pink boa and cowboy hat festooned with a huge pink flower, and wearing rhinestone Elton John glasses, Scott exudes confidence as he celebrates his fifth anniversary of selling Megaphone in Davie Village.
"Love and happiness are yours for the accepting. Open your heart and allow yourself to believe it is possible," he says next to his photo.
That pride is hard won. Scott grew up near Montreal, where he was ostracized by his family and schoolmates because he was different. He escaped to Toronto, where he took two years of business administration at York University. But it was too much of a financial struggle and he quit, moving to Vancouver.
In 1997, his father called to say that his mother was in her final days, suffering from bone cancer. Scott was devastated. The moment he arrived back at his family's home, the hospital phoned to say she had died.
When he returned to Vancouver, his boss said he'd been away for too long and fired him. Shortly after that his boyfriend was deported back to Mexico.
"It was a terrible year for me. I decided to go out to the bar and forget everything. That worked for the beginning but it's not magical — [the pain] doesn't go away."
It was during this time that he got addicted to drugs and contracted HIV.
In December of 1999, Scott wanted to ring in the new millennium in Montreal. He drove across Canada and, just outside the Ontario/Quebec border, he fell asleep at the wheel, losing control on black ice. He woke up from a coma two months later, forced to learn how to do everything again. "It's like you're reborn, like a baby. I was in the hospital for almost two years. For some reason, I didn't want to die. I pushed myself to the limit."
Then came the second accident.
In 2002, at the age of 32, Whistler's white snow beckoned, rekindling his teenaged love of extreme sports. But, he admits, he was stupid. Patrollers noticed his snowboard's track going off the edge of a 30-metre cliff and sent out a helicopter to find him. Both hips and ankles were broken; they put in three plates and 22 screws to hold his leg together. Lucky to be alive, he was another two years in hospital.
To celebrate his release, he went to Toronto to visit friends. He ended up back in hospital for tests which showed a black spot on his brain. A doctor said it was inoperable brain cancer.
"Where do you want to go to die," social services asked him before giving him the money for plane fare. He said Vancouver, thinking that the friends he'd met in the 90s would be there to help him.
He arrived and knew no one, resorting to life on the streets. At two in the morning, a man found him and asked why he was there. Scott told him his story and the man took him in, providing a place to sleep (and an address) for six months while Scott applied to get disability. (Along with his physical injuries, he's also got brain injuries which affect his short-term memory.)
Scott's first place on his own was an SRO on Pender Street. Not only was the room full of bugs but the neighbourhood was full of temptation. "It was not a good place to be," he says. People would knock on his door offering to sell him crystal meth, crack and cocaine. Lonely, he said yes. "I wanted to get friends — it wasn't a good way."
He moved to other shelters and was further traumatized. At a refurbished accommodation on Granville Street he thought he'd made it because he had his own bathroom. But it, too, had bed bugs, cockroaches and mice. "To make you forget you just want to get high." One day, someone knocked on his door and said he had a gun. It was "welfare day" and the man wanted Scott's welfare cheque.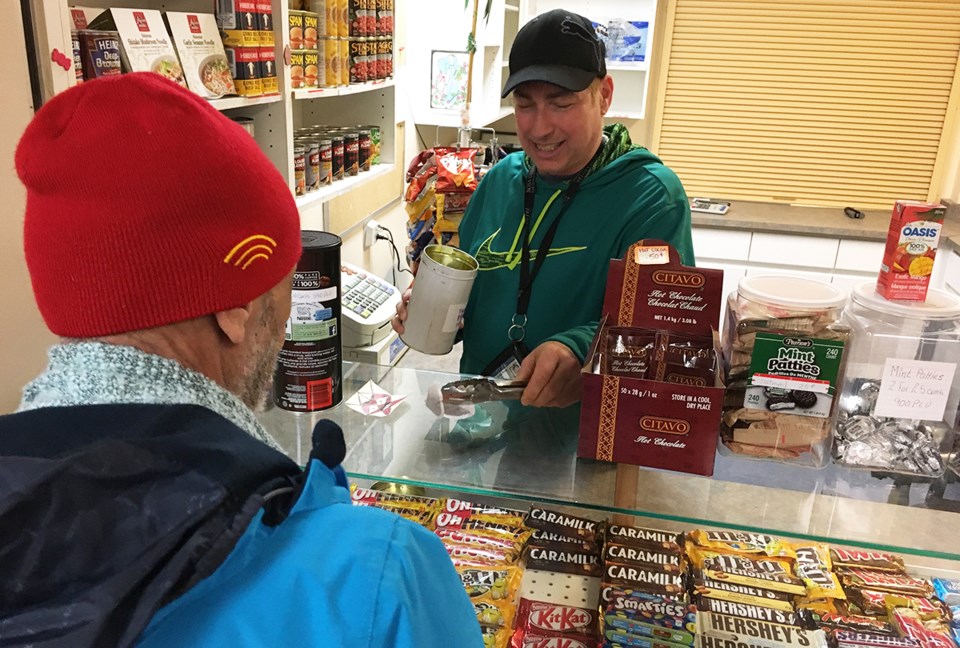 There were agencies that helped, such as Coast Mental Health's resource centre on Seymour Street, Friends for Life, A Loving Spoonful and Positive Living. Yet he always got lured back to drugs. "I'm very easy to influence," he says.
Salvation came two forms. One was a subsidized apartment in West Point Grey.
"Oh God, this is like a release, a paradise. Here is as far away from the shelters as I can be. All those places are a trigger for people like me."
The other was Adam Wilson. They'd met in 1997 and were reunited in an LGBTQ peer support class six years ago. Wilson has decorated their apartment with an abundance of thrift store finds and wall stencils which read: "Home is where our story begins" and "A happy home is filled with love and laughter."
"It feels good to come home and have someone waiting for you," Scott says. "If you don't have someone to love or who loves you it's hard to move on and be a better person. Everyone should have a good person in their lives."
He's been clean since they met.
"I don't want to go down. I want to go up, up, up," he says of his attitude. "It's made me strong."
Today, he volunteers at the tuck shop at Coast Mental Health's resource centre and graduated from Coast's peer support program. He also volunteers with many of the agencies that were there for him in his darkest times and contributes to Voice of the Street, a poetry anthology. In 2014, he was Megaphone's vendor of the year.
"I keep myself busy; that way you don't think about anything negative. Everything I do is positive."
Every night when he comes home, he puts any of the change he's earned into collection jars. When they're filled he takes them to the bank. He's saved $5,000 in five years and has another five years to go before he realizes his dream of taking Adam to Australia. Why Australia? He wants to hold a koala bear.
During the interview, he cries only once. He's asked where he gets his strength from. "My father," he replies. His father is 85 and still works on construction projects. He also goes into the sugar bush every year to make maple syrup. Scott used to love being there with him, drinking the maple sap from the bucket.
His father is starting to show his age. He lives with a relative, who frowns on Scott's sexuality and tries to keep them from connecting. Scott would love to talk to his father and worries that his family might sell the maple syrup operation.
But why is Scott is alive when doctors told him he was going to die of brain cancer? Scott gives all the credit to God. He was attending the West End's inclusive Rainbow Church, when some visiting attendants from Korea performed a laying of hands on him. The next time he had a scan of his brain, the tumour was gone.
"Never give up on life," he says. "There's always hope."
The Courage To Come Back awards, presented by Silver Wheaton, are May 16 at the Vancouver Convention Centre. The gala is a major fundraiser for Coast Mental Health, which provides on-the-ground support and housing to people with severe mental illness. You can buy tickets here.