A Gastown strata council's interest in doing something for reconciliation was realized when members held a ceremony to unveil a land acknowledgment sign Nov. 26.
Posted in the lobby of the Van Horne Building at 22 East Cordova, the new wooden sign recognizes the land on which they live is unceded territory of the xʷməθkʷəy̓əm (Musqueam), Sḵwx̱wú7mesh (Squamish), and səl̓ilwətaɁɬ (Tsleil-Waututh) Nations.
The developer named the building, which was built about 20 year ago, "the Van Horne" after William Cornelius Van Horne who directed construction of the railroad.
Carol Sill, the strata's past president, proposed the idea for a land acknowledgment about a year ago, and the council approved it.
"I was feeling that it was important to do something for reconciliation. It seemed natural that, even though we have this tiny little elected body of a strata council, which is, really, not very significant in the scheme of things, we still do have a physical building that will outlast all of us. So it seems like the least we can do is to have a land acknowledgment," Sill told the Courier.
The strata council consulted with several experts, including Patricia Shaw and the First Nations and Endangered Languages Program at UBC, before settling on wording, using the First Nations Unicode font developed at UBC. When installed on a computer, the Unicode font allows the user to see and type certain characters used in First Nation languages.
Steve Roberts at Zibit Displays produced the sign.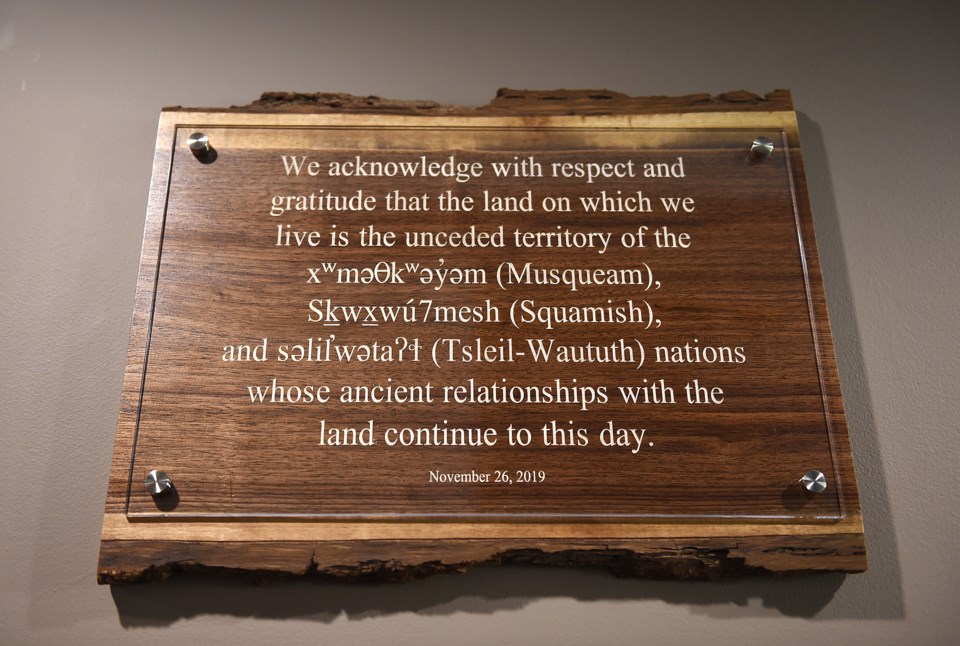 Sill isn't aware of any other condo buildings that have taken a similar step, but she hopes more will follow suit.
"I would love to see other buildings anywhere in Vancouver, but particularly Gastown, take this up. We've done all the legwork. We've figured out what to say. It's all there. All they have to do is make signs for themselves," she said.
"I know that land acknowledgments don't go far enough, and many people say it's just lip service, but it's something and it's a presence — especially when you see the language, I think it's really important."
Beverley O'Neil, a member of the Ktunaxa First Nation, has lived in the building since it was built.
O'Neil said she respects the relationship she's had with the Musqueam, Squamish and Tsleil-Waututh for the 25 years she's lived in the city, and admires how "generous they've been with their hospitality." While on the board for Tourism B.C., she also worked with the three nations on a number of protocol initiatives.
Although O'Neil sits on the strata council, she told the Courier she deliberately refrained from being involved in discussions around the land acknowledgment proposal.
"I recused myself from conversations on it. I felt it was important for the council to make this decision without my involvement… I wanted to make sure that I wasn't in the meeting to convince them of something that was morally right to do. I think it's important that the council chose to do that without a First Nations person convincing them that it was the right thing," she said.
Tuesday's ceremony included elders from two of the three First Nations —  Bob Baker from the Squamish and Carleen Thomas from the Tsleil-Waututh. An elder from the Musqueam was invited but couldn't make it.
Thomas said she was surprised when she heard about the strata council's decision to post the sign.
"But I was also encouraged to know that Canadian citizens out there are really taking time to learn about the places that they live," she said. "The acknowledgment means a lot moving forward in rebuilding this relationship between Indigenous nations and the metropolis called Vancouver."
Thomas added she's pleased strata members took it upon themselves to take this step.
"They had enough knowledge to know that this was important — to recognize and honour and acknowledge the Indigenous peoples that were displaced from their homelands and waters… the strata council, right now, can't go back and change that, but acknowledging what their responsibility is in coming to reconciliation — it's important."
Land acknowledgments by official bodies such as the City of Vancouver have become increasingly commonplace, especially after Vancouver was designated a City of Reconciliation in July of 2014. Staff at the city couldn't pinpoint when land acknowledgments started, noting some politicians and city representatives took it upon themselves to do so prior to 2014.
"City staff and Vancouver Council do recognize the unceded territory of the xʷməθkʷəy̓əm (Musqueam), Sḵwx̱wú7mesh (Squamish), and səl̓ilwətaɁɬ / sel̓íl̓witulh (Tsleil-Waututh) Nations at meetings and various events, but there are not specific rules or circumstances in which this applies," communications staff noted in an email to the Courier.
"City buildings do not necessarily have plaques at each site, but the City of Vancouver and many partners are committed to supporting visibility of Musqueam, Squamish, and Tsleil-Waututh peoples on their unceded territories."
In recent years, some city spaces have been renamed — the Queen Elizabeth Theatre plaza is now known as šxʷƛ̓exən Xwtl'a7shn, while the Vancouver Art Gallery's north plaza is now known as šxʷƛ̓ənəq Xwtl'e7énḵ Square.
Meanwhile, on Nov. 26, city council proclaimed this as the year of Indigenous languages.