The Honda Celebration of Lights is set to kickoff the first of three, dazzling pyrotechnic displays over Vancouver's English Bay this Saturday.
India will delight the Vancouver audience with a show that the Mumbai-based Amir Morani Fireworks team hopes will, "win people's hearts." And while the group has done a number of festivals and celebrations in India, it will mark the first time that the team of five have performed at an international festival. In fact, it'll be the first time ever that India will be represented at an international fireworks festival.
"There will be a mix of Indian songs, English songs, a little bit of Cold Play – it's a little bit of everything," says Amir Morani, team owner, told Vancouver Is Awesome. "We are very excited."
Morani adds that he's received a great deal of support back in India, too.
"We have received a lot of messages on our FaceBook page, and on our Instagram page."
Of course, the Mumbai-based group won't be orchestrating the event on their own. Kelly Guillle, President, Archangel Fireworks Inc, explains that the event involves months of preparation – as well as a great deal of effort in the final days.
"We have catering feed us here so we don't have to leave the barge to go for lunch," he describes. "If every day could be eight to five that would be wonderful — but life isn't like that during fire week."
Guille notes that although a great deal of the products are imported, many of them simply can't be. In these cases, Guille sources products from his facility in Winnipeg and others from Quebec. Further, he works directly with the directors of each team to ensure that the products work with their vision.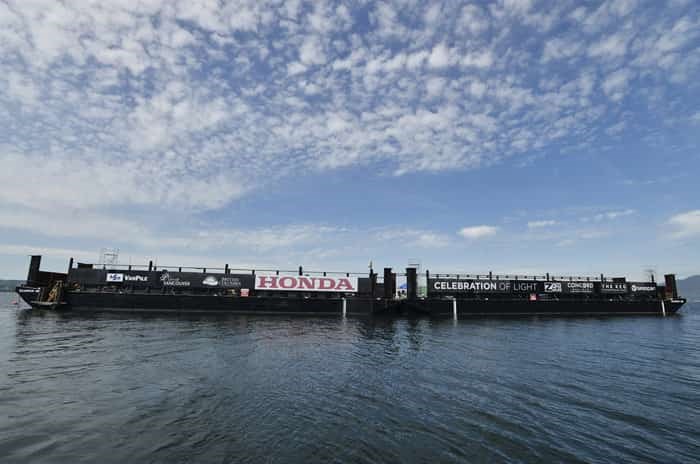 Before any of that happens, however, Guille says teams must meet a certain standard to simply be considered for the competition.
"I need to vet the teams if I haven't worked with them before. We don't just bring teams to Vancouver who have a fireworks company. We need to know that they are capable of putting on a show."
Altogether, Guille reports between 16 and 20 crew help assemble the show on the barge.
"Once the shells are in the gun, we put foil on them so that each one is protected from sparking," he notes.
Have a look at how the pyrotechnicians create the dazzling effects over English Bay.
"These are what we call 'cakes," explains Guille as he points to some rectangular-looking boxes.
"It has one fuse and between 15 and 540 shots – it is what you'll see kind of lower in the sky – kind of peacock tails, or the repetitive sort of break. They are scattered around the barge and if you see layers in the sky, then they are probably going off at the same time."
He also brings out a 'single shot,' which he explains has no fuse involved, and goes right into the lit charge. "This is what you're going to see when you've got intricate patterns that are super timed to the music."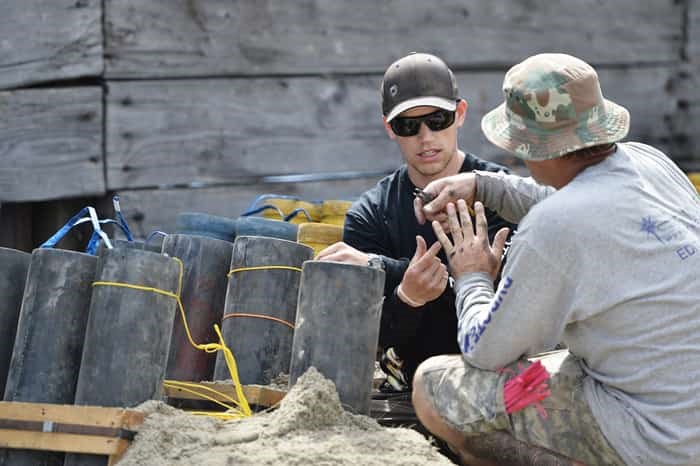 Finally, Guille takes us to the 'shooting shack' – a red shack located at the end of the barge that houses the computers that orchestrate the show.
"That's where we fire from."
TransLink is boosting transit service and adjusting bus routes to deal with the huge crowds expected on Celebration of Light nights.
Music simulcast can be heard on The Breeze 104.3 FM and through the festival's mobile app.
India kicks off this year's festival followed by Canada (July 31) and Croatia (Aug. 3). Fireworks begin at 10 p.m. each night.
The winning team will be announced on Aug. 6.