John McKearney knew growing up that he would someday be in a uniform.
It was hard not to imagine choosing a profession that didn't require a uniform: His father was a military man, and the family home, for many years, was at the Jericho Garrison. A young McKearney, who ended up in Vancouver in 1969 after the family left Hull, Que., eventually joined cadets.
But the St. Patrick's secondary school graduate would not follow in his father's footsteps.
He wanted to be a cop, or a firefighter.
As he tells the story from his office at the main firehall in Strathcona, where he is dressed in the uniform of a fire chief, McKearney says he really wanted to be a Vancouver cop. He also applied to the Burnaby Fire Department. Vancouver Fire and Rescue Services called first.
"A big part of me wanted to be part of a uniformed force and this worked out for me," said McKearney, who will retire June 30 as the city's fire chief. He's been on the job 37 years, with eight of those years overseeing a $117-million annual budget that funds 825 firefighters spread over 20 firehalls.
The Courier sat down with the 59-year-old McKearney this week to learn more about his time in uniform as he prepares to hand over duties to Darrell Reid, who will become Vancouver's new fire chief. A ceremony to recognize that transition will occur June 26.
So why is he retiring?
"I keep asking myself that question, but I think it's time for a different voice here," he said, adding that he is leaving a department that is in good shape, with better accountability among his senior officers, a new contract negotiated with the union, millions of dollars in new equipment and 16 more women on the job since he became chief.
As someone who started his career in 1980, McKearney has seen many changes in a profession that was predominantly about fighting fires and attending medical calls. The department now has several speciality teams staffed with experts in high-angle rescue, confined space rescue, hazardous materials and disaster response.
Firefighters are now involved in the Vancouver police's public order squad, a city-run hoarding unit and were front and centre at the Occupy Vancouver demonstration in 2011 and at the tent city at Oppenheimer Park in 2014, where they were on scene to ensure the safety of campers and enforce the fire bylaw.
The department also operates two fireboats.
Last year, firefighters began administering naloxone as part of their job, responding to an unprecedented number of overdose calls in a city overrun with fentanyl-laced drugs. As the death toll has mounted, the call load for the department has tested the resolve of firefighters.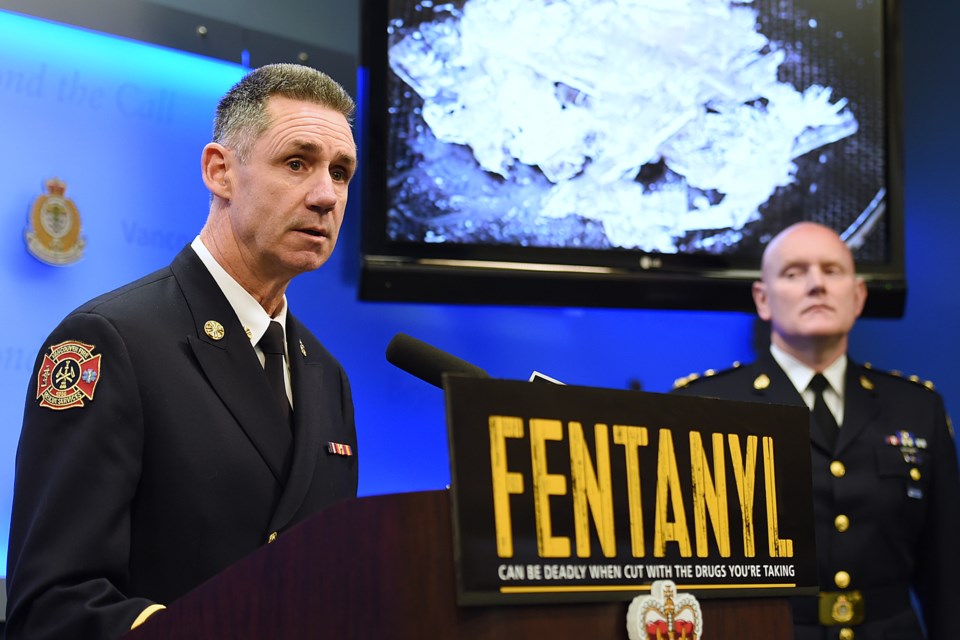 "It's night and day," said McKearney, referring to the days when he worked on the medic truck at the height of the HIV/AIDS outbreak in the 1980s and the overdose crisis in the 1990s. "The conditions our firefighters see these people living in today and doing whatever it takes to get drugs – the needles, the bedbugs and not being sure what the patient will do when they come out of a stupor after the naloxone — it takes a toll."
The chief said the department continues to adapt to the needs of the city and train for incidents and disasters that other cities and countries have experienced. That includes discussions about whether firefighters are equipped to deal with an "active shooter" situation.
"There's a number of my colleagues in the south that are providing ballistic vests on their engine companies," he said, referring to the number of mass shootings in the United States. "We're not there yet. Fortunately, in our city, we have not had to experience that to any degree that I can recall. But we do need to have discussions about this because firefighters really are the civilian army of the cities."
Best day on job, worst day
Like any longtime firefighter, McKearney has stories — good and bad — about his career.
His best day on the job?
"I've got to say the best day on the job was when I got a call from [then city manager] Penny Ballem. She called me and said, 'John, I want you to be fire chief.' I was over the moon."
Worst day on the job?
He responded to a call at McGill and Renfrew streets where a two-year-old boy got his neck tangled in a venetian blind.
"We worked for quite some time to bring him back and we couldn't. And I just remember calling my wife and telling her to cut all the venetian blinds. It was a bad call."
There's also another story he tells about a call on Fourth Avenue when fellow firefighter, Sohen Gill, got trapped in a fire at an office building. McKearney and his colleagues were able to rescue Gill, but not before he suffered some severe burns to his body.
"There was a mayday that went out, we all scrambled," he said, noting he and colleague Johnny Appleby went inside the building while another firefighter blasted a window out and surrounded Gill with water. "We got him out. It could have been a lot worse."
As chief, that has been his greatest fear — losing a firefighter while in the line of duty.
"Second to that is for something catastrophic beyond our control to have gone on."
Grenfell Tower
In finishing that thought, McKearney mentioned the recent inferno that broke out at the 24-storey Grenfell Tower in London, England, where at least 79 people were confirmed dead. But that building, he said, was retrofitted with a type of combustible cladding that wouldn't be allowed in Vancouver.
"I was dumbfounded how a non-combustible building can burst into flames like that," he said. "I think we now know that they don't have anywhere near the [building and fire] codes we have here. We'd never use that material here — plastics sandwiched between aluminum on the outside of a building."
As for a more likely disaster to occur in Vancouver, the one that is more top of mind for British Columbians is a major earthquake. Yes, McKearney said, the department has trained and is ready to respond to such a disaster. But firefighters can't do it alone.
"The answer is not at the feet of Vancouver Fire and Rescue Services. The answer really rests with the communities. They really need to take responsibility. By that, I mean we're becoming so densified now and the responsibility has to lay with strata councils or managers of residential buildings to ensure that they're ready."
Having those words and others quoted by reporters was not something McKearney believed would ever be part of his responsibility when he joined the department at 23 years old. He said he's enjoyed the experience but admits his stomach still turns before he faces a group of reporters, or has to speak on radio or television.
Over the years, he's been required to attend or speak at news conferences related to advocating for drug treatment, the department's response to the 2011 Stanley Cup riot and, most recently, the city's move to evacuate tenants from the Balmoral Hotel.
"I'm always most concerned that I'm not making the men and women in my organization look as good as they should," he said. "And that's my biggest fear, to tell you the truth."
That will soon not be a concern as June draws to a close and he retires. But McKearney said he wants to keep working in some capacity, maybe even lead a smaller-sized, volunteer-led department, or use his leadership skills in another organization.
"It's been an awesome privilege to serve. You couldn't ask for a richer life than this."