If a Downtown Eastside resident wanted to see a doctor at a health centre in their neighbourhood, but they also needed to see a psychiatrist for mental health services, they used to have to visit two sites and be involved with two different teams.
That all changes Tuesday.
Vancouver Coastal Health announced Jan. 22 that it has revamped services offered, and how care is delivered, at three Downtown Eastside clinics located on Heatley Avenue, Pender and Powell streets.
The Heatley Community Health Centre, at 330 Heatley Ave., traditionally only provided mental health services, while the other two centres provided primary care clinics with general practitioners, along with separate services for various health concerns such as substance use and home care.
"What we've moved towards now is that, at any of those sites, the clients that go in will be able to get any and all of those services from one team at one site," Bonnie Wilson, VCH's director for inner city health, mental health and substance use services, told the Vancouver Courier.
Services will be provided by integrated care teams composed of social workers, counsellors, peers, community liaison workers, physicians, psychiatrists, nurses and nurse practitioners.
The Heatley clinic, where a press conference was held Monday, has undergone substantial renovations on the main floor because it wasn't set up to provide primary care services. Now, it features a primary care clinic with exam rooms, but it also has counselling rooms and ambulatory care bays.
"In some ways it looks like a GP's office but quite a bit more elaborate than that," Wilson said.
Minor renovations were done at the other two sites, so that the integrated health care teams could work more easily together.
While some individuals may only need mental health services, Wilson said health care providers are seeing more and more people with complex needs.
"[People who] have chronic disease like diabetes and Hepatitis C, who also have mental illness, who also have substance use issues," she said. "So our thinking is changing. Having the services separate works very well to provide that specialty service, that expertise, but it really makes it more complicated for clients."
The three clinics see a total of about 6,000 clients annually and Wilson anticipates they will have a capacity to handle an additional 3,000 each year due to efficiencies, the addition of full-time equivalent positions to the integrated teams, and expanded hours. The clinics used to operate about eight hours a day and will soon operate 12 hours a day.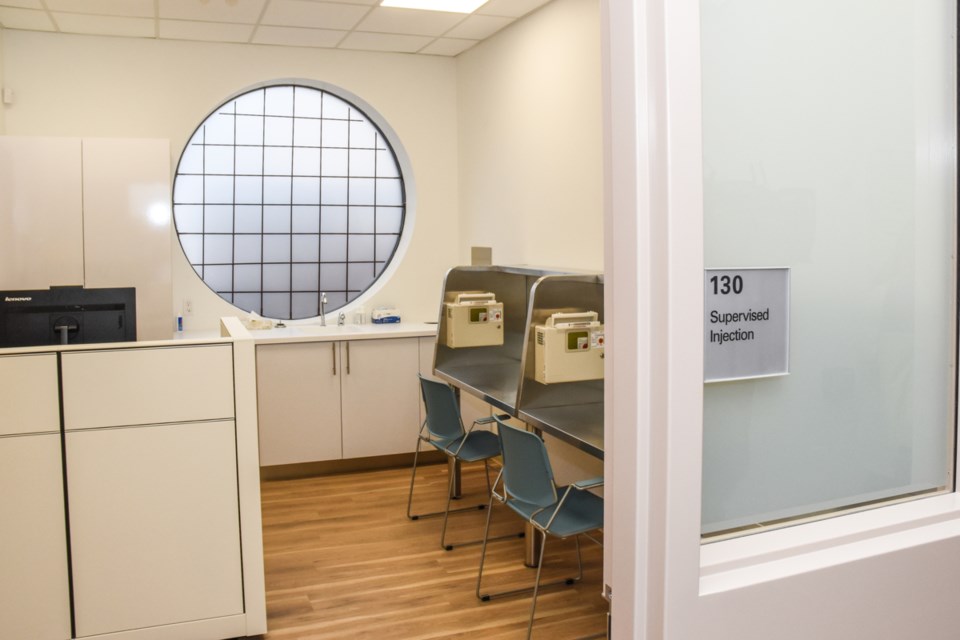 Wilson expects better health outcomes in the long term.
"I feel that by providing service this way, we're providing a better service for clients. We are more connected. We are able to plan together, our teams are smaller and those teams can work really collaboratively to come up with good care and support plans for the clients," she said. "We're not going to see it immediately, but the vision and the hope is that over time, the clients have much, much better health outcomes — that they don't fall through the cracks, that we're addressing them in a very holistic way and that we're providing wrap-around service. So, if they're having issues with opioid-use disorder, they're getting attached to methadone or suboxone, or those sorts of replacements, and they're working with an addictions counsellor to help them with the more psycho-social trauma that they've experienced."
All members of the integrated health teams have been through cultural safety training through First Nation departments within the health authority, which have also been involved in the design of the sites, including selection of colours, lighting and the look of specific spaces.
At the Heatley centre, there's an area called the "sacred space," which was designed with First Nation ceremony in mind, including the necessary venting to allow for smudging ceremonies.
There will also be elders attached to all three sites through a program called elder-in-residence.
"[They] will be available to work with clients and the staff around providing very culturally safe and culturally appropriate care and help the clients re-connect with their culture," Wilson said.
The new services officially start Jan. 23. The expanded hours start later this week.
Success will be measured in several ways, through multiple indicators, including through health outcomes.
Satisfaction surveys will be done with clinic users, the health authority will check in with a variety of community partners in the Downtown Eastside for feedback, and it will look at hospital emergency department use and admitting statistics to determine how well the new model is working.
"We really are hoping that by offering a more comprehensive service, by having later hours, that we are preventing people from having to go to the hospital to get their care," Wilson said.